UNDERSTANDING THE DIFFERENCE BETWEEN SCALE RC HELICOPTERS AND POD & BOOM RC HELICOPTERS.
Your ultimate idea of fun in this hobby might be flying scale RC helicopters. That is a great goal, but you must first learn on a Pod & Boom helicopter.


What's the difference between scale RC helicopters and pod & boom? Scale RC helis look like real life full size helicopters.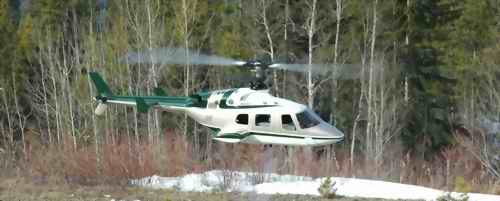 ---
Pod and boom helicopters are exactly that – a "POD" up front that encapsulates most of the helicopter mechanical systems. Exiting the back end of the pod is a long aluminum or carbon fiber tube called the "BOOM". The tail rotor is then attached at the end of the boom.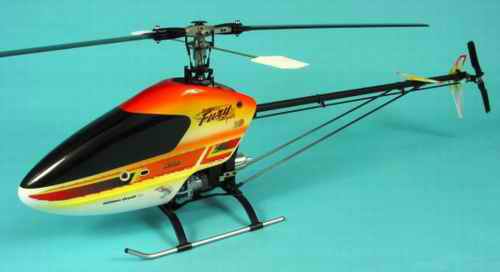 Pod and Boom RC helicopter design is by far the most common type and best RC helicopter choice. In fact, they are pretty much the only RC helicopter choice because scale helicopters are nothing more than Pod and Boom mechanics covered by a scale fuselage.
---
There are three main reasons you want to start out and learn on a Pod and Boom heli:
Simplicity is key when you are starting out. Fitting a scale fuselage over pod and boom mechanics is generally not easy and adds considerable complications and time to the build process.

You will also be making many adjustments (static and dynamic) to your helicopter at first after it is built and during the first few flights. These adjustments are much easier when you can see and get to everything on a Pod and Boom heli. A scale fuselage usually makes these adjustments very difficult.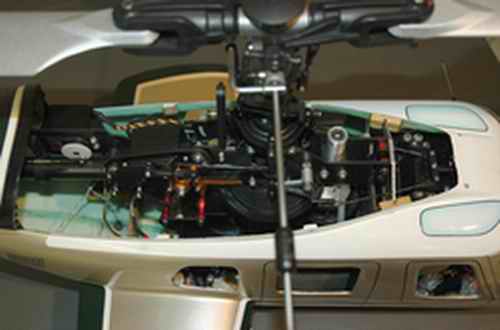 As you can see from the above picture, stuffing your pod and boom mechanics into a fuselage limits the access to many components. Fitting the mechanics into the fuselage is generally not an easy task - there is lots of trial fitting, perhaps some trimming, usually some customization involved, and most definitely some cursing and head scratching.
I would never put brand new mechanics into a fuselage either. There are just to many unknowns with a fresh build. Only after several successful test flights of the mechanics in Pod & Boom configuration would I feel safe to fit them into a fuselage.
Cost – Larger scale fuselages are not cheap. Good quality pre-finished fiberglass fuselage can cost more than the pod and boom helicopter kit. Crashing a scale RC helicopter while learning would be very disheartening to say the least. A fuselage is pretty much a mangled pile of garbage even after a small crash. Take a look ...
You have to get a Pod and Boom kit anyways even if you want a scale RC helicopter. Remember, you get the fuselage separate and fit it over your pod and boom mechanics.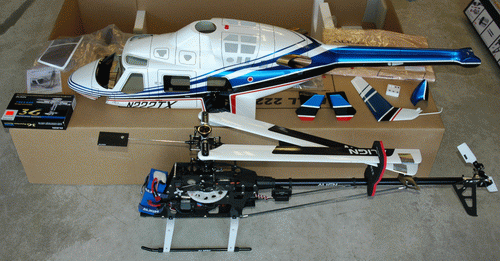 Here we have a typical scale fuselage right out of the box. The Bell 222 fuse seen here is from a company called FunKey manufacturing. This will be my third FunKey fuse and they make some of the nicest pre-finished bodies in the biz. I am amazed each time I first set eyes on a new FunKey fuselage. They seem to keep improving the quality with even more attention to detail. The fiberglass layup work is outstanding and the paint job is true automotive quality!
I am just doing a final sizing here to make 100% sure the pod & boom mechanics from an Align Trex 600ESP helicopter will fit and all the important measurements all line up. These Trex 600ESP mechanics have seen many test flights and I feel 100% confident that they will offer the bullet proof reliability I need for this scale RC helicopter project.
If a scale RC helicopter is your goal and with that last point in mind when deciding on your best RC helicopter kit; make sure the kit you get will support the fuselage you want. If you have a fuselage in mind, say you like the Bell Jet Ranger and want that type of fuselage. Make sure there is a fuselage available that will fit onto your pod and boom mechanics.
---
Of course if you have no interest in scale, and your ambition is to become a top notch aerobatic heli pilot, the basic pod and boom set up will be your best RC helicopter Choice.
Fuselages add extra weight to a RC helicopter and that is something you certainly don't want for high performance 3D maneuvers.
---
MATERIALS
One more item to consider is what the RC helicopter fuselage is made from; there are basically four in use today:
Polystyrene is only used on mini RC toy helicopters . It is very inexpensive but serves as a very good protective shell for these little helis.
Polycarbonate is light and inexpensive. It is used mostly on micro to small size helicopters and entry level economy regular to large size kits. See my helicopter size section for size explanations. Cold weather makes polycarbonate very brittle; something you should consider if you fly outside in winter.
Fiberglass is heavier and more expensive but stronger than polycarbonate. It is the best RC helicopter material for larger helicopter pod covers and fuselages. Fiberglass handles the cold and vibrations better than polycarbonate. It also is easy to make "good as new" repairs to fiberglass if it has suffered from light damage. Fiberglass auto body repair materials work very well for this. Don't go overboard with your repairs though – weight is the RC helicopters enemy.
Carbon Fiber is strong and light but because of its expense, is not used much as a pod cover or fuselage material. There are some high end kits that use carbon fiber for the pod cover and as the price of carbon fiber continues to come down, we will be seeing more pod covers and perhaps even fuselages made from this material. Carbon fiber can be repaired much like fiberglass, but carbon fiber dust is very dangerous and can cause severe lung irritations. Always wear an approved respirator and eye protection when sanding, cutting, or grinding carbon fiber.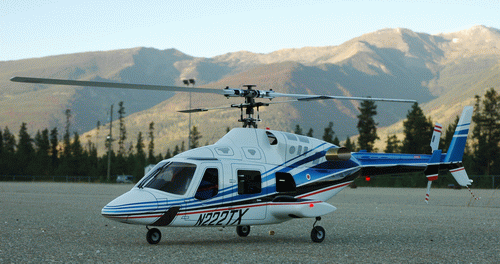 ---
Return To Top Of Scale RC Helicopters vs. Pod&Boom Page
Return To Best RC Helicopter Page
Return To Home Page