Are You Ready For Scale RC Helicopters?

Flying scale RC helicopters might be your long term RC helicopter goal (I know it was mine when I was first getting into the hobby). That is a great goal, but you must first learn on a Pod & Boom helicopter.
What's the difference between scale RC helis and pod & boom? The majority of scale RC helis are fitted (covered or skinned as I like to say) with a fuselage to resemble many different types of real life, full size helicopters.
Pod and boom helicopters on the other hand are exactly that – a "POD" up front that encapsulates most of the helicopter mechanical systems. Exiting the back end of the pod is a long aluminum or carbon fiber tube called the "BOOM". The tail rotor is then attached at the end of the boom.
Pod and Boom RC helicopter design is by far the most common type and best RC helicopter choice when you are first starting out in the hobby. In fact, they are pretty much the only RC helicopter choice because scale RC helicopters are generally nothing more than Pod & Boom mechanics covered by a scale fuselage.
---
There are three main reasons you want to start out and learn on a Pod and Boom heli:

Simplicity is key when you are starting out. Fitting a scale fuselage over pod and boom mechanics is generally not easy and adds considerable complications and time to the build process. You will also be making many adjustments (static and dynamic) to your helicopter at first after it is built and during the first few flights. These adjustments are much easier when you can see and get to everything on a Pod & Boom heli. A scale fuselage usually makes these adjustments more difficult.
As you can see from the above picture, stuffing your pod and boom mechanics into a fuselage limits the access to many components. Fitting the mechanics into the fuselage is generally not an easy task - there is lots of trial fitting, perhaps some trimming, usually some customization involved, and most definitely some cursing and head scratching.
I would never put brand new mechanics into a fuselage either. There are just to many unknowns with a fresh build from mechanical adjustments to FBL system programming. Only after several successful test flights of the mechanics in Pod & Boom configuration do I feel safe to fit them into a fuselage.

Fragile at Higher Costs – Larger scale fuselages are not cheap. Good quality pre-finished fiberglass fuselage can cost more than the pod and boom helicopter kit. This is also true of the less expensive RTF micro scale RC helicopters on the market. Whenever you fit a scale fuselage (from micro to monster), you increase the cost & weight; but the most import aspect of scale to realize is scale detail is fragile. The more detailed, the more fragile it gets. You really must be a proficient RC helicopter flyer before even considering scale - honesty! Even a slightly hard landing that a Pod & Boom would survive will damage most scale RC helicopters. Most body shells are not designed to take impact forces, the landing struts or in some cases retractable gear are generally not as strong as beefy and springy pod & boom landing struts, horizontal & vertical tail fins are not as strong, and the overall weight is up releasing more impact energy when things do go wrong. Crashing a scale RC helicopter while learning would be very disheartening to say the least. A fuselage is pretty much a mangled pile of garbage even after a small crash. Take a look ...

You have to get a Pod and Boom kit anyways even if you want a scale RC helicopter. Remember, you generally get the fuselage separate and fit it over your pod and boom mechanics. There are a few exceptions to this offered by a few manufacturers that have "Super Scale" kits. These special and more advanced scale RC helicopter kits come with special helicopter mechanics that are specifically sized and engineered to fit into their specific fuselages. These are more advanced scale kits aimed toward the experienced scale RC helicopter modeler and are in no way a good choice for your first scale build. Getting a scale fuselage that will fit over your existing set of pod & boom mechanics is how most folks start out and that is the type I'm primary talking about on this page.
---
Best Scale RC Helicopter Fuselage Manufacturer
This is of course subjective, but in my opinion, one of the best pre-finished (meaning all painted) fuselages are manufactured by Fun Key Manufacturing (link takes you to my review on them). Century Helicopter Products is the Fun Key fuselage distributor in North America and many people think Century Helicopter make these fuselages; but if you look at the name decal inside, they are in fact FunKey. FunKey Manufacturing makes popular helicopter bodies to fit 550/30, 600/50, and 700/90 size RC Helicopter Mechanics. I am amazed each time I first set eyes on a new FunKey fuselage when I order one. They seem to keep improving the quality with even more attention to detail. The fiberglass layup work is outstanding and the paint job is true automotive quality! Most of their bodies also have carbon fiber reinforcements in the high stress areas of the fuselage adding to the overall quality and strength.
One of the best online sources I have found to date to get FunKey Fuselages is "Jet Tech Models". They consistently have the best prices & selection, ship product fast, and offer free shipping on many of their FunKey fuses. That is pretty nice considering the size of the boxes these things come in. I have ordered from them several times now and have had nothing but good experiences.
I have links to all their FunKey Fuselages on my FunKey Review Page.

Here we have a typical scale FunKey fuselage right out of the box. This 600/50 size Bell 222 scale RC helicopter fuselage will be my fourth FunKey fuse and as I just mentioned, they make some of the nicest pre-finished bodies in the biz.
I am just doing a final sizing here to make 100% sure the pod & boom mechanics from an Align Trex 600ESP helicopter will fit and all the important measurements all line up. These Trex 600ESP mechanics have seen many test flights and I feel 100% confident that they will offer the bullet proof reliability I need for this scale RC helicopter project.

If a scale RC helicopter is your goal and with that last point in mind when deciding on your best RC helicopter kit; make sure the kit you get will support the fuselage you want or vise-versa. If you have a set of T-Rex mechanics for example and you like the Bell Jet Ranger, you can't just assume every Jet Ranger fuselage out there will fit it. That is another thing I really like with FunKey's fuselages. They have a very good measurement schematics on every model they make taking most of the guess work out of it so you know your pod and boom mechanics should fit in the specific fuse you are considering.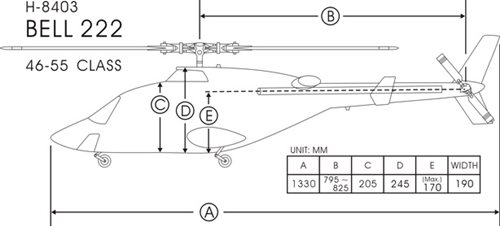 Above is a typical FunKey Sizing Schematic/Chart. With these few yet very critical dimensions listed, you can pretty much be 99% sure that your specific set of pod & boom mechanics will fit.
---
RC Helicopter Fuselage Materials
One more item to consider is what the RC helicopter fuselage is made from; there are basically four in use today:
Polystyrene is only used on mini RC toy helicopters . It is very inexpensive but serves as a very good protective shell for these little toy helis.
Polycarbonate is light and inexpensive. It is used mostly on micro to small size scale RC helicopter bodies. Cold weather makes polycarbonate very brittle; something you should consider if you fly outside in winter.
Fiberglass is heavier and more expensive but stronger than polycarbonate. It is the best RC helicopter material for larger helicopter pod covers and fuselages from a price in relation to strength/longevity ratio. Fiberglass handles the cold and vibrations better than polycarbonate. It also is fairly easy to make "good as new" repairs to fiberglass if it has suffered from light damage. Fiberglass auto body repair materials work very well for this.
Carbon Fiber is strong and light but because of its expense, is not used much as a pod cover or fuselage material (other than high stress area reinforcements. There are some high end kits that use carbon fiber for the pod cover and a few high end fuselages (Vario Helicopters has a big full carbon fiber Air Wolf fuselage for example).
At any rate, I'm more than happy with my fiberglass FunKey bodies.
---