Best Flybarless System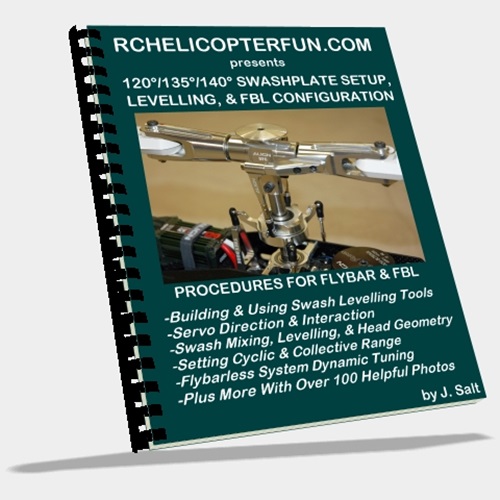 My Swash & Flybarless Setup eBook
I can't tell you what the best flybarless system is because that depends on your needs, budget, and what ends up "feeling" the best to you while flying.
I can however point out several important criteria to consider when making your choice.

Particular features you might like or dislike such as ease of programming at the expense of customization. On the flip side, lots of customizable options making for a more difficult programming, configuration, and tuning process.
Connectivity for configuration/programming is also another feature to take into consideration. If you can't easily access your FBL unit once it's in the helicopter - you better stay away from units that require direct physical access and choose one that has USB or wireless connectivity.
In other words, I don't for a second believe there is one FBL unit that stands head & shoulders above the rest - it's totally personal choice. 
Make no mistake, flybarless systems are considered the "heart of the heli" these days. Next to setup, they have perhaps the single largest impact on every aspect of flying a modern day RC helicopter. It's hard to know which you will like the best in other words as so much is feel dependent.

Hopefully however, my humble little recommendations here will at least give you an idea of what's out there, what to look for, and some general costs & features.
---
Best Flybarless System Round Up

Mini K-Bar $40.00 USD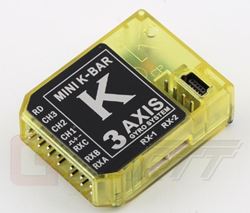 For those on a serious flybarless budget, I have to make mention of the Mini K-Bar.
It's a copy of the Mikado Mini VBar so if you are not bothered by that, this is a very good performing flybarless unit for the crazy low cost they are selling for (almost $200 less than the Mini VBar).

Like most copied stuff out of China, you have to do a fair amount of digging to find instructions, help, and programming software; so it's not a good beginner FBL unit by any stretch. However, for more experienced FBL users; especially those that are already intimately familiar with the Mikado Mini VBar, it's hard to beat for the price and great performance.

Would I trust one in an expensive bird, not a chance! I'll stick with the bigger name brands; but for smaller/low cost electric powered helis, if you want to save a few "flybarless bucks" - the Mini K-Bar is worth looking at.
---
Tarot ZYX Flybarless System $40.00 USD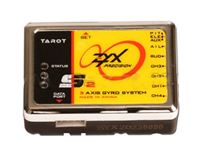 For another decent performing bottom basement budget Flybarless unit, I also have to include Tarot's ZYX S2 unit.
I have a couple myself in two Align clones and have helped a couple friends set theirs up and like the Mini K-Bar, really can't get over how well they perform at such a low price.
Not quite as good as the Mini K-Bar I have found as they suffer a little more from temperature drifting, have fairly poor vibration immunity, and it's not the easiest FBL unit to configure; but the Tarot has a fairly good setup wizard (downloaded off their site) that is parameter rich in configuration options.

Again, I wouldn't trust one in an expensive bird, but in a cheap, small electric powered helicopter, why not...

Click for Tarot ZYX S2 Deals On eBay
---
Align 3GX $140.00 USD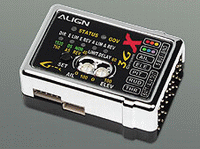 Align's 3GX flybarless system is more complicated, but much more adaptable than the basic beginner friendly MR and MRS version - it's geared toward the experienced collective pitch and flybarless pilot.
I've been flying a Trex 600E Pro and 800E Trekker with the 3GX and it's certainly decent - especially after upgrading to firmware 3.1 & 5.0.
Fully customizable feel, support of all swash mixing types, good piro compensation, flybar simulation, integrated governor, and full integration of both Spektrum/JR DSM2/X satellite receivers & Futaba S-Bus support.
The 3GX also has a GPS based auto pilot system (APS) that is used in combination with the 3GX for pin point hands off hovering, way point set flights, and even return to home.

The 3GX has been getting bad press & reviews pretty much since it first came out. Some issues were real, others were very much due to improper setup & understanding along with inadequate supply power.
All I know, is they have been working very well for me on the latest firmware versions and due to the bad press - the prices are nice and low now being able to pick them up for under $120USD and less! Might not be the best flybarless system out there, but it's not the worst either.

Click for Align 3GX Deals On eBay
---
Align GPro $230.00 USD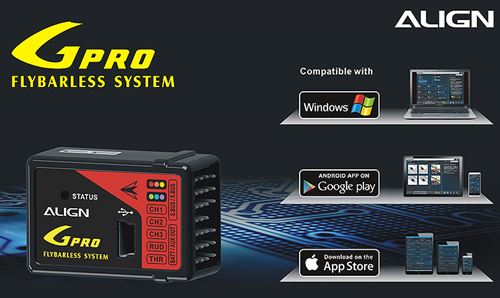 Align's GPRO FBL unit replaced the 3GX and is considered to be a substantial improvement. It has got many great reviews & feedback. I feel there are certainly better units on the market these days that cost less and perform better; but again, if you like the feel, it's subjective to nay-say any particular unit.

One long awaited feature is full Android & iOS App support for Bluetooth connectivity to a smart phone or tablet as well as the customary USB plug connectivity & Windows PC wizard. Wireless connective is such a nice feature if the unit is hard to access within the model.

Click for Align GPro Deals on eBay
---
Skookum Robotics SK720 $450.00 USD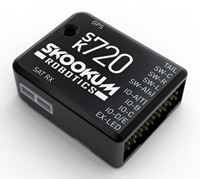 Being a Canadian boy and living in BC, I have to mention the folks at Skookum Robotics located in Vancouver.
I admire when a small Canadian company can go head to head with some of the big players and comes out with one of the best FBL units on the market that gets great reviews and is priced competitively.
The SK-720 Black Edition is a feature rich flybarless unit encased in a strong anodized CNC case and has a super fast 32-bit processor (one of the fastest currently on the market). A few of these features include flight log recording, vibration analysis, and with the self-level feature turned on (using 3 axis accelerometers as well as the gyros), you'll get an easy coaxial flight experience if you choose to dial it up, or turn it off completely for hard 3D aerobatics.
A great system in other words for collective pitch newbies, sport fliers, scalers, and aerobatic junkies alike. Add on the GPS accessory and you'll get position and altitude hold, a rescue system, and return to home functionality. Thinking of turning your CP heli into a FPV machine? This is the FBL unit for you! A true "do it all" system no matter what or how you fly.
The SK-520 is the less expensive "no frills" little brother to the SK-720. No self-level and no GPS add on, yet gives the same rock solid performance of the SK720 with the dual 3 axis MEMS gyros and fast 32 bit processor.
Click for Skookum Robotics Deals On eBay
---
Futaba CGY750 $325.00 USD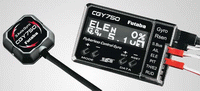 Futaba's CGY750 is modeled after the highly successful GY701 heading lock gyro, but of course with two more gyros to detect pitch and roll.
The CGY750 uses the same large, easy-to-read display as the GY701 tail gyro and is just as easy to setup using the display as the visual interface to see exactly what you're doing and what values you're setting. This along the basic and expert menus helps for hassle free setup.

Click for Futaba CGY 750 Deals On eBay
---
Ikon $140.00 USD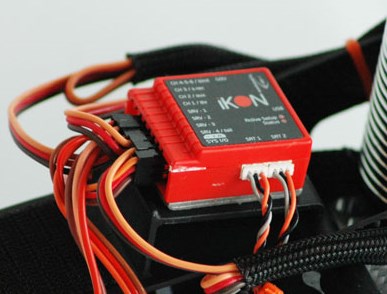 Ikon (MSH Brain) out of Italy is one of the most sought after flybarless stabilization units on the market right now being both Spektrum DSM2/X remote receiver compatible as well as Futaba S-Bus compatible. It's also one of the best value, higher end units currently on the market right now in my opinion.

As mentioned earlier, is has a neat rescue feature if you get into trouble while inverted and become disoriented, the unit will bring you back into a level orientation when told to do so.
The Ikon has great vibration immunity so it can be used in gas and nitro environments without issue. Standard USB connectivity with optional CIRUS Bluetooth module. The Ikon has one of the best and easiest setup wizards on the market in my opinion.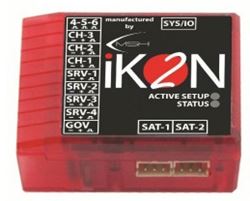 The second generation Ikon (Ikon 2) is now available and will soon replace the original version.
It has basically improved everything the original did well.
Better vibration immunity, faster CPU, improved and even easier setup wizard, improved rescue mode, and perhaps the best feature... Flight log data with vibration analysis to boot! 

Click Here For Ikon FBL Deals On eBay
---
BavarianDemon (formerly HeliCommand/CAPTRON Electronic GmbH)
What can I say - I love this FBL system! I currently use the 3X in my Trex 700E BlackShark, Bergen Intrepid turbine, and Roban 700 Super Scale AS350. It's hands down the best flybarless system I have flown to date based on my flying style.
Bavarian Demon currently has three different types of stabilization systems. The Rigid V.2 uses a built in sensor camera for optical stabilization (if you wish to use it) as well as conventional 3 axis gyro stabilization. The Cortex is their fixed wing specific 3 axis stabilization system.
Here's my Intrepid on a very windy day with the Bavarian Demon 3X taking out all the "bumps".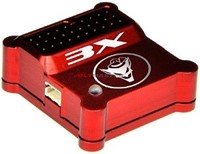 Their most popular X-series (3X & 3SX) is a pure hi-end flybarless system with no optical stabilization and has been specifically developed for scale right up to very aggressive 3D type flying supporting all swash types and multi bladed heads for the scale crowd.
They are also the only high performance FBL unit (at least when I was trying to get a firm yes/no answer from several manufacturers) that definitely confirmed their latest 3X & 3SX systems are 100% turbine friendly and can handle the ultrasonic sound frequencies that mess other FBL gyros up.

The 3X & 3SX range in price from about $250.00 USD up to $400.00 USD for the SX. The units are encased in a strong aluminum shell (it's stunningly beautiful by the way), use the latest generation MEMS gyro technology, plus every bit (more so in fact) as customization as the original Rigid but easier to configure with a very good full on setup wizard that has lots of helpful tips for each programming field. With full firmware adaptability online download support, the X series are indeed an impressive & exclusive FBL choice.
The other nice feature is the USB connectivity input on the Demons are a stardard 3 pin servo plug so you can simply use a servo extension wire harness if your unit is hard to gain access to once installed in the helicopter.

One of the neatest new features the SX version supports that I already mentioned is something called "Rescue Mode" or "Captain Rescue". Basically no matter what position your bird is in, when you hit whatever toggle on your radio that you assigned to engage "Captain Rescue", the heli will come back into a level & horizontal attitude and gain altitude.
As previously mentioned, the 3SX also has a Horizontal Mode that when turned on, prevents the helicopter from pitching or rolling past a certain angle behaving similar to a micro coaxial making it perfect for beginners or aerial photography/video applications.
Click for BavarianDemon Deals On eBay
---
Mikado VBar $320.00 USD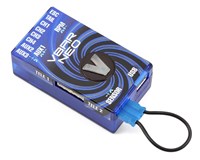 The Mikado VBar NEO and mini Vbar flybarless systems out of Germany are also very popular and very performance minded.
Quite a few pilots feel VBar is the best flybarless system out there bar none.
There is no doubt the VBar will continue to be a popular choice because, just as with most of these systems, the software keeps getting tweaked and allows so much setup flexibility.
Once again, the 3 big name radio manufacturers are fully supported with the Mikado V-Bar systems acting as your RX being both Futaba S-Bus friendly as well as Spektrum & JR DSM2/X satellite receiver friendly.
Click for Mikado Vbar Deals On eBay
---
MicroBeast Plus $180.00 USD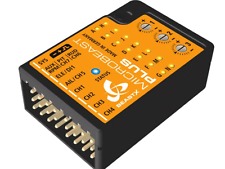 The MicroBeast Plus & MicroBeast Plus HD by BeastX (again out of Germany) is another FBL system that many pilots consider to be the best flybarless system currently on the market from an ease of use standpoint (I'm one of them).  
Fully Spektrum/JR DSM2/X remote RX and Futaba S-Bus compatible in a single contained unit - again showing the direction this technology is heading.
As I already mentioned, I personally feel it is one of (if not the) best flybarless system for people's first introduction into virtual flybars due to its out of the bag plug and play simplicity along with easy to understand setup instructions & intuitive LED programming method direct on the unit.
I've flown a good number of RC helicopters using the MicroBeast and find the feel and performance quite exceptional given the easy-breezy setup procedure. 
Click for MicroBeast Deals On eBay
---
Spektrum AR7210BX & AR7300BX $150.00 - $220.00 USD

Spektrum have also teamed up with BeastX (or maybe it was the other way around) and are offering their AR7210BX 8 channel receiver which is essentially an 8 channel DSMX Spektrum receiver with the MicroBeast flybarless system built in with provision for one addition satellite Spektrum RX.
For about $220.000USD, the AR7210BX is a great value option if you fly with a Spektrum or JR DSM/X radio and want to get a combination RX and flybarless stabilization unit to save a little money over getting two separate components not to mention make for a cleaner and simplified install.
Again, I have flow a fair number of student's and customer's helis that use the first get AR7200BX, and now the updated AR7210BX. Just like the MicroBeast Plus, find them to be wonderful units. I've also gotten very comfortable with the setup & programming procedure on them for the simple reason they are so popular a choice and I have done so many.

Click For Spektrum AR7210BX Deals On eBay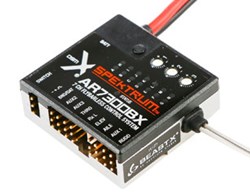 The AR7300BX has an integrated power bus eliminating the need for a dedicated BEC in these HV applications.
The one issue with these BeastX/AR7210/7300 FBL units however is you need to be able to physically access the units to configure them or adjust them. In some installs where the unit is buried in the frames or in a fuselage, this can be a real pain.
Click Here For Spektrum AR7300BX Deals On eBay
---
Naza-H with Optional GPS Module $450.00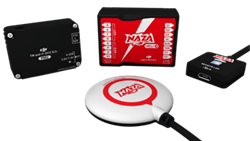 DJI's Naza-H is perhaps the best flybarless system if you want a full on autopilot with optional GPS without breaking the bank.
Their sister WooKong H unit is over $1200.00 and after having set up and flown both units, I really can't tell much if any difference in overall performance.

They both incorporate a very sophisticated inertial measurement unit, a magnetic field meter and a barometric altimeter with the most robust algorithms in robot control theory. With the advanced GPS/INS sensor fusion algorithm technology and the highly robust H-infinity control as the foundation, it makes the whole system more accurate even in high vibration and high mobility environments.
What does all that mean? It basically gives you a collective pitch helicopter that is as easy to fly as a quad/multi rotor that has GPS. Like the mutli rotor Naza M, the H version has 4 flight modes - GPS, Atti, Failsafe, and manual/normal. GPS offers hands off hovering, Atti is like horizontal mode on other FBL systems that won't allow the helicopter to pitch or roll past a certain attitude, and manual/normal allows full on aerobatics where the unit functions just like a conventional FBL system.

As I said on my FPV Aircraft page, if I was going to fly a collective pitch RC helicopter by FPV, this is the flybarless autopilot system I would choose seeing it's roughly half the cost and just as good if not better than most other autopilot/FBL units with GPS. Please note however, unlike its multi-rotor brother (the Naza M), it does not support return to home or auto land.
The setup wizard is also very poor in my opinion with little in the way of helpful tips. DJI really needs to improve this as there are just too many arbitrary values that make little sense not to mention conflicting menus that seem to duplicate configuration steps yet omit some obvious ones if you don't take the time to dig deep into the advanced settings menus. Very frustrating!

Click Here For Naza-H Deals On eBay
---
More Thoughts On Best Flybarless System & Rescue Modes
As you can see, the continuing trend and holy grail of flybarless stabilization right now is to create systems that respond with the predictability and consistency of a flybar, yet give that "tracking on rails" flight experience.
Ease of setup for complete beginners is another big direction push with all these systems (most now coming with very good setup wizards) and their subsequent firmware and model updates.
The other obvious direction FBL stabilization is headed is towards stand alone units that act as both the FBL stabilization system and the receiver (either with an internal receiver or the ability to plug in a small satellite receiver/s) as well to make the install easier and more attractive. Additional bells & whistles such as rescue modes, self-leveling, mobile device connectivity, and flight log/vibration analysis will undoubtedly continue to grow in popularity.
I get so many emails lately about why I don't specifically recommend one system over the other, or why I say I like some more than others. I also get asked very often if I feel rescue or bail out features are worth the extra cost. Here are my "filtered downed" responses to these questions:
"Rescue & Bailout" are certainly useful for some, but I find them more of a gimmick after having used several now. I of course have been flying for many years and I know my flying limits very well and I have no interest in pushing my limits, so I very rarely get into a situation where I would need to use them. The largest draw back I find with them is you have to consciously activate the rescue or bailout feature (assigned to a toggle switch) when you get into trouble before the ground interferes.
Generally, if you are close to the ground (totally depending on the attitude of the aircraft of course), you may not have time to do that if you get into trouble as things start going sideways really fast. If you're higher up, then you will have time to active it, but you may also have time to save it yourself which will build important skills. It really depends on how you learn, and what you feel is important.
Some swear by rescue modes, others could care less. I personally think it totally depends on how you fly. No question, if it saves just one crash on a larger helicopter, it just paid for the extra cost of the unit. In short, if you think rescue is a good feature to have, then I would say it's definitely worthwhile to get. It's kinda like a parachute as it's much better having it and never needing it, than needing it and not having it :-)
They will give you more confidence, but that confidence in rescue modes can work both ways if you continually start flying well beyond your ability solely relying on the "save" button all the time. That type of reliance will eventually lead to a crash. If however rescue mode is used as an emergency feature instead of constant save feature - they are a wonderful tool. Again, so much depends on how you fly, how you learn, and how you use the rescue mode.
Another bit of advice if you have an FBL unit with rescue, is to PRACTICE using it every so often (under controlled situations) so when you do need to use it, you're not panicking & fumbling around trying to recall what toggle switch you have rescue assigned to. You want the reaction time between when your bird is getting out of shape to when the toggle is activated to be as fast as possible, and that requires intimate familiarity with the activation process.

As for why I like BD over the others, it has nothing to do with the rescue feature. You will find after using and setting up several FBL units, you will start liking some more than others. I personally like BD the best of all the ones I've tried to date due to the overall "feel" of it. Some love the feel of the BD, others don't. Moreover, learning to configure FBL units and their various setup wizards and features is a very time consuming process so once you get comfortable with a system, you tend to stick with it. BD's wizard, features, and its feel just hit a cord with me that I find very usable. Not everyone feels the same way, and this again is why I don't & never will recommend any one FBL unit over the others. I personally think all the big name FBL units these days are fantastic stabilization systems..."
When choosing your best flybarless system, it comes down to the three F's...
Features, Feel, & Familiarity!