Best Flybarless System

Is There Such A Thing?
by John Salt - Updated April 2019

I can't tell you what the best flybarless system is because that depends on your needs, budget, and what ends up "feeling" the best to you while flying.
I can however point out several important criteria to consider when making your choice.

Particular features you might like or dislike such as ease of programming at the expense of customization. On the flip side, lots of customization options making for a more difficult programming, configuration, and tuning process.
As the old adage goes... "Complexity Hampers Execution"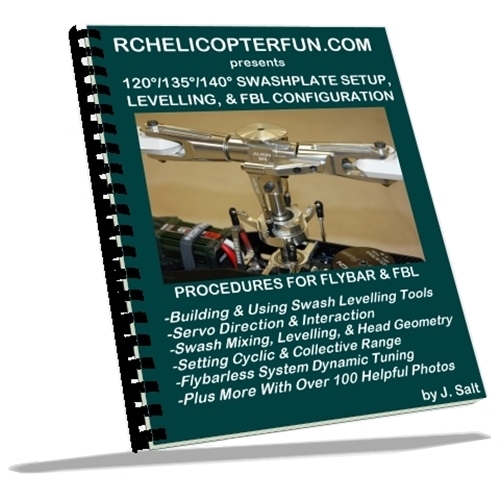 My Swash & Flybarless Setup eBook
Connectivity for configuration/programming is also another feature to take into consideration.
If you can't easily access your FBL unit once it's in the helicopter - you better stay away from units that require direct physical access and choose one that has USB or wireless connectivity.

Receiver compatibility for your particular radio system can also be a feature to look into. All FBL systems will support standard wiring connectivity methods of course, but many of the better flybarless units are also Spektrum Satellite, SBus (Futaba & FrSky), and Jeti EX Bus RX compatible these days. This simplifies wiring and makes for a "neater" install. 

In other words, I don't for a second believe there is one FBL unit that stands head & shoulders above the rest; if there was, we would all be flying it! That of course is not the case. 
Make no mistake, flybarless systems are considered the "heart of the heli" these days. Next to setup, they have perhaps the single largest impact on every aspect of flying a modern day RC helicopter. It's hard to know which you will like the best in other words as so much is feel dependent.

Hopefully however, my humble little recommendations here will at least give you an idea of what's out there, what to look for, and some general costs & features.
At the bottom of the page, I also give a few more "best flybarless system" feature deciding considerations...
---
Best Flybarless System Round Up

Mini K-Bar $40.00 USD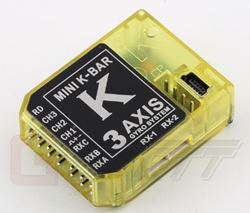 For those on a serious flybarless budget, I have to make mention of the Mini K-Bar.
It's a copy of the Mikado Mini VBar so if you are not bothered by that, this is in my opinion, the best low cost FBL unit currently on the market.
An excellent performing flybarless unit that supports standard, Spektrum satellite, and Futaba/FrSky S-Bus RX connectivity methods; with basic vibration data logging no less, for under $50 bucks! Almost $200 less than the Mini VBar. 
Like most copied Chinesium stuff, you have to do a fair amount of digging to find instructions.
As it's a copied V-Bar, you have to create a user account at Mikado and then download the VStabi setup software. The biggest hurdle I had, as many others also experience is getting the USB driver to work. It's part of the VStabi software file, but it can take a while to figure out how to load it and activate it if this is something you are not that familiar with.  
Because of the lack of out of box instructions and difficult driver issues, it's not a good beginner / first FBL unit, despite the very intuitive VStabi setup wizard which is one the easiest to use I find. 
However, for more experienced FBL users; the Mikado Mini VBar, is hard (perhaps impossible) to beat for the price and great performance. I find the feel, predictability, and performance on par with the high end $150+ FBL units I fly with. 
If you want top level FBL performance and features at bottom level pricing, and don't mind using copied hardware, the Mini K-Bar is definitely worth looking at.
---
Tarot ZYX Flybarless System $60.00 USD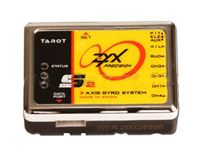 For another fairly decent performing Chinesium budget Flybarless controller, I also have to include Tarot's ZYX S2 unit.
I've had a few myself and have helped a couple friends set theirs up. For the price, they do perform quite well.  
Not as good as the Mini K-Bar I have found as they suffer a little more from temperature drifting, have fairly poor vibration immunity, I don't like the feel (subjective of course), and it's not the easiest FBL unit to configure. The Tarot however is not a copy of anything and has a fairly good setup wizard (downloaded off their site) that is parameter rich in configuration options. Harder to use however than the VStabi wizard.

I wouldn't trust one in an expensive bird, but in a cheap, small, electric powered helicopter, why not...

Click for Tarot ZYX S2 Deals @ eBay
---
Ikon2 Range $120 to $250 USD

MSH Ikon (also branded as MSH Brain) out of Italy has been one of the most sought after flybarless stabilization units on the market over the past several years, being Futaba & FrSky SBus, Spektrum DSM2/X remote (satellite), and Jeti EX Bus receiver compatible. It's also one of the best value, higher end units currently on the market right now in my opinion.

They have a rescue feature if you get into trouble while right side up or inverted and become disoriented, the unit will bring you back into a level orientation when told to do so. In other words, these units use both gyros and accelerometers. 
The Ikon has one of the best and easiest setup wizards on the market in my opinion.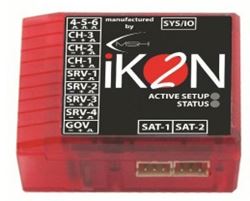 The second generation Ikon2 is now available and replaces the original version.
It has basically improved everything the original did well.
Better vibration immunity, faster 32bit CPU, improved and even easier setup wizard, improved true rescue mode, and perhaps the best feature... Flight log data with vibration analysis, and programmable service counters to boot! I love these features!
I started flying with the Ikon2 last year (2018) and have to say it is right up there with my other personal favorite, the Bavarian Demon 3X. No question, the Ikon 2 has more features, but I still like the overall feel of the BD 3X a little bit better. I would however give the logical nod to the Ikon 2 right now for the best value and bang for the buck.  
MSH Ikon/Brain is one of the only FBL brands that has several models to custom suit every need from smaller micro size up to the heavy duty model. The mini, regular, and HD versions come in both normal or for a little extra money, the bluetooth integrated versions to program direct with a smart device using their app (Android or iOS).
Click Here For Ikon FBL Deals On eBay
---
BavarianDemon (formerly HeliCommand/CAPTRON Electronic GmbH)
What can I say - I love this FBL system! I currently use the 3X in my Trex 700E BlackShark, Bergen Intrepid turbine, and Roban 700 Super Scale AS350. It's hands down the best flybarless system I have flown to date based on my flying style and the overall feel.
Here's my Intrepid on a very windy day with the Bavarian Demon 3X taking out all the "bumps".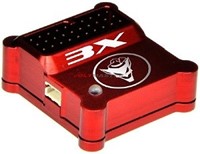 Their most popular X-series (3X & 3SX) is a pure hi-end flybarless system with no optical stabilization and has been specifically developed for scale right up to very aggressive 3D type flying supporting all swash types and multi bladed heads for the scale crowd.
---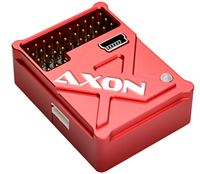 Bavarian Demon Axon Flybarless System
The new Axon is their 32 bit processing offering with vibration analysis, rescue, and full governor support which is going to eventually replace the 3X's. The good news with the new Axon on the market, the price of the 3X and 3SX have dropped a good amount making them much more affordable :-)
BD's are also the only high performance FBL unit (at least when I was trying to get a firm yes/no answer from several manufacturers) that definitely confirmed their latest 3X & 3SX systems are 100% turbine friendly and can handle the ultrasonic sound frequencies that mess other FBL gyros up. I'm sure the new Ikon2 with the better vibration sensors and of course the new Axon are safe choices as well now, but if you fly flybarless turbine, double check!

The 3X & 3SX now range in price from about $160 USD up to $200.00 USD for the SX. The Axon is sitting at $350.00 USD. All the units are encased in a strong aluminum shell (it's stunningly beautiful by the way) & use the latest generation MEMS gyro technology. With full firmware adaptability online download support, the BD's are indeed an impressive FBL choice.
The other nice feature is the USB connectivity input on the 3X & 3SX Demons are a standard 3 pin servo plug so you can simply use a servo extension wire harness if your unit is hard to gain access to once installed in the helicopter.

One of the neatest features the SX & Axon versions supports that I already mentioned is something called "Rescue Mode" or "Captain Rescue". Basically no matter what position your bird is in, when you hit whatever toggle on your radio that you assigned to engage "Captain Rescue", the heli will come back into a level & horizontal attitude and gain altitude.
Click for BavarianDemon Deals On eBay

---
---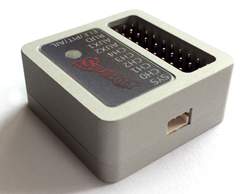 The Spirit & Spirit Pro flybarless systems are getting to be a very popular choice among many of my visitors that have contacted me; so on their enthusiastic recommendations, it has been added to my best flybarless system list.
In fact, almost everyone I talk to who has used one, says they will never use any other FBL unit again, not to mention the outstanding customer support the owner of the company provides - that certainly says something in this day and age!
Both units use 32 bit processing and have vibration analysis data logging along with rescue/bail out which by all accounts is very similar to Bavarian Demon's rescue algorithms. Setting a hard deck and geolink safe flying envelope / return to home options as well.
Price wise, they are competitive with the other high end brands in the $200 to $250 range.

Customary RX, Spektrum Satellite, Futaba & FrSky SBUS, and Jeti Duplex XBUS connectivity is supported, as is OpenTX programming integration. This very likely is going to be my next FBL unit to try since I recently made the switch to FrSky & OpenTX, and I want to see what this integration is all about. Marketing wank, or something truly useful? These days, we are so often convinced something is great that we can't live without before even knowing what the benefit is. 
Believe it or not, I find myself at times wishing for the good old simplicity of a flybar. Build the heli, level the swash, setup your pitch ranges, and go flying. No other BS! Oops, my age is starting to show... Back to the best flybarless system roundup.
---
Mikado VBar $320.00 USD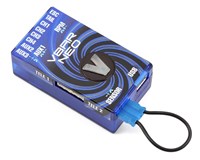 The Mikado VBar NEO series of flybarless systems out of Germany are also very popular and very performance minded.
Quite a few pilots feel VBar is the best flybarless system out there bar none. Their Neo series of FBL units will also communicate fully with Mikado's line of V Control radios.
This allows you to use the setup wizard direct through the radio to the flbyarless unit meaning no laptop or smart phone is needed for FBL setup. Parameters can even be changed on the fly through the radio. For some, this direct radio to FBL unit programming and configuration is very convenient.   
There is no doubt the VBar will continue to be a popular choice because, just as with most of these systems, the software keeps getting tweaked and allows so much setup flexibility and convience if using a Mikado radio.
Of course, the 3 big name radio manufacturers are fully supported with the Mikado V-Bar systems acting as your RX being both Futaba & FrSky SBus friendly as well as Spektrum & JR DSM2/X satellite receiver friendly.
Click for Mikado Vbar Deals On eBay
---
MicroBeast Plus $180.00 USD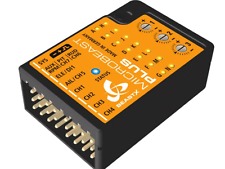 The MicroBeast Plus & MicroBeast Plus HD by BeastX (again out of Germany) is another FBL system that many pilots consider to be the best flybarless system currently on the market from an ease of use/programming standpoint for newbies. I agree with that!  
Fully Spektrum/JR DSM2/X remote RX and Futaba S-Bus compatible in a single contained unit - again showing the direction this technology is heading.
As I already mentioned, I personally feel it is one of (if not the) best flybarless system for people's first introduction into virtual flybars due to its out of the bag plug and play simplicity along with easy to understand setup instructions & intuitive LED programming method direct on the unit.
I've flown a good number of RC helicopters using the MicroBeast and find the feel and performance quite exceptional given the easy-breezy setup procedure. 
Click for MicroBeast Deals On eBay
---
Spektrum AR7210BX $220.00 USD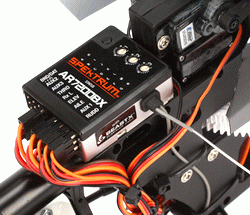 Spektrum have also teamed up with BeastX (or maybe it was the other way around) and are offering their AR7210BX 8 channel receiver which is essentially an 8 channel DSMX Spektrum receiver with the MicroBeast flybarless system built in with provision for one additional satellite Spektrum RX.
For about $220 USD, the AR7210BX is a great value option if you fly with a Spektrum or JR DSM2/X radio and want to get a combination RX and flybarless stabilization unit to save a little money over getting two separate components not to mention make for a cleaner and simplified install.
I have flown a fair number of student's and customer's helis that use the first gen AR7200BX, and now the updated AR7210BX. Just like the MicroBeast Plus, I find them to be wonderful units that are easy to setup. I've gotten very comfortable with the "on face" button/LED setup & programming procedure on them which is really nice if you don't like hooking stuff up to a computer or linking it to a device.
Simply one of the best flybarless systems from an ease of programming standpoint; perfectly suited to the first time flybarless newbie that has never programmed a flybarless system before.
Click For Spektrum AR7210BX Deals On eBay
---
Naza-H with Optional GPS Module $450.00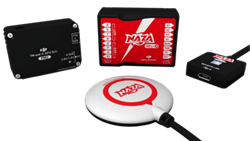 DJI's Naza-H is perhaps the best flybarless system if you want a full on autopilot with optional GPS without breaking the bank.
Their sister WooKong H unit is over $1200.00 and after having set up and flown both units, I really can't tell much if any difference in overall performance.

They both incorporate a very sophisticated inertial measurement unit, a magnetic field meter and a barometric altimeter with the most robust algorithms in robot control theory. With the advanced GPS/INS sensor fusion algorithm technology and the highly robust H-infinity control as the foundation, it makes the whole system more accurate even in high vibration and high mobility environments.
What does all that mean? It basically gives you a collective pitch helicopter that is as easy to fly as a quad/multi rotor that has GPS - true hands off hovering! Like the mutli rotor Naza M, the H version has 4 flight modes - GPS, Atti, Failsafe, and manual/normal. GPS offers hands off hovering, Atti is like horizontal mode on other FBL systems that won't allow the helicopter to pitch or roll past a certain attitude, and manual/normal allows full on aerobatics where the unit functions just like a conventional FBL system.

As I said on my FPV Aircraft page, if I was going to fly a collective pitch RC helicopter by FPV, this is the flybarless autopilot system I would choose seeing it's roughly half the cost and just as good if not better than most other autopilot/FBL units with GPS. Please note however, unlike its multi-rotor brother (the Naza M), it does not support return to home or auto land.
The setup wizard is also very poor in my opinion with little in the way of helpful tips. DJI really needs to improve this as there are just too many arbitrary values that make little sense not to mention conflicting menus that seem to duplicate configuration steps yet omit some obvious ones if you don't take the time to dig deep into the advanced settings menus. Very frustrating!

Click Here For Naza-H Deals On eBay
---
More Thoughts On Best Flybarless System Features & Rescue Modes
As you can see, the continuing trend and holy grail of flybarless stabilization right now is to create systems that respond with the predictability and consistency of a flybar, yet give that "tracking on rails" flight experience.

Ease of setup for complete beginners is another big direction push with all these systems (most now coming with very good setup wizards) and their subsequent firmware and model updates.
The other obvious direction FBL stabilization is headed is towards stand alone units that act as both the FBL stabilization system and the receiver.

Either by using an internal receiver, or by having the ability to plug in a small satellite receiver/s, or communication networking SBus/EX Bus receiver to make the install easier and more attractive.
Additional bells & whistles such as rescue modes, self-leveling, hard deck, mobile device connectivity, radio system programming connectivity, and flight log/vibration analysis will undoubtedly continue to grow in popularity.
Smaller form-factors and increased processing power & speed round out the trends with most of the higher end units now utilizing 32 bit CPU architectures. 
I get so many emails lately about why I don't specifically recommend one system over the other, or why I say I like some more than others. I also get asked very often if I feel rescue or bail out features are worth the extra cost. Here are my "filtered downed" responses to these questions:
"Rescue & Bailout" are certainly useful for some, but I find them more of a gimmick after having used several now. I of course have been flying for many years and I know my flying limits very well and I have no interest in pushing my limits anymore, so I very rarely get into a situation where I would need to use them. The largest draw back I find with them is you have to consciously activate the rescue or bailout feature (assigned to a toggle switch) when you get into trouble before the ground interferes.
Generally, if you are close to the ground (totally depending on the attitude/speed of the aircraft of course), you may not have time to do that if you get into trouble as things start going sideways really fast and you're filling your underwear at the same time. If you're higher up, then you will have time to active it, but you may also have time to save it yourself which will build important skills. It really depends on how you learn, and what you feel is important.
Some swear by rescue modes, others could care less. I personally think it totally depends on how you fly (tame vs insane). No question, if it saves just one crash on a larger helicopter, it just paid for the extra cost of the unit. In short, if you think rescue is a good feature to have, then I would say it's definitely worthwhile to get. As the old saying goes, it's better to have a parachute and not need it, than to need it and not have it :-)
They will give you more confidence, but that confidence in rescue modes can work both ways if you continually start flying well beyond your ability solely relying on the "save" button all the time. That type of reliance will eventually lead to a crash. Again, so much depends on how you fly, how you learn, and how you use the rescue mode.
Another bit of advice if you have an FBL unit with rescue, is to PRACTICE using it (under controlled situations) so when you do need to use it, you're not panicking & fumbling around trying to recall what toggle switch you have rescue assigned to (remember, you're very likely filling your underwear at this moment). You want the reaction time between when your bird is getting out of shape to when the toggle is activated to be as fast as possible, and that requires intimate familiarity with the activation process.
In addition to using that save toggle to get familiar with it, if you have several helicopters with rescue modes, make sure you program the same toggle for rescue for every model. I know that is fairly common sense stuff, but when your're new to all this, it might not be obviously apparent at first.
As for why I like BD & Ikon over the others... You will find after using and setting up several FBL units, you will just instinctively gravitate to some of them. I personally like BD the best of all the ones I've tried to date due to the overall "feel" of it. Some love the feel of the BD, others don't. Moreover, learning to configure FBL units and their various setup wizards and features is a very time consuming process so once you get comfortable with a system, you tend to stick with it. BD's & Ikon's wizard, features, and feel just hit a cord with me that I find very usable.
Not everyone feels the same way, and this again is why I don't & never will recommend any one FBL unit over the others. I personally think all the big name FBL units these days are fantastic stabilization systems after using many of them... But my confirmation biased opinion goes to Bavarian Demon and Ikon2 - no denying that! 

Finally and if you are an FBL newbie, consider what specific flybarless system/s are being used in your area or flying club (local familiarity in other words). Using a system that is popular in your area has the advantage of getting experienced setup/tuning help should you need it.
When choosing your best flybarless system, it comes down to the three F's...
Features, Feel, & Familiarity!
Price can be thrown in there as well ;-)
---
Are You Looking For RC Helicopter Help?  


---