RC Helicopter e-Books That Will Save You Time & Money
But Most Importanly, Save Frustration
---
Why have I written several RC Helicopter e-Books?
After being involved with this hobby for many years; I know all too well the frustrations and confusion that surface when people are just starting out with single rotor collective pitch RC helicopters or even experienced flyers face when introduced to changing technology.
I was no different and would have given anything to get some quality help and information. Unfortunately I had to learn the hard and expensive way - trial and error.
---
Setup & Tips For Electric Collective Pitch RC Helicopters

The highest costs and frustrations beginners face with good quality collective pitch RC helicopters result from crashing. This stems directly by not having the helicopter setup for learning on - that is the real issue.
This RC helicopter e-Book pays for itself many times over by showing you exactly how to turn a high performance electric & even fuel powered collective pitch heli into a docile trainer and then progress to more advanced setups plus many more tips and advice.
Click on the image to learn more about what's inside this, my number one selling and most popular e-Book.

ONLY $16.95 USD

---
How To Build Training Gear For RC Helicopters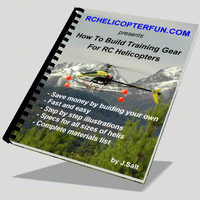 Building your own set of RC helicopter training gear is very easy and fun. You will save money by building your own gear and can customize the gear for your specific size helicopter.
This e-Book is fully illustrated with step by step instructions showing how easy it is for anyone to turn out a nice looking and very functional customized sized set of training gear for very little money (much less than commercially available gear in most cases). Covering micro size right up to large 800 electrics and 90 size nitros.
If you wish to learn more about what's inside this fun "How To" e-Book, just click on the image of the book.

ONLY $6.95 USD

---
120/140 Swashplate Setup & Levelling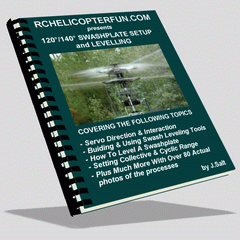 120&140 CCPM electronic swashplate setup is by far the most intimidating and miss-understood technical setup process that most people face in this hobby. There are just so many things to set correctly.
I had a hard time myself figuring this out and after being disappointed with the lack of good information and an easy to follow process, I decided to write this e-Book.
This is a heavily illustrated e-book with over 80 actual photos to help illustrate the many steps. In fact, once you go through the process, it is fun and really not difficult at all.
From the smallest micro electrics to the largest turbines; if your heli has a 120 or 140 CCPM swashplate and you are intimidated by the setup process, this e-Book will answer all your questions, and perhaps several others you didn't even know about.
If you wish to learn more about what's inside this e-Book, just click on the image of the book.

ONLY $9.95 USD

---
Getting The Most Out Of Your Blade mSR/X & 120SR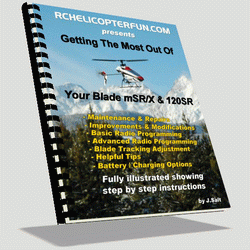 This fun and informative 90 page e-guide will help you understand what makes the Blade mSR, mSRX, & 120SR tick.
It gives you all the information needed in a clear and concise way to get the most out of the Blade mSR/X & 120SR RC helicopters while saving time, money, and frustration.
This e-guide contains over 100 actual photos to help you out along the way with the many tips, procedures, and examples.
If you wish to learn more about what's inside this fun e-guide, just click on the image of the book.

ONLY $9.95 USD

---
Beginners Guide To Flying RC Helicopters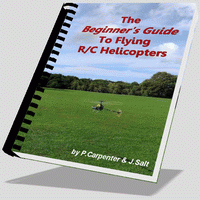 Unlike my other e-Books that are very topic focused and specific, this 132 page e-Book is geared towards the newest of newbies who are just starting to get into the exciting hobby of RC helicopters and are looking for an easy and informative read that covers all the basics.
From the different types of RC helicopters available, to how they work, to how to fly them and what's involved - this 132 page, easy to read e-book covers all that and much more with plenty of helpful colorful illustrations.
If you wish to learn more about what's inside this helpful e-Buide, just click on the image of the e-Book.

ONLY $14.95 USD

---
Beginners Guides Combo Deal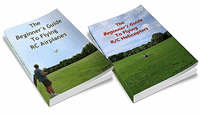 20% Off Beginners Special
Thinking of getting into planes too, or trying to decide between RC helicopters or RC airplanes?
If so, the Beginners Combo deal which includes both the Beginners Guide To Flying RC Helicopters and the Beginners Guide To Flying RC Airplanes e-Books, represents excellent value for anyone looking to get started safely and quickly in either or both forms of radio control flying.
Just click on the link or image of the ebook combo for more details on this beginners special.
Only $25.96 USD
(Regular price if purchased separately: $32.45 USD)
---
All my e-Books offer the following:
safe & secure payment through PayPal
instant download link sent directly to your email address with download instructions immediately after payment goes through
30 day money back guarantee
Do You Have Further eBook Questions?
I sometimes get asked specific questions about my ebooks - here are the most common ones along with the answers.
Q: "How do I get the eBook once I pay for it"?
A: As soon as the payment goes though, you are sent an automatic confirmation email to the email address you used during the checkout. That confirmation email also contains the download instructions along with the secure download link. You simply click on the link and the PDF file will download to your computer (depending on file size and your internet connection speed, this can take several seconds to several minutes). At this point you MUST SAVE the PDF file after you open it because the secure download link has a time limit (5 days or 5 attempts, which ever occurs first).
Q: "Why do the secure download links have a time limit"?
A: For two main reasons: One, it prevents link sharing. Two, it saves server resources.
Q: "Can I view the eBook on my iPad or other tablet"?
A: Yes, provided you have a PDF viewer application as most iPads, tables, and smart phones come standard with (or can be downloaded to your device).
Q: "Do I need a specific tablet or eBook reader to view your eBooks"?
A: No. You can also view them on any computer (desktop or laptop) provided you have a PDF reader such as Free Adobe Reader.
Q: "Can I save the eBook PDF file/s on my multiple devices (desktop, laptop, tablet, smart phone)"?
A: Yes. Once you download it, you can save/sync it like any file to any device.
Q: "Can I print the ebook out after I get it"?
A: Yes. You can print the entire ebook or just specific pages if you wish.
Q: "I never got the confirmation email, now what"?
A: Double check in your email junk or delete folder to make sure it didn't get filtered there by mistake. Also confirm the email you used during the check out is in fact your correct and/or working email address. Some people use a different email address in their PayPal account from their normal working email address for example. If you still can't find the confirmation email, contact me and include the PayPal transaction number so I can find the transaction and manually activate a new download link.
Q: "The download link is not working for some reason"?
A: There can be several reasons for this but most of the time it's due to a security setting on your specific web browser which blocks the download from coming through. Not to worry however if you happen to be included in that very tiny fraction of customers who run into this problem. Simply contact me with the PayPal transaction number stating the download is not working and I will manually email you the eBook PDF file/s as email attachment/s - that's always the 100% sure-fire work around solution.
Q: "I don't have a PayPal Account, how can I pay"?
A: You don't need a PayPal account. You can also pay with several major credit cards at the PayPal payment screen. PayPal essentially becomes the credit card payment processor.
Q: "I don't want to (or can't) use PayPal, do you accept any other payment options"?
A: My "official" answer to this is NO. However, I have on occasion accepted US Money Orders with these "alternative payment option" requests. It's a hassle for all involved; especially for you as the customer because of the fairly obvious issues.
1. It's not "click & read" fast & easy so that largely defeats the whole instant downloadable eBook process that make eBooks so convenient in the first place.
2. You have to get the money order and mail it to me and only once I receive the money order, will I manually send you the eBook download link/s. That's a lot of leg work and time involved for a low cost eBook purchase. That said, most people who take me up on this payment option purchase several eBooks so that makes it a little more justifiable.
3. Money order payments are NON-REFUNDABLE.

Again, I strongly discourage it; but I get this "alternative payment" question often enough that I wanted to include it in my eBook Q&A. If a US money order is how you want to pay, please contact me with what eBook/s you are interested in and I'll do my very best to accommodate your request.
---
---
Return To Top of RC Helicopter e-books

Return To Home Page