CONTACT ME
With the popularity and complexity of RC helicopters, my daily e-mail load has far exceeded my ability to respond to everyone. Have a look over the guidelines below to understand what questions I will try to answer and ones I outright won't answer.
Site Feedback?
Nope, this site is not complete and no, it never will be. There are simply too many facets of this hobby to cover every single one and with the rapidly changing technology, this site will hopefully continue to grow and evolve to embrace it. Site feedback is always welcome so if you feel there is topic that I have missed, corrections, etc. let me know. That said, I don't pretend for a second to know it all and there are some area's I simply don't know enough about to be an authoritative source such as RC aerial photography/video for example - but hey, I want to learn :)
RC Helicopter & Product Recommendations?
Seeing that I haven't flown every RC heli out there or used every product, it's impossible for me to make recommendations on specific models/components or what would be the best one for you. I don't know your budget, your flying area/environment, your skill level, what brand/s is/are carried at your local hobby shop, if you're getting one on one help from an instructor, or how deeply you want to dive in and get your feet wet. I cover all that on my Best RC Helicopter Page and as that page points out, there is no one best heli for everyone but I do give several examples of birds that I would consider for various types of skill sets, flying styles, and why I recommend them. This will give you solid ideas of what features to look for in other brands as well if you are considering something different. In short, I will not respond to any recommendation type questions on helis or equipment.
Technical questions?
I get so many daily (hundreds some days)... I used to try and answer every one, but it has become impossible - I am only one guy after all and there are only so many hours in a day.
Priority is first given to people who purchased any one of my e-books or have a question/s about the e-books. I always respond to "customers" first since the simple reality is they spent the money, and therefore deserve the time & service.
I then do my best to respond to questions I know are not covered on any of the pages on my website (assuming I know the answer of course). If a question is covered on one of the pages, or in one of the e-books, I will generally send you a quick link to that page or e-book, usually along with some other helpful ideas - at least I hope they help - LOL.
For me to give an accurate answer on a technical question, I need lots of information. "My heli won't fly anymore or spins around" unfortunately doesn't give me any useful info to help diagnose the problem. On top of that, trying to diagnose problems remotely is often impossible, but there are lots of common issues so as long as I have enough info, I will try my best to help. I might be right or I might drop the ball completely - there is no substitute for hands on diagnosis.
Lastly, if you don't get a response, please don't take it personally, it simply means I either didn't get around to it yet, didn't have the time due to a heavy question day (I only have time to answer a fraction of the emails I receive), you gave me an incorrect e-mail address (that happens a lot), or perhaps the question was out of my comfort zone.
Do I accept phone calls? Nope! Why? I get thousand's of visitors a day to my site and can't even keep up with the email load - imagine the implications if I started a phone tech help service - that's what the hobby shops or tech help services from the manufacturers are there for, not me...
I'm no longer accepting reciprocal link requests at this time so no link requests please, they will not be answered.
---
If your feedback requires a response, I do my very best to get back within 24-48 hours, however, at busy times of the year such as Thanksgiving, Christmas and Father's day, that time frame can likely double. I usually take Sundays off (flying time or the "honey-do list" you know). Again, E-book customers are always given top priority.
I respect your privacy and will never share your e-mail address with anyone else.
Thanks for visiting rchelicopterfun.com – please come again!
Wishing you successful fun flying,
John Salt
---
Please Note:
After you submit this e-mail contact form, you will be sent an auto reply confirmation e-mail to confirm your contact form was sent to me and allows you to make any corrections to your original submission if need be. Do not respond to this auto reply email unless you need to make a correction to your form submission! If you don't get this confirmation e-mail, you likely miss-typed your e-mail address or you have filtering/whitelisting turned on that sent the confirmation to your e-mail's junk or delete folder. The thank you message that will pop up after you submit the contact form will show the email address to whitelist.
Speaking of whiteliting, I have been forced to turn it on as well because of the hundreds of spam emails I was getting daily. This is a pain in rear-end for everyone, but it's an unfortunate reality. In short, if you send me an email directly before I whitelist it though this contact form or you whitelist your address, your email will just bounce back saying it couldn't be delivered. If that happens, use the contact form here so I can whitelist your address.
---
---
---
---
---
---
RC Heli Help E-Books
---
Beginner's Guide To RC Helicopters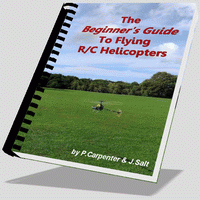 The Beginner's Guide To Flying RC Helicopters is an e-book that goes over the basics of getting started with RC helicopters. Click on the image of the book to learn more about what's inside.
---
Getting The Most Out Of Your mSR/X & 120SR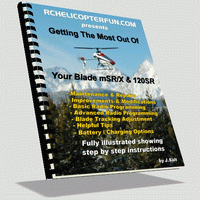 Getting The Most Out Of Your mSR/X & 120SR is an e-book that focuses on the Blade mSR, mSRX, & 120SR. Click on the image of the book if you want to find out more about it.
---
Setup & Tips For RC Helis

The Setup & Tips For Electric Collective Pitch RC Helicopters e-book is all about setting up a collective pitch RC helicopter with a computerized radio to turn it into the perfect trainer. Click on the image of the book to find out more about what information is covered in this, my most popular & #1 selling e-book.
---
Swash Setup & Levelling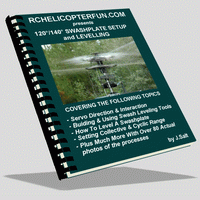 The 120/140 Degree Swashplate Setup & Levelling e-book shows how to properly setup and level a 120,135, or 140 degree electronically mixed swash to attain perfect interaction and a trimmed out bird off the bench. Click on the image of the book to learn more about it.
---
How To Build Training Gear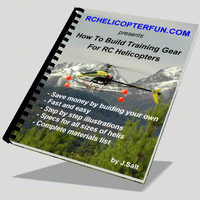 RC helicopter training gear is the essential training aid used when learning to hover and fly most RC helicopters, this e-book shows how to build them. If you want to learn more about what's inside, click on the image of the book.
---
Beginner's Guides Combo Deal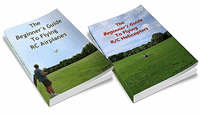 Thinking of getting into planes too, or trying to decide between RC helicopters or RC airplanes? If so, the Beginner's Combo deal which includes both the Beginner's Guide To Flying RC Helicopters and the Beginner's Guide To Flying RC Airplanes e-Books, represents excellent value for anyone looking to get started safely and quickly in either or both forms of radio control flying.
---
---
---