Choosing The Best RC Helicopter For Kids & Beginners

The Blade Scout - A Great Beginner RC Helicopter
"What's the best RC helicopter for kids or beginners" is a common question I frequently get asked; especially around Christmas time since RC helicopters are very popular gifts for kids and adults alike. I'm going to give you some "kid/beginner friendly" recommendations along with the reasons why I feel these are good helicopters for both children & first time newbies getting into the hobby.
First off, you may want to take a peek at my Toy RC Helicopter page since it talks about toy helicopters which is a good place to start most children off with - especially younger children (under 8 years of age). That said, there are limitations to toy type RC helicopters and for not much more money (sometimes even less), you can actually get your youngster/s a better quality hobby grade RC helicopter that they will not only have more overall fun with; but it will also last longer.

Why?

Unlike toy/mall kiosk/big box store RC helicopters, hobby grade RC helicopters are almost always better in quality and fly much better; but the very best feature they have going for them is you can easily get replacement parts for them when something breaks or wears out. This is something that you usually can't do with a toy heli. Once a toy heli breaks (and they all will break eventually), chances are it's headed for the landfill and I've seen first hand how upset a child gets when this happens. No question, they will still get upset when they break a part on their hobby grade helicopter, but at least you can explain to them, "we'll get it fixed and it will be good as new". To me, that is worth a few extra bucks over throwing money down the drain on a disposable toy.

Hobby grade helicopters also allow you to purchase extra flight batteries for back to back flights. Most toy grade helis have built in battery packs and you have to wait after each flight to recharge them.
The other benefit with hobby grade is you can get knowledgeable help from the hobby shop or the manufacturer should you need it for problem's, repairs, or even recommendations. You rarely if ever get service like that with the toy/mall/box store stuff. In fact, it's rare the person selling them at such places even knows the difference between a coaxial helicopter or multi rotor never mind how they actually work and which one is the best match for your particular child or beginner RC helicopter pilot. 
In short, before making that impulsive toy/mall kiosk/box store RC helicopter for kids purchase, do a little research or pay a visit to your local hobby shop or on-line hobby shop to see what they have for not all that much more money.
No longer are all hobby grade RC helicopters super expensive, hard to fly, and meant for enthusiasts only. With all the micro coaxials and micro quadrocopters, you can get easy to fly quality hobby grade RC helicopters now for under $100 dollars. In fact, some are in the $50 range so they are not much more expensive than most of the toy stuff at all, yet offer superior value and most importantly, superior fun.
---
How Much Will A Hobby Grade Helicopter For Kids & Beginners cost?
I'm trying to adhere to an under one hundred dollar budget since most people who contact me with this best RC helicopter for kids or beginners question want to keep the price under $100 bucks or less.
I do have a few more suggestions that cost more if your budget is a little more flexible or you are purchasing one for a BIG kid at heart. That is the one thing to be aware of. You may be purchasing this RC helicopter for your or someone else's child, but chances are you or other adults are also going to be having fun with it too. 
---
RC Helicopter For Kids & Beginners Recommendations
As you have likely guessed, all the RC Helicopter for kids recommendations I'm going to be giving you are for easy to fly and economical hobby grade helis. Again, if you want to go the toy helicopter route, check out my toy helicopter page for more info on them.

The ones I'm recommending are sold at most good hobby shops so it should be easy to find them and to then get parts for them when required. To be kid & beginner friendly, all these RC helicopters are ready to fly out of the box (no building required), robust, and naturally fairly easy to fly.
The majority of my recommendations are also very small in size and will fit in the palm of your hand. Small micro sizes are good in that they have very little mass and less mass = less energy dissipated when they crash or hit something.
In other words the smaller and lighter they are, generally the less likely they are to break when they crash. This makes them not only less dangerous to the child but less damaging to items in your home as it's pretty much inevitable that your young student pilot will have a few less then perfect first flights.

That said, all these little helicopters for kids & beginners are still flying aircraft with spinning propellers or rotors on them. The micro size ones don't have enough power/energy to cut through skin, but they can sting when the blades contact bare skin and they are certainly capable of damaging soft eye tissue. Using common sense and caution go a long way. Most of these kid friendly hobby grade RC helicopters are recommend for ages 12 and up, but depending on the child and the level of help offered by an adult at first, that age limit is of course a recommendation only. I know a few eight & nine year olds who can fly any of these kid friendly helicopters better than their parents can, so it all depends on the natural ability of the child. 

I have links to each helicopter so you can learn more about each one along with ordering information if you wish to purchase on-line. I have also included a few videos on some of the models so feel free to watch them or better yet, show them to your young budding helicopter pilot and get his/her input. 


Hobby Grade Micro Coaxial RC Helicopter For Kids & Beginners
First up are micro coaxial RC Helicopters. These are generally the type/design of RC helicopters that most toy/mall/box stores offer, but the ones I have listed here are true hobby grade quality with proper tail gyros & cyclic control.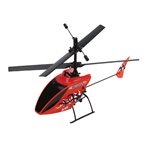 Blade Scout CX $49.99
This is the best first time RC helicopter for children & beginners on the market right now in my opinion. They are light, tough, and not overly complicated to fly due to 3 channels of control over the slightly more complicated 4 channel variety. This is my personal goto gift heli for kids & beginners of all ages who have never once before controlled anything by radio control.

---

Blade mCX2 $99.99
A great looking, high quality, and high performance 4 channel micro coaxial heli- here's my full review.
---
Hobby Grade Quad Rotor RC Helicopter For Kids & Beginners
Next up are the quad rotors - the latest and greatest thing in easy & fun to fly RC right now. Quadrocopters (quads for short and very incorrectly also called drones) are perfect RC helicopters for kids (big & small alike). They are more performance minded over the micro coaxial helicopters and most are more challenging so they may not be the best option for younger children unless they already have some RC heli experience. All offer 4 channels of control (lift, pitch, roll, & yaw). Some also have selectible flight modes for easier flight while first learning and then select the more aggrisive flight mode for aerobatics.

Micro quadrotors can however handle small amounts of wind outdoors much better than micro coaxials so if outdoor flight is an important consideration, a quad might be the better all round choice. Most are also very crash proof as there are very few moving parts on them which also makes them easier to fix when something does break. Some even come with a built in video camera for taking amazing aerial video footage.

Blade Pico QX $42.99
A great palm sized "first" quad rotor.
---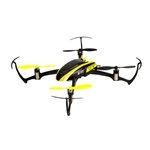 Blade Nano QX $89.99
Larger than the Blade Pico QX which makes it better for both inside and outside fun.

---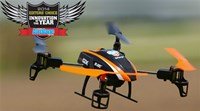 Blade 180QX HD $189.99
Utilizing SAFE™ technology, the 180 QX HD maintains superior stability in three flight modes. With the included E-flite® EFC™-721 camera, pilots can experience aerial video and image capture by simply activating the triggers on the included RTF model transmitter.

---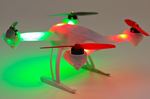 Blade 200 QX BNF $229.99
The 200 QX is the little brother of the 350 QX and is one of the most powerful quad rotors in this size segment thanks to brushless motors so you can not only carry a payload; but can have a blast with aerobatics too.
This little quad can actually fly inverted and is known as a "3D quadcopter", I have a full page about them and how they work.

---
As you can see, other than a few costlier exceptions, a true hobby grade RC helicopter for kids or beginners doesn't have to cost much more than the toy type; but you get more helicopter in most cases, way better control, overall better quality, and the ability to fix them when something breaks.
Lastly, this video gives a really good primer on Toy Grade vs Hobby Grade if you are still a little foggy about some of the differences.

---