THE RC FIELD BOX ESSENTIALS
So what is the RC field box, and why do you need one? The field box is essentially a tool box that you take to the flying field with you; another common name is the RC flight box.
This box holds your radio, tools, charging equipment for electric helis, starting equipment and fuel for fuel powered helis, and a number of small parts. Basically you are bringing a little bit of your work shop to the flying field.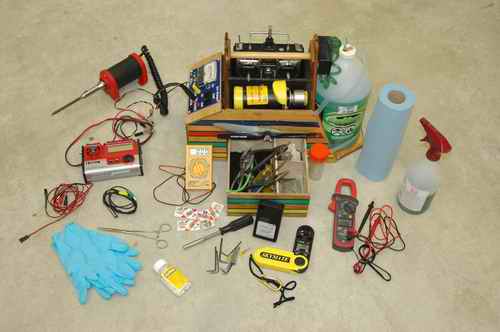 The above picture shows an example of a basic well equipped RC flight box with tools, spare parts, fuel, and starting equipment.
You can make your own RC flight box, purchase a kit, or purchase a ready built box – it is up to you and your budget.
A common misconception is you don't need a RC field box for electric helicopters . Well I guess you could carry everything for your electric helicopter out to the field in a cardboard box. Everything will be messed up, unorganized, and perhaps even get damaged or lost. Seeing you can build your own flight box or purchase it for very little money, there is no reason not to have one.
I should quantify that statement as being only relative to larger electrics that you actually take to a flying field. A small or micro electric that you only fly in your house or back yard certainly doesn't require a RC field box seeing that you are only a few steps away from your workshop.
---
Now down to specifics – you will need to equip your RC field box with certain items. There are some must haves and nice to haves.
Here is a list I came up with over the years to support my RC airplanes and helis out at the field, use it as a guide line and fine tune it for your own specific requirements. Just like in the RC helicopter tools section, I have given very approximate values so you can set a budget for you RC field box supplies.
I didn't put prices down for duplicate items that were already discussed in the RC helicopter tools section.
---
RC Field Box "Must Haves"
The RC Field Box of course - free if you make it yourself from scrap wood, $25.00 kit, $40.00 and up built. One word of advice if you do build your own box - build it small and light. Carrying a 100 pound field box out to the field is not fun, not to mention the comments you get from the flight line. Yup, I just described my first RC field box - what a useless monster it was.
A few screw drivers - Phillips and regular tip, or a single combo screw driver
A nice small flat bladed engine tuning screw driver
Needle nose pliers, common pliers, ball link pliers
Tweezers
Wire cutter and stripper
Metric Allen drivers or keys and nut drivers for the specific sizes used on your heli
5/16" socket or glow plug wrench - A combo glow plug wrench that holds spare glow plugs is a great tool to get.
Fuel for nitro or gas engines
Fuel pump – this can be hand operated or electric – once you use electric, you will never go back ($ 16.00 - $30.00)

If you have a nitro bird, always have a few spare glow plugs on hand.
Paper towel and perhaps a cleaning solution to wipe your hands and heli down when they get dirty
Miscellaneous consumables such as glue, electrical tape, nylon tie straps, and if you like to have clean hands, blue nitrile surgical gloves.
Bug Repellant if you live in a "buggy" area.

I have almost crashed on several occasions from the relentless attack of biting and stinging insects when I forgot to bring the "bug spray" with me. Some of the little buggers have even flown right into my eyes and that always makes for an interesting forced landing. Just be careful with bug spray's and repellents around your RC equipment. Most of this stuff attacks plastic and can ruin a computerized radio's display screen (don't ask how I know).

That's it... Ok that's not it, what about starting and charging equipment? I have included them in the nice to have section, why – because you will have your bases covered with the above list.

If you have a nitro RC heli, you still need a way to start it - I will get to that in just a minute.

I know when you are first starting out there are so many expenses in this hobby it never seems to end, well a field box is where you can save some cash. Simply put, if you have a good cordless drill and some know how, you can be up and running for next to nothing.

You can build your own box for free if you have the wood lying around.

Use your cordless drill (many do) with a long 6-8 inch hex extension to spin the engine over.

To power your glow plug, any 1.2 volt nicad cell will do the job. It is actually very easy to build your own glow plug driver.

With all that said, there is a considerable time commitment involved, but if you have the time, you will save money this way, and then build up your box as time and budget allow. This is how many of us "good old boys & girls" started out. It worked, but it was clunky.

Fact is, you can get complete RC field box kits now that come with everything – box, battery, power panel, glow plug driver cord, electric starter, and electric fuel pump for about $125.00. I remember when a starter alone cost more than that; this price is hard to beat considering the time that is saved going this route.

On that note, let's dive into the nice to have stuff, much of which is included in that complete kit I just mentioned.
---
RC Field Box "Nice To Haves"
Electric Starter and extension shaft if you are running nitro or gas. Hanger 9's Pro model (pictured to the right) is the one I have been using now for 5 years - great value and performance. The coiled power cord it comes with is a great feature that will help keep the cord out of the rotor while starting. ($40.00 and up)


Power panel to control glow plug, fuel pump, and supply power to starter – not required for electric helis. The power panel is mounted right on your RC field box - you can make your own or purchase one. ($25.00 and up)
Butane Soldering Iron, for out at field soldering repairs.
Electric fuel pump ($20.00 and up)



12 VDC Lead Acid Battery

You need a fairly substantial 12VDC battery to supply power to the power panel or computerized charger – the best ones use gel cells to prevent acid leaks. I used to use a common motor cycle battery, but they would always sulphate and never last more than a couple of years. The hobby specific gel battery I use now generally last at least 5 years (assuming you take care of them and keep them in a fully charged state).
Glow plug driver cord or "glow driver" to power your glow plug. Don't get a cheap one, they vibrate off and are very frustrating. Good ones stay on the glow plug and will last for years. ($6.00 - $30.00)
Computerized battery charger that runs on 12 VDC to charge electric RC helicopter or airplane LiPo batteries - either from the field box or your vehicles battery. These can also be used to charge your radio, receiver, or even your glow plug ignitor while out at the flying field. The Thunder Power TP610C is a nice choice for your field box due to its small size, robustness, supports all battery types right up to 6 cell Lipo's, includes a balancer board.
Charging leads for your computerized charger. The Tarantula 8-in-1 is nice when you are first starting out and perhaps have several different plug types. For a field box, just having the one charge cord is nice.
Digital volt meter (DVM) or any other type of voltage checking device for your specific application.

These are very handy for checking your receiver battery after each flight is a good practice to get into – if it is at or below 4.5 volts, don't risk another flight. You can also check glow plug condition and perform various other electric diagnostics. For electric RC helicopters it is a must have tool and almost a must have for nitro, gas, and turbine.
RC Helicopter Optical Tachometer


Electronic hand held wind Meter.

To be honest, I had been flying RC planes and helicopters for years without one and didn't really think I needed a wind meter. However, I did purchase one and am always glad I have it in my field box now, especially with smaller electric RC helis. I thought I should make mention of wind meters because so many RC pilots have started using them and love them.($30.00 and up)
Spare parts – Having a critical spare part could save your day at the field, you will know in time what parts tend to break or wear out. If they are easy to repair or replace at the field, you should bring them along. This is another one of those experience things and each RC helicopter you have will be different. Don't bother bringing parts out that require extensive time and tools to replace – working on a heli while sitting on the ground or a picnic table is a challenge in itself – this is not the place to rebuild a rotor head or install a new tail boom.
Bottle of Aspirin or Tylenol – no explanation needed
---
That pretty much wraps up RC field box essentials and how to equip them.
I should mention a good tip with any RC field box. Put a liner such as felt, automotive carpet, outdoor carpet, or tool box liner in the drawers and the upper compartments that hold your radio and larger equipment. This will cushion the tools so they don't bounce all over the place and protect your precious radio from scratches.
---
Return To Top Of RC Field Box Essentials Page.