RC HELICOPTER TOOLS
There are a number of special RC helicopter tools and supplies that you will need to build and maintain your helicopter.
Don't get overwhelmed by looking at all the tools in the above photo. This is the accumulative result of 20 plus years in the hobby. When starting out you will only need a fraction of what's pictured here, but I will go over most items.
Many people do overlook this expense when getting into the hobby only to realize once they get their helicopter kit home, they can't properly build it. Worse yet, they try to build it without some of these tools and this will almost certainly result in a crashed heli. Even if you get a RTF heli - you will still need these tools for repairs and maintenance.
I have also helped a few people who were sold almost every RC helicopter tool in the hobby store – this is overkill and totally unnecessary when first starting out. There are must have tools, and nice to have tools – as the years go by, you will slowly accumulate the "nice to haves".
Most of the tools you probably already have kicking around in your work shop or tool box, especially if you are already into some type of RC hobby; but there are a few specific RC helicopter tools that you must get.
The majority of the RC helicopter tools listed here are required for both fuel and electric helicopters. I have also indicated very approximate pricing (CND) so you can get an idea of your tool budget.
Don't feel you have to get the very best tools on the market, over time you will soon find out what tools you use the most and as they wear out, you can then replace them with higher quality tools.
---
Must Have RC Helicopter Tools


A Helicopter Pitch Gauge is essential to correctly set the pitch angle and range of pitch on your main rotor blades on collective pitch RC helicopters. It is one of the most important RC heli specific tools you absolutely must get if you are getting into collective pitch. ($10.00 - $30.00)
Flybar lock (for some helicopters) ($5.00)


An assortment of metric Allen Drivers and metric nut drivers. Most heli kits come with inexpensive, poor quality tools. They are made of soft metal and round off or strip out very easy. This not only makes the tool useless, it also damages the set screw or bolt - very frustrating! If you have ever had to drill out and extract a rounded out 2mm set screw from your nice new CNC machined rotor head, you know what I'm talking about.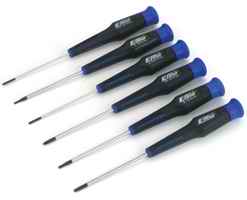 The sizes you use most often on a heli are usually (1.5, 2.0, 2.5, & 3.0 mm hex drivers and a 5.5 mm nut driver ). The best advice here is to start with a nice quality basic set like the E-flite set pictured to the right. This is a nice little set to start with and the quality is very good. I still use mine every time in the shop.($20.00 and up)
You can also purchase hex and nut drivers individually so you can custom build your own set. Lastly, don't be lured into many of the flashy anodized aluminum tools that are priced really low - you know the "too good to be true" prices. All you will get is a flashy aluminum handle with a soft driver shaft that rounds out the first time you use it. HobbyKing's Turnigy tools have been a nice surprise however; so if you're a HobbyKing shopper, check them out - for the price I highly recommend them.
E-flite's tools are very comfortable with rubberized handles and the end button on the handle rotates so you can support the end of the tool with your palm while rotating the tool. The big plus with this handle style is you can keep a nice amount of downward pressure on the tip so it doesn't "jump" out of the hex or screw head and round or strip the head.

Quality computerized battery charger . These things are essential for electric powered helis and really nice to have for fuel powered birds to charge the on-board electrics and your radio. Multi Celled LiPo battery packs make a good computerized balancing charger pretty much an absolute necessity.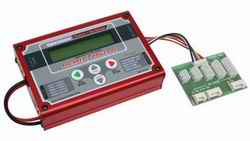 The Thunder Power 610C Balancing Charger pictured to the right is a nice compact computerized charger for lower power applications. It charges LiPo & Li-Ion packs, A123 packs, Ni-Cads, NiMH, lead acid batteries, and comes with a built in 2-6 cell balancer & balance board. I feel this is one of the better (low power) chargers on the market for the price.


Wire Charge Leads for your charger - The Tarantula 8-in-1 set is very convenient and inexpensive. It uses standard 4mm banana plugs that most good chargers support and has all the major types of battery plugs plus a pair of bare wire leads to fit an additional plug type onto.

I recommend these charger leads and for only around $15.00 you couldn't build your own for that price, not to mention your time.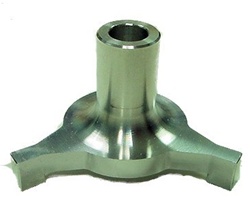 Swashplate Levelling Tools - These tools are very important for setting up a 120 degree CCPM swashplate correctly and leveling it.

The one pictured to the right is one of the best 120 degree tools going in my option built by a company called Trueblood Engineering . You can also make your own swash leveling tool. It's not as easy to use as the Trueblood tool & not as accurate, but still very adequate for most. I have an e-book on Swash Setup that shows how to build your own swash tool, as well as use the Trueblood tool to perfectly setup and level a CCPM swashplate. ($19.00 - $30.00)
Ball Link Pliers - Ok I admit I got by for years without this tool. I used needle nose pliers instead. I damaged so many ball links and balls, I spent more money on replacing them than the pliers cost, not to mention the frustration - don't make the same mistake I did ($15.00)


The Dubro Balancer Pictured above is an amazing "must have" RC helicopter tool. Here is mine checking the balance of a new set of E-Flight carbon fiber blades on a Blade 400 head (almost perfect out of the box). This balancer is so adaptable. I have used it for main and tail rotor balancing on all sizes of helis, engine cooling fan balancing, airplane propeller balancing, RC car and truck wheel balancing, and of course Multi/Quad rotor propeller balancing. It offers such great value since it can do so much for under $30.00. Vibrations cause so much damage and poor aerial video quality - this little tool truly pays for itself many times over year after year.

Glow plug wrench (long reach for helis is best)- only for nitro or turbine glow plugs, not required for electric or gas ($5.00)
Spark plug socket - usually 5/8" for gas powered helis ($8.00)
Small Phillips screw driver ($3.00)
Small flat blade screw driver ($3.00)
Needle Nose Pliers($10.00)
Hobby knife and blades (4.00)
Quality wire strippers if you are into electric helicopters ($15.00)
Soldering iron or station, solder, solder wick, and flux paste or liquid. A must have tool if you are into electric helicopters, a nice to have for fuel powered helis. ($35.00 and up)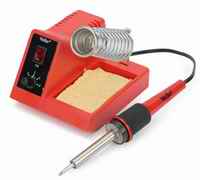 The Weller 40 watt soldering station pictured to the right is such a nice soldering station and the same one I have been using for over 8 years now. Once you use a nice soldering station, you will never know how you lived without one and realize how much better they are over cheap soldering irons with no heat control.
With fully adjustable heat settings, replaceable tips, cleaning pad & holder - this little soldering station offers all the features of much more expensive stations at a very low cost. Backed by the Weller name (tops in soldering equipment) this solder station will give you years of use, not just for your RC hobbies, but so many other around the house electronic projects and repairs. Click on the picture of the Weller 40W soldering station or the above link to order one.
Electric Drill and drill bits – a cordless is nice, but any drill will do ($50.00 - $100.00)


Dial indicator with a magnetic or clamp base essential for fuel powered helis, nice to have for electric ($50.00)
Good quality metric ruler or better yet a digital calliper ($5 - $50)
Blue medium strength Loctite or similar thread locker ($5.00)
Epoxy glue - 5-minute is good for most applications ($5.00)
Instant CA glue ($5.00)
Various bearing greases and lubricating oils - your kit may come with these
Heat shrink tubing or electrical tape
Nylon tie straps
---
Nice To Have RC Helicopter Tools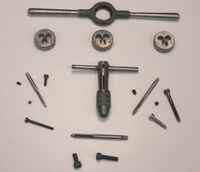 Metric tap-and-die set or at least 3 of the most commonly used sizes such as M3-0.5, M4-0.7, and M5-0.8. I personally feel this could almost be considered a must have tool. Again this is a tool that pays for itself over time. ($30.00 and up)
Set of small jeweller's screw drivers – just a basic hobby grade set works fine. ($25.00)
Dremel moto-tool with accessories - after you use one, you won't know how you lived without it ($100.00)
RC Helicopter tachometer - not needed while learning – almost a necessity when changing gear ratios for better 3D performance. ($125.00)


An assortment of metric screws, set screws, nuts, washers, ball links and balls. These little guys seem to always fall off the work bench into another dimension – spares come in very handy. ($20.00)
A good quality digital multi-meter to diagnose battery conditions, opens or shorts in circuits and glow plugs. ($30.00 and up)
Clamp style DC amp meter - a nice tool if you are into high power electric helis (most have the same functions as a digital volt meter so it might be the better choice in the long run. ($100.00 and up)
Infra-red digital thermometer - to check motor, speed controller, battery, and engine temperatures. These are handy tools for so many things ($100.00 and up)
Small air compressor with air brush kit and blow gun - these are not only handy for your prize winning custom paint job, but for general cleaning and drying of parts. ($300.00 and up)
If you don't like messy hands - blue nitrile gloves
Replacement parts on hand for repairs - this is something that comes with time and experience of what wears out and what breaks often on your specific birds. Not important if you live near a hobby shop, but very handy if you live hundreds of miles away from the nearest hobby shop like I do. I usually order many parts that I know I will need on one order. This saves a small fortune in shipping and handling charges. After a while, you realize your workshop starts looking more and more like a hobby shop. The convenience is well worth it.
Small parts bin or organizer to keep all your heli bits organized and easy to find. (25.00 and up)
Small drill press with vice. A much more accurate way to drill holes in everything from servo wheels to engine mounts. If you are into fabrication, you will find a drill press indispensable. ($150.00 and up)
Small hobby lathe - since I got one, I have machined my own custom parts for my RC helis and cars. The main thing I find I use the lathe for however, is checking shafts (main, tail, blade grips, engine, fan hubs, clutches, clutch bells – you name it) for run out with a dial indicator. I check every part after a crash and even new parts now on the lathe for run out. No more guessing what might be bent after a crash, or worse bent from the supplier (doesn't happen often, but I have experience it). If the bend is not bad, I have even been able to straighten some shafts to within ½ thou of an inch run-out, better than most new ones. ($400.00 and up)

Last but not least - a little safety item. A fire extinguisher in your shop is a good idea especially around your Li-Po battery charging area.
I really like this Fire-X extinguisher . It's small, inexpensive, and very effective. A valuable safety item to have in your workshop or garage.

---
I hope this helps sort out what RC helicopter tools you must have, and those that are just simply nice to have. Over time, you will find other tools and supplies that come in handy as well.
You can see by all the RC Helicopter tools listed above, RC choppers, just like the real ones require wrench time – that's part of the fun.
---
Return To Top of RC Helicopter Tools Page


Return To Home Page

---
---
---
---
---
RC Heli Help E-Books
---
Beginner's Guide To RC Helicopters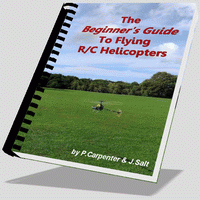 The Beginner's Guide To Flying RC Helicopters is an e-book that goes over the basics of getting started with RC helicopters. Click on the image of the book to learn more about what's inside.
---
Getting The Most Out Of Your mSR/X & 120SR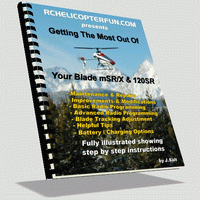 Getting The Most Out Of Your mSR/X & 120SR is an e-book that focuses on the Blade mSR, mSRX, & 120SR. Click on the image of the book if you want to find out more about it.
---
Setup & Tips For RC Helis

The Setup & Tips For Electric Collective Pitch RC Helicopters e-book is all about setting up a collective pitch RC helicopter with a computerized radio to turn it into the perfect trainer. Click on the image of the book to find out more about what information is covered in this, my most popular & #1 selling e-book.
---
Swash Setup & Levelling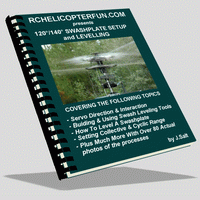 The 120/140 Degree Swashplate Setup & Levelling e-book shows how to properly setup and level a 120,135, or 140 degree electronically mixed swash to attain perfect interaction and a trimmed out bird off the bench. Click on the image of the book to learn more about it.
---
How To Build Training Gear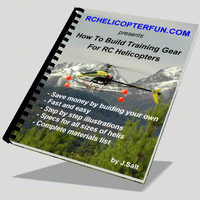 RC helicopter training gear is the essential training aid used when learning to hover and fly most RC helicopters, this e-book shows how to build them. If you want to learn more about what's inside, click on the image of the book.
---
Beginner's Guides Combo Deal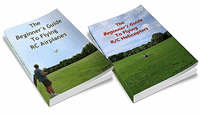 Thinking of getting into planes too, or trying to decide between RC helicopters or RC airplanes? If so, the Beginner's Combo deal which includes both the Beginner's Guide To Flying RC Helicopters and the Beginner's Guide To Flying RC Airplanes e-Books, represents excellent value for anyone looking to get started safely and quickly in either or both forms of radio control flying.
---
---
---