UNDERSTANDING GAS RC HELICOPTERS
Gas RC helicopters are commonly confused with the much more popular
nitro RC helicopters
. They are however completely different, or to be more precise, the engine is completely different.
RC gas helicopters them selves are exactly the same. Helicopter kits such as the Century Predator can be run on nitro, gas, or even turbine power – so the helicopter mechanics are the same other than different gearing ratios to keep the rotor speed in the correct range no matter what type engine is used.
---
Miniature Aircraft's Spectra G. This high quality 3D capable gas powered RC helicopter uses a 25cc gas engine.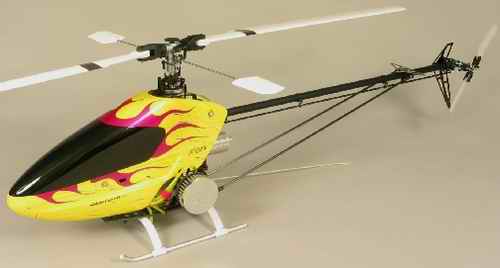 The engines used in gas RC helicopters are very similar to all single cylinder two 2 stroke gasoline engines, just like what you might have in your gas leaf blower or chain saw.
As far as fuel, they use regular gasoline mixed with two-cycle engine oil, again just like your garden-tool variety gas engine. Even the sizes are similar, the most popular 2-stroke gasoline engines for model air craft are usually in the 20cc-30cc range.
This is however where the similarities end.
Gas powered RC aircraft engines have some interesting differences. Please click on that link to learn more about these engines and discover the advantages they have over nitro engines. When choosing your gas model engine, you will also be faced with what kind of ignition system to use.
---
Gas powered RC helicopters are large with rotor diameters usually over 2000 mm (80 inches). If you want a large RC helicopter and don't want to spend many thousands of dollars on a turbine RC heli – gas is the way to do it.
Remember from our size discussion in the best RC helicopter section, large helicopters have some very important advantages. They are much more stable and can comfortably handle windy conditions - an important decision if you live in a windy climate. Large RC helicopters are also much easier to see when flying so you are less likely to get disorientated.
---
A large gas RC helicopter is obviously not your best choice for your first RC heli because of the higher cost of the kit and engine (not much more, but when you are starting out, best to stick to electric or nitro).
However, once you have mastered a nitro or larger electric helicopter, a gas powered RC helicopter makes a lot of sense. They are heavier and don't have the same power to weight as a 2-stroke nitro heli, but you can still do some nice aerobatic flying with them, just not the insane 3D stuff that most of us don't have the skill to do anyways.
If your goal is large scale RC helicopters, gas power is perfect. You don't need the high power to weight ratios to perform scale type flying where your most extreme maneuver won't be anything much more than a steep stall turn.
In fact, the added weight of the gas engine actually makes your heli fly a lot more scale like. More weight means more stability and longer, more pronounced cyclic commands to slow or change directions. The inside of your fuselage and windows won't be covered in nitro oil residue either – a nice benefit.
---
As far as the equipment you will need for a gas RC Helicopter, it is pretty much identical to a nitro model other than not needing a glow plug power panel or driver. The radio equipment and gyro will be the same as in a large nitro model. You will usually have the option of starting a gas powered helicoper engine with an external electric starter (like on a nitro heli), or with a pull start recoil cord (like on a chain saw).
I for one like the pull start method even though it is a bit heavier. This is totally personal preference however, and most gas heli kits will allow both options. If you are thinking of putting a scale fuselage on you gas RC helicopter; you will generally have to go with an external electric starting method because the fuselage will prevent access to the pull start.
---
Return To Top Of Understanding Gas RC Helicopters Page
Return To Home Page