Choosing Your Airwolf RC Helicopter
by John Salt - Updated September 2023


Having Fun Flying My Airwolf RC Helicopter
A raise of hands...
How many of us got into the hobby, or are thinking of getting into the hobby, because of our attraction to the modified Bell 222 helicopter used in the 80's TV series Airwolf? 
No question, the Airwolf helicopter was a big contributing factor back in my teens that eventually got me interested in the hobby. I flew RC airplanes at the time, and really had no idea about RC helis; but after seeing that "wolf" flying on the TV every week, I started getting really interested in the helicopter side of RC flying.
I was eagerly reading every RC helicopter magazine I could get my mitts on to learn as much as I could. How I wish this website was available then :-)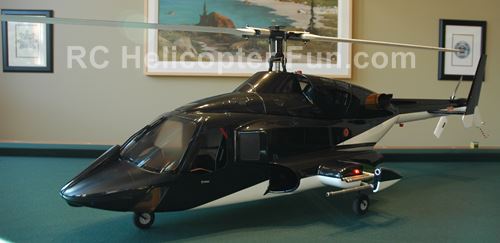 600 Size Airwolf RC Helicopter Build Finished
It was however almost 25 years after I started flying RC helicopters that I finally built my first Airwolf. Lots to learn in this hobby first before even considering such a model, and most are not cheap! Most other RC Airwolf owners/fliers I've talked to around the world have similar stories; slowly working their way up to purchasing, building and flying one. 

This is in sharp contrast to what many newbies think who have little understanding of the hobby (yet). How many times I get asked "how much" and "where do I get an RC Airwolf like the one you fly?" 
Thinking you can just purchase a large ready to fly model like that, not understanding they only come in kit form and require considerable experience to build and fly. No mention of course of the most important question - "how hard is it to fly an RC helicopter" and "what I must learn first before considering an Airwolf model?" 
Airwolf RC helicopters are scale RC helicopters and before you even consider getting an Airwolf, you should be very familiar with building and flying scale; or at minimum have a good grasp on what scale RC helicopters are all about. 
With that said, there is one awesome little micro sized Airwolf RC helicopter that almost anyone can start with at a very modest cost, or at least get as their second micro heli after learning the basics. 
So, let's start at that "Airwolf beginner level" and move up to more advanced RC Airwolf models to cover the entire spectrum based on experience level, size of helicopter, and budget. 
---
Beginner Airwolf RC Helicopter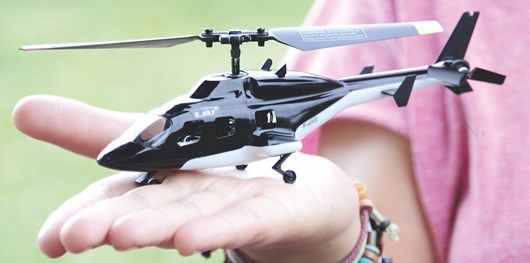 Esky's Ready To Fly, Low Cost, F150X Micro Airwolf RC Helicopter
The Esky F150 V3, is possibly the best micro Bell 222 on the market right now, and is quite easy to fly for beginners thanks to the micro sized CopterControl CC3D electronic stabilization which utilizes 6 sensor stabilization (3 gyros & 3 accelerometers). 
This little Airwolf inspired Bell 222 uses the very good, robust, and proven Esky 150 V3 RC helicopter as the base mechanical and electronic layout.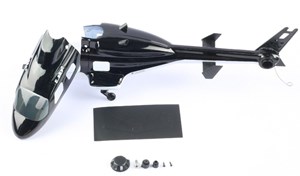 Esky F150 Airwolf Replacement Body
Then it's covered with a fairly decent looking, light-weight polycarbonate Bell 222 body / fuselage with the Airwolf color scheme. 
It doesn't have the Airwolf body modifications however such as the turbojet engine housings on the side winglets, covered rear windows, and raised nose cowling. 
For a micro however, the detail is not too bad. 
I talk all about the 150 V2 helicopter in my review of it, if you want to learn more about the 150 V2 & V3 and what makes them such great fixed pitch micro RC helicopters for beginners (one of the best in this size currently on the market in terms of flying ease and robustness in my opinion).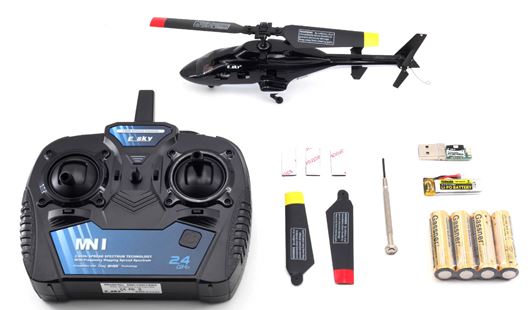 ESky Airwolf F150 V3 RTF Package
As shown here, the Esky F150 V3 airwolf comes in a ready to fly (RTF) package, and has everything needed to get you flying.
Micro Scale RC Airwolf Helicopter
2.4 GHz Spread Spectrum Radio (separate mode 1 or 2 options)
AA batteries for the radio & one 150 mAh LiPo flight battery with USB charger
A spare set of rotor blades, screwdriver and extra flight battery Velcro
RTF package cost is only $170 USD!
NOTE: This RTF package comes with a mode 2 radio. If you want mode 1, mention that at time of order.
Here's my full review of this neat little scale Airwolf.
---
Do note however the landing gear (wheels), are not retractable like seen on the full size Airwolf/Bell 222 and more advanced Airwolf RC helicopter models; which we will now look at if you already have a fair amount of collective pitch RC helicopter flying experience and scale heli building experience. 

---
Collective Pitch Airwolf Fuselages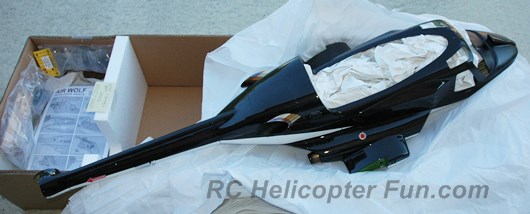 Typical Airwolf RC Helicopter Fuselage
Next up in the RC Airwolf helicopter experience and cost level is the scale fuselage route.
This option allows you to purchase the correct size Airwolf scale fuselage to fit over a set of collective pitch RC helicopter Pod & Boom mechanics (preferably ones you have already flight tested to work out any mechanical/electrical bugs & are fully confident in).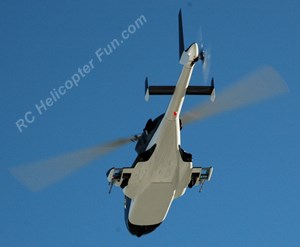 I love the look of the Airwolf's belly!
This Airwolf heli option is only if you already can fly a collective pitch RC helicopter and fly it well!
You certainly don't have to be a hot shot aerobatic, F3C, or 3D pilot. You should however be able to fly upright circuits in all orientations and very rarely crash.
Again, I explain all of this on my scale RC helicopter page in much more detail if you want the why & hows of this. 

Unfinished Airwolf RC Helicopter Test Flights
Other than little easy to fly beginner fixed pitch micro helicopters, getting a fuselage and fitting it to pod & boom mechanics is by far the most common and popular type of Airwolf RC helicopter most of us fly (myself included). The size range of these fuselages will range from small 250's, all the way up to large 700's. 

They can be of any power type (electric, gas, or nitro), but by far, the most common these days is electric (clean, vibration free, sound good). Price range and complexity is vast! A smaller 250 size Airwolf fuselage may only cost around $75 USD (fuselage only), while the larger ones can climb to well over $600 USD. Again, that is fuselage only.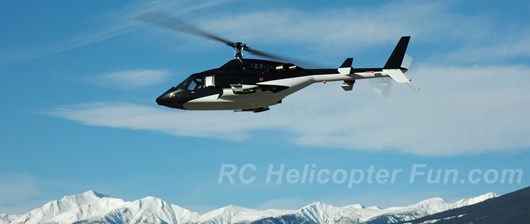 Enjoying My Airwolf With Mountain Backdrop
Take into account your pod and boom helicopter you already fly that you'll be putting inside your Airwolf fuselage. Finished flying costs of a collective pitch Airwolf RC Helicopter in other words can range from $500 USD to upwards of $5000 USD. This is why I suggest you have to be a fairly competent RC heli pilot by this stage in the game and rarely crash.
A crashed scale heli fuselage is pretty much a write-off because they are quite fragile, and Airwolf's are even more so because of the retractable landing gear and other scale details such as the side pod guns, missile pod, etc. 
As I mentioned at the beginning of this article, the Airwolf usually doesn't make the best 1st scale project. They can be rather challenging builds, but of course much of that depends on your building abilities, natural skill sets, and experience level. 
Below is a video I made showing the basics of what's involved in a fairly typical scale Airwolf / Bell 222 fuselage build to give you an idea of the process.
There are several manufacturers of scale fuselages for RC helicopters, but the ones I like best for 550 to 700 size mechanics are FunKey's. That link takes you to a review I did on them to explain why they are so good along with links to purchase any of them, including the three Airwolf sizes they offer:
30/550 Size

50/600 Size

60/700 Size
I currently fly the FunKey 600 version myself, which is the one shown in that build video above. FunKey also paints their Airwolf in a fairly accurate shade of phantom grey metallic (it's a slightly darker shade however from the original Dupont Imron 5031X). 

Roban is another popular brand and has Airwolf fuselage sizes in both 500 & 600. Paint & fiberglass quality of Roban's fuses are not as good as Fun-Key's, but for the price, they are not bad either.

There are other smaller (450 size) Airwolf fuselage manufacturers out there as well, but I honestly have no experience with them. 
Having some Airwolf RC flying fun below...
---
Roban Super Scale Airwolf RC Helicopter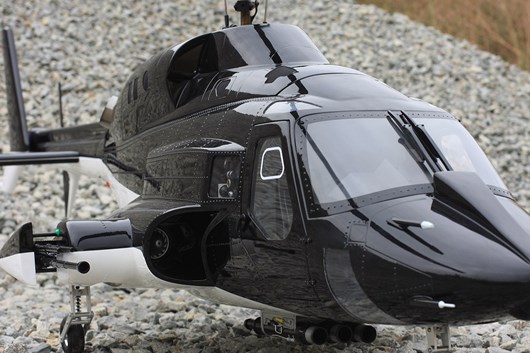 Roban 800 Size Super Scale Airwolf
If you have deeper pockets, and want a large Airwolf RC Helicopter with a full scale interior that boasts a high level of exterior details; Roban's 800 size Super Scale Airwolf is pretty hard to beat for the price. 
Like the fuselage Airwolf build options; this model also requires a strong level of collective pitch flying experience and having previous scale building experience is also highly recommend.
However, unlike the fuselages that you put your existing pod & boom mechanics into, Roban Super Scale kits include the mechanics that are purpose designed for their specific scale helicopter fuselage. This can make fitting the mechanics actually easier since all the mount spacing has been done for you.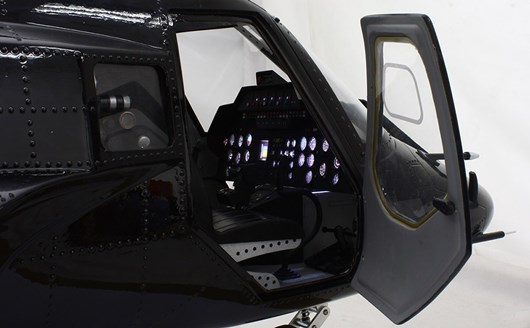 Roban Airwolf RC Helicopter Scale Interior Including Backlit Instruments
These customized scale RC helicopter mechanics are also what allows for full scale interiors since the majority of the mechanical and electronic flight components are positioned aft of the main rotor shaft. 
I fly a Roban super scale AS350 and did a review on it along with their 800 size EC130 (unboxing video), if you are curious about Roban's super scale series. They are not the Airwolf version, but there are many similarities between all of Roban's Super Scale helicopters.
Price wise, the Roban 800 super scale Airwolf is about $2200 USD for the fuselage and mechanics. You still need all the electronics (radio system, servos, flybarless controller, motor, ESC, and LiPo flight batteries. Expect finished flying costs in the $3500 - $5000 ball park (component & accessories dependent). 
---
Vario's Turbine RC Airwolf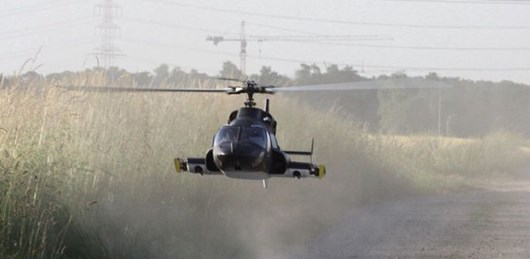 Big Vario Airwolf RC Helicopter Raising A Cloud Of Dust On Approach
The turbine powered Vario Airwolf is what most of us can only dream about. Well, I suppose a full size Airwolf modded Bell 222 would be up there too in the dream department.
Vario Helicopter is tops in this hobby when it comes to big scale RC helicopters. Any time you've seen a large scale RC helicopter on YouTube, especially if it's turbine powered, pretty good chance it's a Vario bird. 
At 1:5 scale, Vario Helicopter's turbine Airwolf is spinning 1050mm long rotors, making it the largest Airwolf RC helicopter mentioned on this page, and perhaps the largest RC Airwolf model that is commercially available anywhere in the world. It's also the only scale RC Airwolf on this page that is not pre-painted requiring customized finishing and the highest level of RC modelling skill to get flight worthy.
Vario offers several different mechanic options for their big Airwolf fuselage depending on what model turbine engine you choose for it. Fuselage cost is in the $3000 USD range, mechanics costs also in the $3000 range, and turbine engine costs in the $3000 range as well.
Add in electronics, rotor head & swashplate, rotor blades, turbine fuel systems, scale heli jet exhaust system, other mechanical bits, and a seemingly endless list of additional scale options, and it would not be too difficult to see the finished flying costs climb north of $15K USD. 
It's certainly a fun scale build to dream about, but very doubtful it will go any further than a dream for yours truly. I do fly an 800 size pod & boom turbine powered heli and change of underwear potential is already high enough with it. Can't imagine something costing 3 times as much, with many hundreds of hours invested in build time. Not to mention the wife's financial logic coming into play - no way mister! 
Here's the Vario turbine Airwolf in action! 
---
Are You Looking For RC Helicopter Help?  


My Helpful RC Helicopter eBooks
---