Used RC Equipment

I sometimes need to have a "garage sale" and list my used RC equipment for sale on this page when it becomes available.
The reasons I need to sell my used RC stuff are for the same reasons most of us do... I'm either upgrading, I run out of room and need to sell off some "toys" to make room for new ones before the wife kicks me out, or I simply find myself no longer using a product or helicopter. 

Used RC Equipment Purchasing & Shipping

If you are interested in any product/s listed on this page, please use the contact form on the bottom of this page to contact me stating what product/s you are interested in. I'll be happy to answer any additional questions you may have about the item/s. 
If you want to purchase the item/s, I'll then send you a PayPal invoice for the item/s along with the shipping charges which I list for each item. Shipping can be combined for more than one item naturally.

I'm located in BC, Canada and therefore tend to ship only to Canada & USA addresses using Canada Post. Shipping overseas is very expensive. If you are near my location or passing by and want to pick the item/s up, that can certainly be arranged as well.
---
Here's What I Currently Have For Sale:
---
---
First Generation Spektrum DX8 Radio (used)

$150.00 USD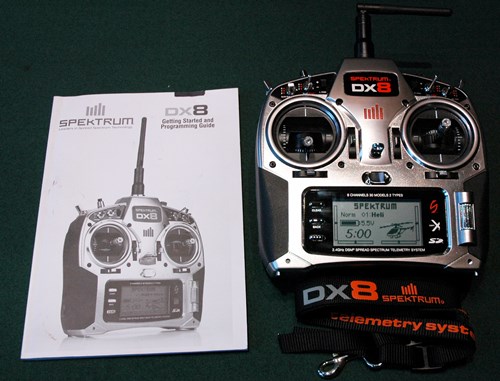 This is the First Gen DX8, mode 2 stick layout. It has seen very little usage as it was only used as my emergency backup radio for my JR X9503. It has telemetry, supports DSM, DSM2, & SDMX protocols. It's in really nice shape and works great.
Cosmetically it's nearly flawless but has a very light scratch on the left side of the display, and there is one dark pixel on the display. I range tested it recently out to 1.8 km with my one FPV aircraft before failsafe kicked in. It has the original stock Spektrum 2000 mAh 4S NiMh battery which is still accepting a full 2000 mAh charge capacity according to my iCharger.
It comes with the instruction manual and neck strap. I don't have the box or the wall wart charger for it. No SD card is included.

Reason for selling: I'm converting systems over to the FrSky Horus X12S this winter and don't need a DSM2/X backup radio anymore.

If interested or want more information, please contact me through the contact form at the bottom of this page :-)
Shipping Within Canada: $14.00 USD
Shipping To USA: $20.00 USD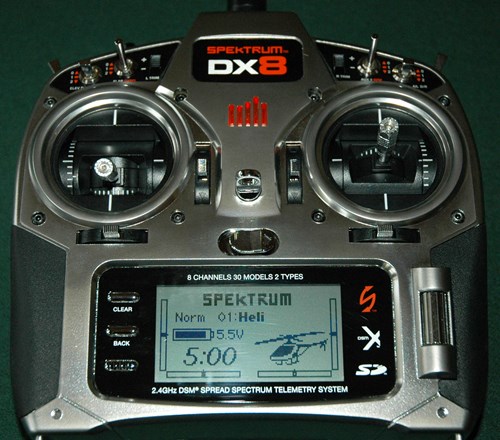 ---
---
Spektrum DX7s & DX8 Spare Antenna (part # SPM6831) (new)
$12.00 USD
New SPM6831 replacement antenna for DX7s & Gen 1 DX8 radios.
Shipping Within Canada: $5.00 USD
Shipping To USA: $8.00 USD
---
Spektrum AR600X Receiver (used)
$15.00 USD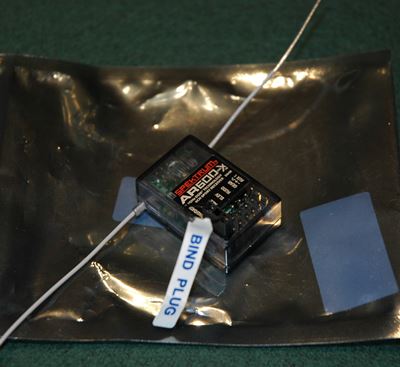 This used 6 channel Spektrum AR600-X receiver will work with any DSM2 or DSMX protocol Spektrum/JR/Clone radio. It works well, both antennas are in very good condition, and it comes with a bind plug.
Reason for selling: I'm converting to FrSky this winter and this will likely be the first of many used Spektrum RX's that will be listed on this page over the next several months during the conversion process.
Shipping Within Canada: $5.00 USD
Shipping To USA: $8.00 USD
---
---
Help Support This Site & Have Fun Learning About RC Helicopters In The Process. 
Please Consider One Of My eBooks.