Used RC Equipment For Sale

I sometimes need to have a "garage sale" and list my used RC equipment for sale on this page when it becomes available.
The reasons I need to sell my used RC stuff are for the same reasons most of us do... I'm either upgrading, I run out of room and need to sell off some "toys" to make room for new ones before the wife kicks me out, or I simply find myself no longer using a product or helicopter. 
All used RC equipment listed on this page is in good working order unless otherwise indicated.

Used RC Equipment Purchasing & Shipping

If you are interested in any product/s listed on this page, please use the contact form on the bottom of this page to contact me stating what product/s you are interested in. I'll be happy to answer any additional questions you may have about the item/s. If you want to make an offer on something, feel free. I usually won't turn down a reasonable offer. 

If you want to purchase the item/s, I'll then send you a PayPal invoice (which can also be paid by major credit card if you don't have a PayPal account) for the item/s along with the shipping charges which I list for each item. Shipping can be combined for more than one item naturally.

I'm located in BC, Canada and therefore ship only to Canada & USA addresses using Canada Post. If you are near my location (Valemount, BC, Canada) or passing through and want to pick up the item/s to avoid shipping charges, that can certainly be arranged.
I keep this list current. If you see it, I have it (unless it just sold).

---
Here's What I Currently (September 2020) Have For Sale:
XK X6 6CH Computerized Radio/Transmitter - Excellent Condition!
$30.00 USD + Shipping

The XK X6 6CH computerized radio is one of the best value entry level computerize RC transmitters on the market. They use Futaba's S-FHSS protocol so any RC heli, quadrotor, or plane that uses S-FHSS will bind to this radio (ie. all of XK's micro collective pitch RC helicopters).  
This was a review radio, and since I fly with a multi-protocol radio, I never use it other than for the review. It's in brand new condition and comes with original packaging & manual. 6 AA batteries not included.
Shipping: Canada $20.00 USD / USA: $30.00 USD

Here's the X6 review video if you wanted to see it:
---
LG/EZ OS-5060A 2 channel, dual trace, 60MHz analog oscilloscope.
$130.00 USD + Shipping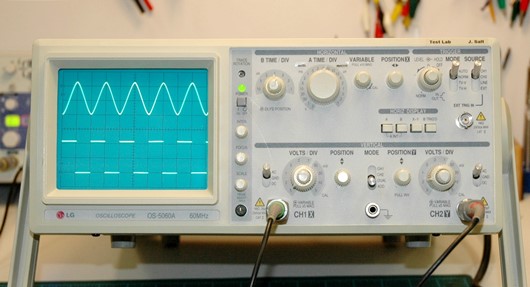 Good working condition, clean, no scratches on screen, used in clean test lab & hobby room environment. Comes with IEC C13 power cord and two BNC passive oscilloscope probes (switchable attenuation of 1x/10x) . Some minor yellowing of the plastic and a couple cracks on two of the smaller dial knobs. More photos available on request. 
For full specifications and operating instructions, here's the link to the OS-5060A owner's manual PDF: https://www.jameco.com/Jameco/Products/ProdDS/2145262%20UsersManual.pdf

This analog o-scope is heavy at close to 15 lbs / 7 kg and rather large thus shipping charges will be quite high if you are unable to pick it up in person. Rough estimate depending on location in Canada will be around $50 USD. 

Shipping to the US, likely around $70 USD. If interested, please contact me with your exact location so I can give a more accurate shipping quote. 
---
Thunder Power TP-610C Computerized RC Charger - Very Good Condition
$25.00 USD + Shipping
This little TP-610C charger is in very good shape with no excessive scratches on the display or case. Comes with the TP610C-BL2 balance board which has both Thunder Power and of course JST XH balance ports (up to 6S). Has standard 4mm banana inputs for standard charging harnesses.
At only 80W & 10A max charging current, this is not that powerful of a charger, but it's certainly adequate for smaller capacity batteries or if you don't need extra power for parallel charging multiple packs. The TP610C supports A123 & LiPo lithium chemistry batteries (up to 6S), along with NiMh (up to 14S), NiCad (up to 14S) and PB (6V, 12V, & 24V). NOTE! Does not support LiFe.
Requires an external power supply with an output voltage from 11 to 16 VDC with 80W 10A output rating (not included). I used this charger primary out at the flying field (due to it's small size) to charge RX & TX packs. I powered it most of the time from 12VDC vehicle batteries.
Owner's manual is included but here's a link to the PDF if you want to study it before hand. It's not the most intuitive menu layout around (likely because I'm so accustomed to iChargers layout), but after a little playing around things fall into place. 
Shipping: Canada $ 15.00 USD / USA: $20.00 USD

---
EFlite Blade SR, 250 Size, Collective Pitch RC Helicopter (RTF)  - Excellent Condition
$75.00 USD + Shipping
What can I say... I never liked the Blade SR, I never fly it, so it's up for sale. Never been crashed, like new condition (a little rash on the blade tips), has less than 20 flights on it and still flies well (well for the SR that is due to the limitations of a brushed fixed pitch tail motor on a heli of this size). I just pulled it out of storage and have gone though it, test flown it, tracked the blades, leveled the swash & trimmed it out so it's ready to go out of the box.
Comes with original packaging, instructions, 6 CH Blade SR DSM2 radio, 3S charger & A/C power adapter, one 3S 1000 mAh Turnigy LiPo (in good shape, never flown to LVC and stored at 3.85V per cell), and a spare set of main blades. 4 AA batteries for the TX not included. 
Here's my review on this heli if you wanted to learn more about it. As sated in the review, the Blade SR (like any collective pitch helicopter), will work better when paired with a computerized radio; but I've got if flying well right now with the included Blade SR DSM2 radio for very gentle flying in normal mode and very light sport flying in idle up mode. This was never a high performance helicopter as it came with very soft head dampening. It was meant first & foremost to be a first CP helicopter trainer. Basically the Blade 230 of the day back in 2010. 
Shipping: Canada $ 30.00 USD / USA: $40.00 USD

---
The Original Eflite/Blade mSR (BNF) - Fair Condition. 
$40.00 USD + Shipping
Eflite/Blade's very first mSR. This little micro fixed pitch heli is still a fun one and much easier to fly than the mSRx. This little mSR flies very well with only a tiny amount toilet bowl effect (normal with these little fixed pitch flybared micros).
When properly trimmed out, this is the only heli listed on this page that can hold a hands off hover for up to a minute (indoors in zero wind conditions). It still amazes me ten years later that a good old trusty flybar paired up with delta rotors & 45 degree phasing works so well at stabilizing a single rotor micro heli. Of course, the compromise with with that amazing hover stability is a lack of cyclic authority & performance.  
The front landing strut where the batteries slide in is cracked on one side and the right front canopy mounting pin is missing; otherwise this little mSR is in good original condition. Canopy is crack free! 
Comes with owners manual, a spare set of main blades, tail blade, main gear, links, and flybar. Included are four 150 mAh 1S Nano-Tech LiPo's that test out in good condition. They are a little "chubbier" than the original Eflite 1S packs, but still fit. Peeling the sticker off them will make them a little easier to slide in & out of the battery holder. No charger.
Please Note: This is a bind & fly (BNF) heli, meaning it comes with no RC radio/transmitter. It binds to DSM protocol (ie. Spektrum, JR, Multi-Module).
Shipping: Canada $ 15.00 USD / USA: $20.00 USD

---
Blade mSRx BNF - Excellent Condition. 
$60.00 USD + Shipping
This BNF mSRx was Blade's first flybarless fixed pitch micro heli. It can be a handful and is not as easy to fly as the flybared version being both more responsive and less stable in a hover. It however is an excellent training aid for CP (collective pitch). If you can hold a stable hover with the mSRx, you can hover pretty much anything. 
This mSRx is in excellent flying condition and looks like new. Canopy is crack free, comes with charger and wall adapter, five 1S LiPo packs that all test out good, spare main mast, and owners manual.  
Please Note: This is a bind & fly (BNF) heli, meaning it comes with no RC radio/transmitter. It binds to DSM2 protocol (ie. Spektrum, JR, Multi-Module).

Shipping: Canada $ 20.00 USD / USA: $30.00 USD

---
Blade 120SR BNF - Good Condition. 
$40.00 USD + Shipping
I still enjoy flying this little heli due to its nice size and gentle flight characteristics for stress free at home yard flying, but room has to be made for newer birds. This original bind & fly 120SR is in great condition and flies like new. Canopy is like new, no cracks, comes with spare tail boom & tail motor along with some other parts and the original owners manual. 
The batteries however are not in good shape. 2 are shot and one is only able to hold about 50% of its original capacity. These are also not the original batteries. They are 1S 600 mAh ones I made and thus have modded the battery holder for them. It would be easy to therefor source any other 500 to 800 mAh 1S packs and make your own holder for them (if you are handy with stuff like that) :-) 
If not, you'll have to get a new 120SR frame (about $6 bucks) and source the original/aftermarket Blade 120SR 1S LiPo's.
Please Note: This is a bind & fly (BNF) heli, meaning it comes with no RC radio/transmitter. It binds to DSM2 protocol (ie. Spektrum, JR, Multi-Module).

Shipping: Canada $ 20.00 USD / USA: $30.00 USD

---
Blade Nano CPX BNF - Excellent Condition. 
$80.00 USD + Shipping
Original bind & fly Blade Nano CPX collective pitch flybarless 3D micro heli in excellent condition with original packaging. Flies great, canopy not cracked, tail motor strong. 
Comes with a few spare parts, owners manual, 1S LiPo charger, and five 1S LiPo packs that all test out good.
Please Note: This is a bind & fly (BNF) heli, meaning it comes with no RC radio/transmitter. It binds to DSM protocol (ie. Spektrum, JR, Multi-Module).

Shipping: Canada $ 20.00 USD / USA: $30.00 USD

---
---
---
Are You Looking For RC Helicopter Help?  


---