Used RC Equipment For Sale

I sometimes need to have a "garage sale" and list my used RC equipment for sale on this page when it becomes available.
The reasons I need to sell my used RC stuff are for the same reasons most of us do... I'm either upgrading, I run out of room and need to sell off some "toys" to make room for new ones before the wife kicks me out, or I simply find myself no longer using a product or helicopter. 
All used RC equipment listed on this page is in good working order unless otherwise indicated.

Used RC Equipment Purchasing & Shipping

If you are interested in any product/s listed on this page, please use the contact form on the bottom of this page to contact me stating what product/s you are interested in. I'll be happy to answer any additional questions you may have about the item/s. If you want to make an offer on something, feel free. I usually won't turn down a reasonable offer. 

If you want to purchase the item/s, I'll then send you a PayPal invoice (which can also be paid by major credit card if you don't have a PayPal account) for the item/s along with the shipping charges which I list for each item. Shipping can be combined for more than one item naturally.

I'm located in BC, Canada and therefore ship only to Canada & USA addresses using Canada Post. If you are near my location (Valemount, BC, Canada) or passing through and want to pick up the item/s to avoid shipping charges, that can certainly be arranged.
I keep this list current. If you see it, I have it (unless it just sold).

---
Here's What I Currently (May 2022) Have For Sale:
LG/EZ OS-5060A 2 channel, dual trace, 60MHz analog oscilloscope.
$130.00 USD + Shipping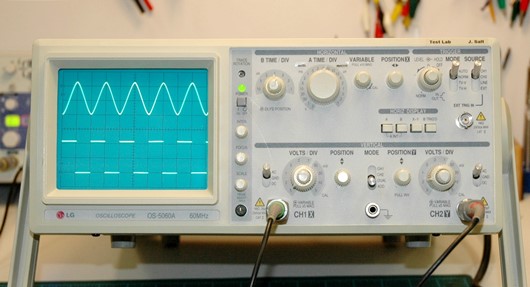 Good working condition, clean, no scratches on screen, used in clean test lab & hobby shop environment. Comes with IEC C13 power cord and two BNC passive oscilloscope probes (switchable attenuation of 1x/10x). Some minor yellowing of the plastic and a couple cracks on two of the smaller dial knobs. More photos available on request. 
For full specifications and operating instructions, here's the link to the OS-5060A owner's manual PDF: https://www.jameco.com/Jameco/Products/ProdDS/2145262%20UsersManual.pdf

This analog o-scope is heavy at close to 15 lbs / 7 kg and rather large thus shipping charges will be quite high if you are unable to pick it up in person. Rough estimate depending on location in Canada will be around $60 USD. 

Shipping to the US, likely around $85 USD. If interested, please contact me with your exact location so I can give a more accurate shipping quote. 
---
Eachine E6 6CH Computerized Radio / Transmitter - New Condition (4AA batteries not included)
$25.00 USD + Shipping
The Eachine E6 radio is an entry level, 6 channel computerized radio that uses Futaba's S-FHSS protocol. 
This specific E6 radio came with an RC helicopter I recently reviewed (the Eachine E180), and since I fly that helicopter with my RadioMaster TX16S, I have no need for this radio as well. It has never been used outside of the initial review & unboxing, and is in brand new condition. 
The E6 radio is basically the same transmitter as the XK X6 radio with a slightly different case and it uses menu selection buttons on the right side instead of a dial used on the X6. 
Below is a video review I did on the X6 radio if you want a better overview of what these entry level, yet decent little computerized transmitters have to offer. 
Shipping: Canada $15.00 USD / USA: $25.00 USD

---
---
---
Are You Looking For RC Helicopter Help?  


My Helpful RC Helicopter eBooks
---