The Spektrum DX8 Overview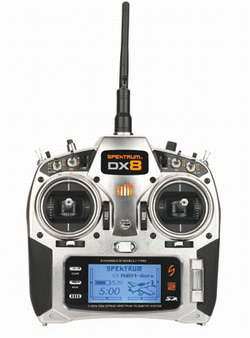 The Spektrum DX8 is without doubt, one of the most popular radios released by Spektrum RC in the past few years. That was a busy year for Spektrum and JR with the release of the JR X9503 (the radio I fly with most of the time) and then a month later we were wowed with the JR 12X and to top things off, Spektrum also introduced their latest DSM based fully backward compatible spread spectrum technology called DSMX.
There was still a gap in the 8 channel segment making some of us wonder what might be lurking around the bend with lots of speculation.
Would Spektrum bring out a reworked DX7 or something completely new? The DX8 has answered that question and if you are in the market for a new radio in the intermediate level – I can't think of a better choice – it certainly has me second guessing my JR X9503 purchase, but I love that radio now too much to give it up.
So why all the anticipation over the Spektrum DX8?
TELEMETRY!
Yep, Spektrum has taken its proven telemetry experience from the DX3 ground radio and is now offering telemetry on this new generation of air radios.
What is telemetry?


Well, simply put, telemetry will send information from the RC aircraft back to the radio giving you real time data from a variety of sensors taking continuous data readings on board the RC helicopter, airplane, or glider, and is a natural adaptation made possible by 2.4 GHz technology.
These readings can include receiver battery voltage, flight pack voltage if you fly electric powered aircraft, temperature sensors for engine head temp, motor temp, ESC temp, battery temp to name the most common readings you might like to monitor during a flight. There are also two optional RPM sensors (one for IC engines & one for brushless motors) to monitor engine/motor RPM.
No more guessing about the effectiveness of new mixture settings, a new battery pack, or how a new propeller/motor combination is working out. For those of you who have lost control of your RC helicopter or plane because of low RX voltage from a NiMH RX battery that false peak charged, you know how useful this real time telemetry data will be – It would have saved my Bell 222 .
The telemetry data as I said can be viewed in real time on the radio's nice large 128x64 pixel backlit LCD display as it's happening on the aircraft. Unfortunately, reading streaming data is not very practical during a flight, especially on a heli or faster plane that takes full eyes-on concentration. This is why the data of a flight is recorded for later analysis and the best part about this is you can program alarms into the radio (both audible and vibration) to warn you if any of the telemetry readings you are monitoring wonder outside the parameters you set.
For example, if your engine head temperature is getting too hot, your RX battery voltage is getting too low (not that I would know anything about that), or your flight battery is nearing its 80% discharged voltage, the Spektrum DX8 will warn you by beeping, vibrating, or both so you don't even have to be looking at the screen.
The other very useful bit of telemetry information gathered is how strong your RF signal is by monitoring the number of packets/frames that don't get through to the receiver. No more guessing if you need to change your receivers position, add additional remote receivers, or wonder just how far away you can fly with larger aircraft and still maintain a solid RF link to your bird.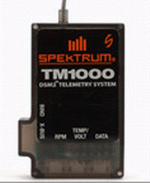 All this telemetry feed back data to the Spektrum DX8 is accomplished by using the included Spektrum TM1000 telemetry module. This module will work with any pre-existing Spektrum or JR receiver that have the data log flight ports.



These include the Spektrum AR - 6115E, 6210, 6255, 7000, 7100, 7100R, 7010, 7110, 7010R, 7600, 7610, 8000, 9000, 9010, 9100, 9110, 9200, 9210, 9300, 9310, 10000, 12000, 21000, and the JR R921, 922, 1221, 1222 receivers. For those of us with these receivers that have the data ports on our existing aircraft, it will be a simple matter of just purchasing extra TM1000 telemetry modules for about $50 bucks each and the specific sensor/s for what we want to monitor.
---
Very Customizable!
One of the other features I really like with the new Spektrum DX8 is how customizable it is with switch programming, alarm activation, timer activation, mix and mode functions, to name a few. This has been one of the weak spots as far as I am concerned with the DX7 and even the JR X9305 and is where many considered the Hitec Aurora 9 and the Futaba 8FG & 10CG having a clear edge over the comparable Spektrum and JR offerings.
No longer is this the case with the Spektrum DX8, and it goes to show Spektrum RC is listening to what its customers were looking for in a intermediate level radio and have raised the bar on the competition big time. Again, it's really no surprise why the DX8 was so keenly anticipated and is now sought after by so many.
---
SD Card Support
The Spektrum DX8 has a SD card port to download data onto a SD card or upload data from the card to the DX8 for the latest firmware/software upgrades for example. Again, this is where Spektrum has listened to what its customers wanted taking cues from Futaba. The Spektrum DX8 has a 30 model memory which is certainly more than enough for most of us, but with the flash card support – you can essentially have an unlimited amount of models stored on your PC or even share/transfer settings from one DX8 to the other.
This also allows for easy firmware updates right from Spektrum's website. A perfect example of this is Spektrums new DSMX technology can easily be downloaded for free onto the first generation of DX8 transmitters that came with the older DSM2 modulation. For those of us with the DX6i, DX7's, or JR's that don't have a data port - we have to send our radio's in for the DSMX upgrade (if we feel it's worth while for our flying environment) at a cost not only in shipping but for the software upgrade itself.
---
A Power On Indicator Light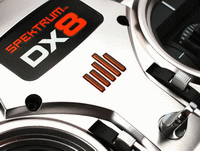 I know, this is a very minor thing, but it certainly made my eyes light up and was a long time coming. Not sure about any of you, but I have left my transmitter turned on by mistake more than once and only when the low battery alarm started beeping, did I realize it.
I have since put a small LED in my DX7 and then in my JR X9503 when I got it to provide an easy to see visual aid that the radio is turned on when I am too far away to see if the display is on. The Spektrum DX8 already has that simple little "power on" LED already installed and using it to light up the patented Spektrum bar graph symbol is a nice touch.
---
What Does The Spektrum DX8 Come With?
Over and above the DX8 transmitter and the aforementioned TM1000 telemetry module, there are some other nice included items that really add to the overall value and usability of the DX8 right out of the box.


The 8 channel AR8000 high speed 11ms frame rate 2048 resolution receiver comes standard with the Spektrum DX8 and the SD card for the radio. It also comes with two telemetry sensors (a flight pack voltage sensor and a temperature sensor).


Additional sensors can be purchased separately and range in price from about $10 bucks for the voltage and temp sensors up to about $35 bucks for the engine and motor RPM sensors. A couple different telemetry cables are also included and Spektrum is FINALLY including a neck strap with the DX8 – YEA!
---
Spektrum DX8 Specifications:
High-speed 11ms frame rate with 2048 resolution
Large 128 x 64 backlit screen
30-model internal memory
Electronic E-ring electronically prevents overdriving the cyclic servos
Includes AR8000 8-channel High-Speed Receiver
Spektrum Data Interface provides expanded model memory, model sharing, and firmware update capability with the included SD card
8 Wing Types and 5 Tail Types are available for nearly all aircraft types
Active gain and governor trim allows for in-flight adjustment of the gyro gain and RPM
Programmable Flap System with Flap Delay and elevator compensation
Programmable Telemetry Warnings provides both tone and/or vibration alerts
4 Swashplate Types
SimpleScroll™ roller provides easy menu navigation
User-assigned switch function
Programmable Throttle Cut Function
Includes TM1000 Full Range Telemetry Module providing real-time Flight Log data, receiver voltage, flight pack voltage, RPM and temperature
Exclusive AirWare™ Software offers advanced features that are easy to use
Refined ergonomics with no-slip comfort grips
Programmable timer with throttle timer start-up
Quad bearing gimbals
---
Final Thoughts...
I like most people am so impressed with the Spektrum DX8; making me second guess my JR X9503 purchase certainly confirms that. The DX8 has incredibly easy programming just like the DX6i but of course way more features not to mention long lasting and precision ball raced gimbals.
If you were considering a DX7 or DX7se with their much more complicated programming layout, multiple button sequences you have to remember, and annoying split screens for some of the programming fields; the DX8 is by far the better choice and really doesn't cost much more, especially when comparing it to the se.
Oh, Cost? Sorry, I never mentioned that – are you sitting down? The DX8 with all the goodies I listed above is retailing for... $430.00 USD – WOW! Not sure if Spektrum wanted to kill its DX7 and definitely DX7se sales, but the DX8 will certainly have a huge impact. It might even eat up some the JR X9503's potential customer base but the X9503 does have some nice features such as 7 point pitch and throttle curves for finer curve resolution, a larger display that makes programming more enjoyable, and of course another proportional channel for the scale crowd.
The DX8 is no doubt the first in a new generation of Spektrum and JR radios that will support both telemetry and SD cards. You can bet there are going to be some very exciting and interesting changes in the next year or two with both companies building on these new features.
---
DX8 Ordering Information:
To find out more about the Spektrum DX8 or to order it from Red Rocket Hobbies, click here.
---
Lastly, I will leave you with a DX8 review done by Bert Kammerer. He really dives into the different programming menus and telemetry options so it's certainly worthwhile watching the entire video if you are thinking about the DX8.


---
---
Return To Top Of Spektrum DX8 Overview Page



Return To Home Page