Futaba Radios

Is one brand truly better than the rest?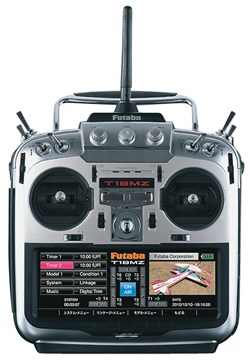 T18MZ Futaba Radio
There are several popular RC radio manufacturers you can choose from. Futaba Radios, FrSky Radios, Spektrum Radios, JR Radios, and Hitec Radios round out the major five.
There are dozens of other low cost, almost toy grade RC radios on the market as well; but I am focusing on quality computerized radios that will give you years of versatility, customer/online support, trouble free flying, won't lock you into some obscure protocol, and offer good resale value.
So which is best?
Ask 5 different people and you will likely come up with 5 different opinions. You see, most RC pilots are very passionate about the radio brand they use, more so than just about any other RC component.
I'm sure you have all read or heard about the so called "brand specific crashes". You know, the Futaba radio users call them "Spektrum Crashes", the Spektrum or JR users call them "Futaba Crashes" and so on.
Unfortunately there is little in the way of supporting data to back those claims up other than a few known faults with any one brand's specific model/s such as firmware bugs or a bad component. As I said on my RC Radio Page, I would not hesitate to say that the majority of crashes caused by these so called brand specific radio issues resulted from inadequate voltage/power issues on-board the aircraft or from static discharge and not from radio glitches (assuming correct installation of components of course).

To be honest, all of these manufactures build very good radios from entry level up to pro, and brand loyalty plays more of a roll these days than function and performance.
What makes one radio system/model truly better than another is the antenna glue (antenna circuitry component quality), thoroughly debugged firmware, manufacturing quality (e.g. soldering connections, cable interconnect, toggle switch & potentiometer quality, etc).
Sticking with the name brands generally assures you get this build/component quality and then you just have to choose the radio model that has the specific features you're looking for and appeals to your needs. It could come down to somethings as simple (but ultimately very important) as how good the radio feels while you are holding it/using it.
Is the switch and dial placement comfortable/intuitive, is the display screen easy to see, does it feel balanced in your hands, does it have nice soft rubberized grips over hard, slippery plastic. All these "ergonomics" play a big roll in radio comfort & usability. In other words, if you have a hobby shop that you can visit to actually feel the radio in your hands before ordering/purchasing it, that can be a big advantage to choosing one you will ultimately be happy with.
This Article I have on my site really dives into the technology behind today's modern 2.4GHz spread spectrum RC radios. It clears up much of the "marketing & brand "X" crash hype" out there.
---
Futaba Radios
I have and will always trust Futaba. I still have every Futaba radio I ever purchased and they are all still working like champs. I have never been let down with any Futaba product.
When I first started out in this hobby – Futaba radios really were better than most other RC radio manufacturers; but now a days, all these name brand players are all pretty much on a level playing field.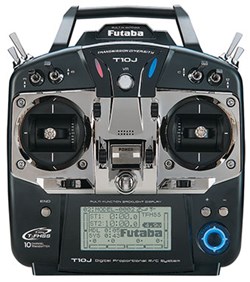 10J FHSS 10 Channel Futaba Radio
Futaba really hits the mark on their intermediate to higher end products. Their entry level 6EX & 6J six channel computerized radios (at least for RC helicopters) are missing a few important features in my option (throttle and pitch curve graphical representation to be specific), and built to a price point. Not near the quality in other words to their mid to higher level models.  

However, their new 2.4 GHz performance FASST series and very affordable FHSS series are some of the best intermediate & advanced radios on the market right now. As with most of the big name radio brands these days - the intermediate to higher end Futaba radio models support aircraft telemetry.

Futaba has two distinct 2.4GHz spread spectrum protocols - FASST & FHSS which are not compatible with each other so that is the one thing to be aware of when choosing a Futaba system or subsequent receivers. Futaba S-Bus communication network is well supported by most high end flybarless systems on the market.

Click Here For Futaba Radio Deals On eBay.
---
FrSKY Radios
FrSKY Taranis X9D Plus Radio
FrSky is getting to be a very popular RC radio brand for true RC enthusiasts who want massive configuration versatility while not breaking the bank or being locked into any one RF protocol.

One radio to control FrSky, UHF, Spektrum or other RF systems with the addition of the correct JR style RF module.

FrSky first gained popularity in the multi-rotor world (both FPV & racing), but is now showing up at RC plane & helicopter flying fields in growing numbers world wide. One of the best full range 2.4 GHz frequency hopping spread spectrum protocols on the market as well by many accounts.

The big thing FrSky radio systems give you is open source software versatility (Open TX) in combination with great bang for the buck features; costing roughly half to a third of similar spec established brands! They are not for everyone as configuration and programming can be complicated, but there is a vast online help network if you like that kind of thing and are open source software savvy.
A true RC nerd's radio system so to speak and I mean that in a most complementary way :-)

The fully expandable 16 channel Taranis X9D Plus is their most popular model right now, and at about $225.00 USD, outperforms radios that cost two to three times as much in terms of features, performance, and of course versatility. Like Spektrum, they also have a form of model match - a near must have feature in my opinion for anyone who flies multiple aircraft.

The overall build quality of the X9D suffers to some extent with breaking toggle switches being the number one complaint. Lots of support out there however and you can purchase repair parts easily which is something none of the other big name brands allow you to do.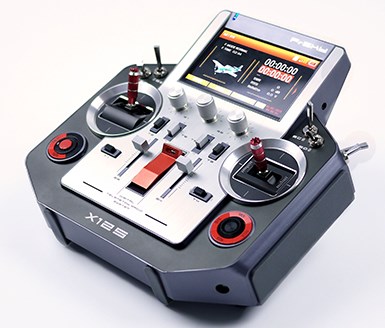 FrSKY Horus X12S RC Radio
The higher end 16 channel FrSky Horus X12S is one of the prettiest looking RC radios on the market right now in my opinion.
It's about the only radio that has come to market lately that truly excites me and is certainly something I've been considering as a replacement to my aging JR X9503.
I'm intimidated by the open source learning curve and not sure how I would like the almost "tray style " wide layout. This is truly one RC radio I would have to try first before putting my money down.

The factory installed FrSky operating system software is adequate by all accounts, but if you really want this thing to soar, Open TX "opens" a whole new world of features.

Lastly, for those of you who like the full tray style RC radios, FrSky has you covered with their 16 channel X9E.

---
HiTec Radios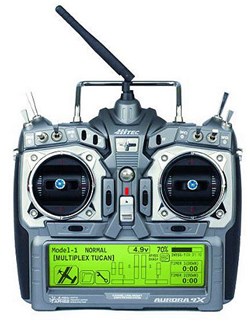 Aurora 9X HiTec Radio
Hitec was left behind for a couple years when 2.4GHz Spread Spectrum Modulation was introduced; but Hitec has caught up to this new technology and has three very good 2.4 GHz radios on the market right now.
Their Optic 6 Sport 2.4GHz is a nice entry level 6 channel computerized radio and their Aurora 9 2.4GHz 9 channel radio offers amazing value with its telemetry capability and touch screen display. I personally don't like touch screen displays on RC radios but that is just me. The Aurora 9X takes it one step further with lighting fast 4096 resolution. HiTec is known for having some of the best RC radio bang for the buck out there.
Click Here For HiTec Radio Deals On eBay.
---
JR Radios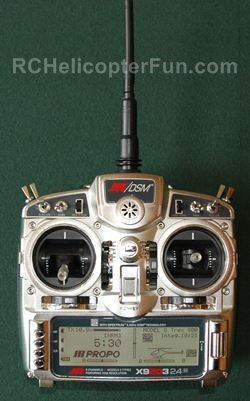 JR X9503 DSM2/X Radio
As you can likely guess by the photo, my go-to radio right now is the JR X9503. I've had it now for just over 6 years and it has never let me down once. No question, I wouldn't mind getting something a little newer, but why mess with what works and feels so good in my paws. I also don't think any Spektrum offering yet has nearly as nice of a display screen as JR's.

Like Futaba radios, JR has been in the RC game for as long as I can remember and has a loyal following. JR has traditionally built very high end products that have been used by many professional RC pilots world wide and in the RC heli world is perhaps still the number one choice. JR originally licensed up with Spektrum to take advantage of Spektrum's patented DSM2/X 2.4 GHz spread spectrum technology and that is the protocol I currently fly with.
I love the fact I have so many receiver options (either JR DSM2/X or Spektrum DSM2/X) that are also well supported by most flybarless systems allowing for easy satellite RX hookup. I can also use it with all of Blade's or E-Flite's BNF helicopters, airplanes, and quad-rotors that all run on DSM2/X.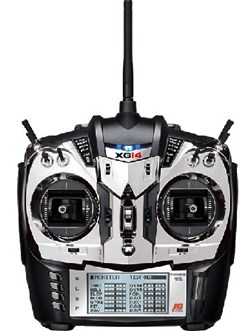 JR DMSS XG14 Radio
JR now has it's own unique spread spectrum protocol called DMSS (Dual Modulation Spectrum System). This new system is not compatible at all with the Spektrum shared DSM2/X.

The nice thing is the menu layouts and access have remained the same; so if you are already a JR user, it is very easy and intuitive to migrate over to the newer DMSS models (XG6, XG8, XG11, & XG14).
Click Here For JR Radio Deals On eBay.
---
Spektrum Radios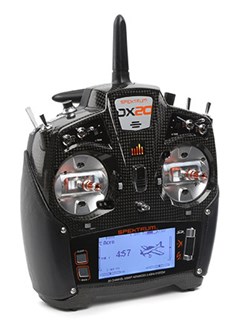 Spektrum DX20 Radio
Love em or hate em, Spektrum continues to dominate the 2.4 GHz RC radio market. This is not because they are leaps & bounds better than the rest, they just build a solid product with features (Model Match for one) & ease of usability most of us want at good pricing with great product support.

Spektrum was after all, the first to the spread spectrum game over 10 years ago (at least in the hobby grade RC radio market), and they won a loyal following that continues to this day.
Spektrum continues to improve their products with features such as quad bearing gimbals even on their entry level low cost DX6, and come out with neat features before many other brands do such as SD card support and voice alert first seen on the DX9 (the radio I would most likely be purchasing right now if my beloved JR quit, with the FrSky Taranis a very close second).

The new DX7 with voice alert along with all the bells and whistles also represents great value for those looking for a good sport 7 channel radio. A new 8 channel DX8 has also been released.
Spektrum is not quite up to the overall quality of the pro/higher end JR & Futaba radios; but you also don't have to remortgage your house to purchase one. Their impressive 20 channel flag ship DX20 for example is under $1300.00 bucks. Still, it's not nearly the pricing deal of the open source FrSky stuff.

If you want an easy to use radio with telemetry, voice alerts, and a backlit display for around $200 bucks - the six channel DX6 offers one of the best values of any decent quality RC radio out there right now. 
As I mentioned in the JR section, I personally fly every bird I own including the turbine powered Intrepid with Spektrum's DSM2/X protocol and it's never once let me down. I do also fly with a Spektrum DX8 radio. It's my JR backup radio should I need it.

Spektrum has some of the best diversity radio systems out there in my opinion and I like the fact that most good flybarless systems are fully compatible with Spektrum's satellite receivers.

Click For Spektrum Radio Deals On eBay
---