Futaba Radios, Spektrum Radios, JR Radios... Is one brand better than the other?
There are several popular RC radio manufacturers you can choose from. Futaba Radios, Spektrum Radios, JR Radios, Hitec Radios, and Airtronics are the major five.
There are dozens of other low cost, almost toy grade RC radios on the market as well; but I am focusing on quality computerized radios that will give you years of versatility and trouble free flying - not junk.
So which is best?
Ask 5 different people and you will likely come up with 5 different opinions. You see, most RC pilots are very passionate about the radio brand they use, more so than any other RC component.
To be honest, all of these manufactures build good radios and brand loyalty plays more of a roll these days than function and performance.
---
FUTABA RADIOS
I have and will always trust Futaba. I still have every Futaba radio I ever purchased and they are all still working like champs. I have never been let down with any Futaba product.
I know when I first started out in this hobby – Futaba radios really were better than most other RC radio manufactures; but now a days – they are all pretty much on a level playing field.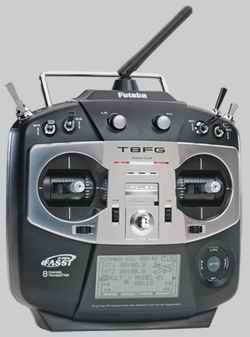 Futaba's really hits the mark on their intermediate to higher end products. Their entry level 6EX 6 channel radio is (at least for RC helicopters) inadequate compared to what the competition offers.
However, their new 2.4 GHz FG and CG series (8FG, 10CG, 12FG) are among the best intermediate/advanced radios on the market right now.
---
HITEC RADIOS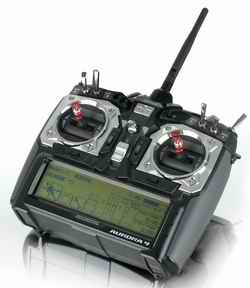 Hitec was left behind for a couple years when 2.4GHz
Spread Spectrum Modulation
was introduced; but Hitec has caught up to this new technology and has two very good 2.4 GHz radios on the market right now.
Their Optic 6 Sport 2.4GHz is a nice entry level 6 channel computerized radio and their Aurora 9 2.4GHz 9 channel radio is absolutely amazing with its telemetry capibility. It is getting so many good reviews for the advanced features it offers at a very affordable price.
---
JR & SPEKTRUM RADIOS
Like Futaba, JR has been in the RC game for as long as I can remember and has a loyal following. JR has traditionally built very high end products that have been used by many professional RC pilots world wide and in the RC heli world is probably still the number one choice. JR has teamed up with Spektrum to take advantage of Spektrum's patented DSM2 2.4 GHz spread spectrum technology.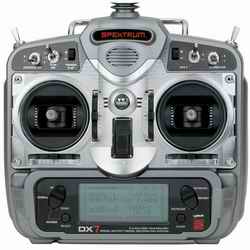 I have now become a "JR/Spektrum" guy when I made the switch from PCM to 2.4 GHz spread spectrum modulation because I personally feel that Spektrum/JR's DSM2 system offers the best path diversity and receiver selection available.
I am so impressed with all the features Spektrum's entry level DX6i radio offers for such a low price. I then acquired a Spektrum DX7 which is probably the most popular sport/intermediate radio out there right now. Other than a somewhat complicated programming menu layout/access, the DX7 offers wonderful value and is a proven performer.
Now the DX8 has arrived on the scene and is really the future of where RC radios are headed with both telemetry capability along with SD card support - here is my full write-up on this wonderful RC transmitter.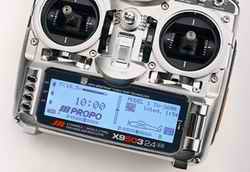 2010 has been a busy year for JR. First they came out with the X9503 9 channel radio and then a month later the JR 11X made its debut. The X9503 was the radio I had been waiting for and I purchased one as soon as I could get the heli version - no regrets what so ever, so happy with it!
I personally feel JR/Spektrum offer the best overall value due to features like Model Match, Bind & Fly, best receiver options, overall quality, customer support, and of course as I already mentioned, their proven DSM2 spread spectrum modulation system which has now been improved on even further with the new DSMX system which is totally backward and forward compatible with all previous DSM2 systems/receivers. The video below explains it well:


---
So what brand RC radio should you get for your RC helicopter?
Here are my recommendations based on flying single rotor collective pitch RC Helicopters from beginner to pro. As you already know from my best RC helicopter section , I feel the radio is every bit as important (more important actually) as the bird. Once into collective pitch, computerized radios are required to set the helicopter up correctly and with even very inexpensive gyros these days all using remote gain adjustment, the computerized radio is a necessity. Take your time deciding, since once you get into a specific brand of radio, you generally have to live with that decision for a while.
If you follow my advice given on the RC Radios page and stick to getting a 6 channel (or more) computerized radio with 2.4GHz spread spectrum technology, the three clear leaders in my opinion at the time of this writing (winter 2010) are Futaba, Hitec, and Spektrum/JR.
ENTRY LEVEL/BEGINNER RADIOS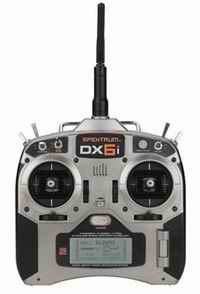 Both the Spektrum DX6i and the Hitec Optic 6 Sport, 6 channel radios are perfect choices if you are watching your pennies and want a solid performing entry level computerized radio.
Spektrum's DX6i is considered by most to be the best entry level computerized radio out there right now and uses Spektrum's proven 2.4HGz DSM2 modulation.
If you want to learn about the Spektrum DX6i, here is my review on it.
You might also like watching this short Spektrum DX6i video to learn more about the DX6i.
---
INTERMEDIATE RADIOS
The Futaba 7C 2.4GHz or the Spektrum DX7 radios are the next step up with one more channel and some nice additional features. For average fliers, these two radios have all the important features most people will ever need or want. Again, the Spektrum DX7 has more features and is a much better overall choice for the RC heli pilot. The Futaba 7C is pretty old and antiquated but it still works.
---
ADVANCED RADIOS
If your hobby becomes a true passion, there are several exciting options to look at and the prices in this "advanced or enthusiasts" segment of radios have plummeted in recent years. Most are under $600 USD now.
Once up to this level of radio, the quality and features take a noticeable jump up. 8 channels or more, 30 plus model memory, ball bearing supported gimbals, back-lit LCD displays, multiple swashplate types supported, and 7 point throttle/pitch curves are all pretty much standard features plus many more.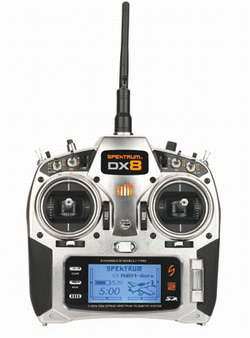 Let's start with what I consider to be the most exciting radio released in 2010 - the Spektrum DX8. When it comes to features, feel, customization, ease of programming and of course telemetry, nothing comes close at this price of just a tad over $400 USD.
Essentially the DX8 has all the features most people are looking for in an advanced radio (even more), but is priced close to the lesser intermediates - here is my write-up on the DX8 if you wish to learn more about it.
As I mentioned the JR X9503 is what I am currently flying with and have been so happy with it. The large screen shows so much more information and couple that with the roll and click dial makes it the easiest to program radio I have ever owned to date. I also mentioned Hitec's Aurora 9 as the least expensive radio in this segment with some neat features but since the arrival of the DX8... the playing field is once again level.






Futaba's new 8FG and 10CG are absolutely rich in features and have a cutting edge look. In my opinion, they are the best looking radios on the market right now and to me have the best overall feel while holding.





---
EXPERT/HI-END RADIOS
Lastly we have the elite high end of RC radios with more bells and whistles then even the advanced flier would ever need or use.

These radios are near or well over $1K USD, but exemplify the best of the best. The Futaba 12FG & 12Z along with JR's 11X & 12X are all high end products that the professional enthusiast will be happy with for a long time.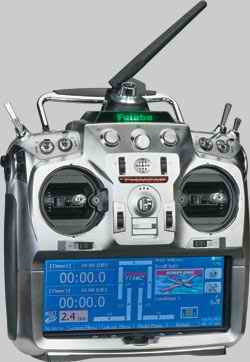 If you are looking for the very best RC radio out there, most will agree nothing comes close to the Futaba 14MZ & the new 18MZ. These flag ships of the Futaba line up are so advanced; you really have to see them and use them to believe it.




---
Return To Top Of Futaba Radios & Other Brands Page
Retrun To RC Radio Gear Page
Return To Home Page