Futaba Radios, Spektrum, JR, HiTec...

Is one brand better than the rest?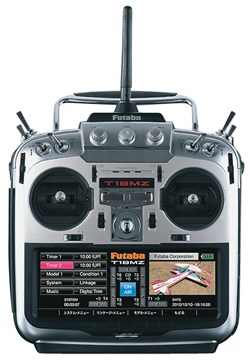 There are several popular RC radio manufacturers you can choose from. Futaba Radios, Spektrum Radios, JR Radios, and Hitec Radios round out the major four big names.
There are dozens of other low cost, almost toy grade RC radios on the market as well; but I am focusing on quality computerized radios that will give you years of versatility, customer support, trouble free flying, won't lock you into some obscure protocol, and offer good resale value.
So which is best?
Ask 5 different people and you will likely come up with 5 different opinions. You see, most RC pilots are very passionate about the radio brand they use, more so than just about any other RC component.
To be honest, all of these manufactures build very good radios from entry level up to pro, and brand loyalty plays more of a roll these days than function and performance.
---
Futaba Radios

I have and will always trust Futaba. I still have every Futaba radio I ever purchased and they are all still working like champs. I have never been let down with any Futaba product.
I know when I first started out in this hobby – Futaba radios really were better than most other RC radio manufacturers; but now a days, all these name brand players are all pretty much on a level playing field.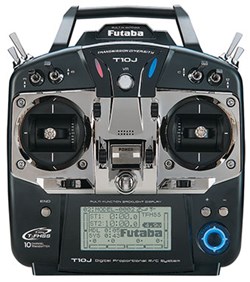 Futaba's really hits the mark on their intermediate to higher end products. Their entry level 6EX & 6J six channel computerized radios (at least for RC helicopters) are missing a few important features in my option (throttle and pitch curve graphical representation to be specific).  

However, their new 2.4 GHz performance FASST series and very affordable FHSS series are honestly some of the best intermediate & advanced radios on the market right now. As with most of the big name radio brands these days - the intermediate to higher end Futaba radio models support aircraft telemetry.

Futaba has two distinct 2.4GHz spread spectrum protocols - FASST & FHSS which are not compatible with each other so that is the one thing to be aware of when choosing a futaba system or subsequent receivers. Futaba S-Bus communication network is well supported by most high end flybarless systems on the market.

Click Here For Futaba Radio Deals On eBay.
---
HiTec Radios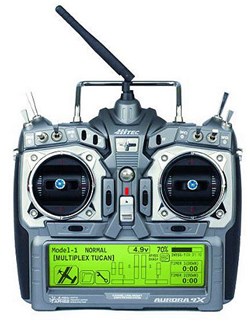 Hitec was left behind for a couple years when 2.4GHz Spread Spectrum Modulation was introduced; but Hitec has caught up to this new technology and has three very good 2.4 GHz radios on the market right now.
Their Optic 6 Sport 2.4GHz is a nice entry level 6 channel computerized radio and their Aurora 9 2.4GHz 9 channel radio offers amazing value with its telemetry capability and touch screen display. I personally don't like touch screen displays on RC radios but that is just me. The Aurora 9X takes it one step further with lighting fast 4096 resolution. HiTec is known for having some of the best RC radio bang for the buck out there.
Click Here For HiTec Radio Deals On eBay.
---
JR Radios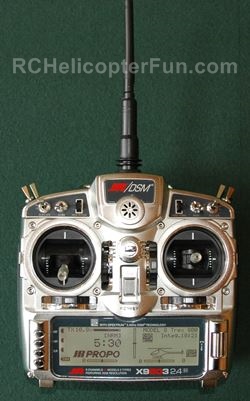 As you can likely guess by the photo, my go-to radio right now is the JR X9503. I've had it now for just over 4 years and it has never let me down once. No question, I wouldn't mind getting something a little newer, but why mess with what works so well. I also don't think any Spektrum offering yet has nearly as nice of a display screen as JR's.

Like Futaba radios, JR has been in the RC game for as long as I can remember and has a loyal following. JR has traditionally built very high end products that have been used by many professional RC pilots world wide and in the RC heli world is perhaps still the number one choice. JR originally licensed up with Spektrum to take advantage of Spektrum's patented DSM2/X 2.4 GHz spread spectrum technology and that is the protocol I currently fly with. I love the fact I have so many receiver options (either JR DSM2/X or Spektrum DSM2/X) that are also well supported by most flybarless systems allowing for easy satellite RX hookup. I can also use it with all of Blade's or ParkZone's BNF helicopters & airplanes that all run on DSM2/X.

There are still JR DSM2/X radios available here in North America (the X9503, 11X, & 12X), but I don't think they will be around for much longer; so if you are in the market for a DSM2/X JR radio, you should probably act sooner, rather than later.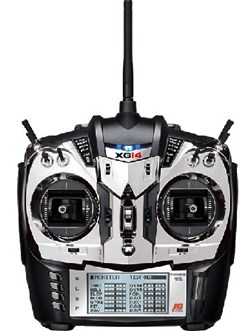 JR now has it's own unique spread spectrum protocol called DMSS (Dual Modulation Spectrum System). This new system is not compatible at all with the Spektrum shared DSM2/X. DMSS actually uses both FHSS & DSSS spread spectrum systems (thus the "dual") combining the benefits of both.
The nice thing is the menu layouts and access have remained the same; so if you are already a JR user, it is very easy and intuitive to migrate over to the newer DMSS models (XG6, XG8, XG11, & XG14).
Click Here For JR Radio Deals On eBay.
---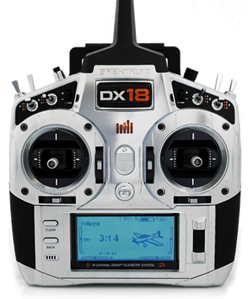 Love em or hate em, Spektrum continues to dominate the 2.4 GHz RC radio market. This is not because they are leaps & bounds better than the rest, they just build a solid product with features most of us want at very good pricing with great product support.
Spektrum was after all, the first to the spread spectrum game over 10 years ago (at least in the hobby grade RC radio market), and they won a loyal following that continues to this day.
Spektrum continues to improve their products with features such as qaud bearing gimbals even on their low cost DX6, and come out with neat features before many other brands do such as SD card support and voice alert first seen on the DX9. Spektrum is not quite up to the overall quality of the pro/higher end JR & Futaba radios;  but you also don't have to remorgage your house to purchase one. Their flag ship DX18 for example is under $800 bucks.
If you want a radio with telemetry, voice alerts, and a backlit dispay for under $230 bucks - the six channel DX6 offers perhaps the best value of any RC radio out there right now. 
As I mentioned in the JR section, I personally fly every bird I own including the turbine powered Intrepid with Spektrum's DSM2/X protocol and it's never once let me down. I do also fly with a Spektrum DX8 radio. It's my JR backup radio should I need it. Spektrum has some of the best diversity radio systems out there in my opinion and I like the fact that most good flybarless systems are fully compatible with Spektrum's satillite receivers.
---