Align Helicopters

Best Quality For The Price?
Why are Align Helicopters so popular? Simple, they do everything right – from design to parts support; Align RC knows the RC helicopter business better than most and what it takes to make some of the nicest birds and support equipment out there for the price.

In the 25 plus years I have been involved in this hobby, I have never seen the type of dominance one brand holds over all the others the way Align RC and its line up of T-Rex helicopters do. Add to this a huge Trex aftermarket parts & Trex clone market and it's hard to ignore how Align has and continues to shape our hobby.
Align is a company based in Taiwan and only recently got into the RC side of things. Align's main products up to that point were milling attachments for lathes & milling machines, high end vacuum cleaners, and small household appliances. Toshiba is Align's most recognized customer and partner, along with other popular brands such as Daewoo, Hitachi, & Sanyo.
Align RC sweats the details and it shows in their helicopter kits.
Align helicopters have some of the nicest CNC machined parts going with nice little details such as laser engraving and offer a wide selection of kits to suit almost everyone's needs.
In recent years however, the main focus for Align (as with most of the higher end RC helicopter manufacturers) has been higher and higher performance and power to cater to the hard core 3D crowd.
All versions for example now come with DFC (direct flight control) rotor heads and the electric 600 and up are only available as HV (high voltage) power versions.
The fiberglass airbrushed canopies seem to get nicer every year with easy to see bright bold colors and graphics.
With collective pitch helicopter sizes ranging from the tiny T-Rex 150 up to the large T-Rex 800, there is an Align Helicopter for most people and most budgets. The T-Rex 150 up to the 800 are all available in electric powered versions as well the fixed pitch entry level micro T-Rex 100.
The T-Rex 600 & 700 are also available in nitro powered versions. Some people are even converting their T-Rex 700's (and likely the 800 when it's been around a little longer) to turbine power by throwing the new Wren MW-44 two stage gas turbine heli engine between the frames.
Align Helicopter kits are a pure joy to build. Whether this is your first RC helicopter build or your fiftieth, I think everyone will appreciate how well the parts are identified, how easy the kits go together, and how good the instructions are.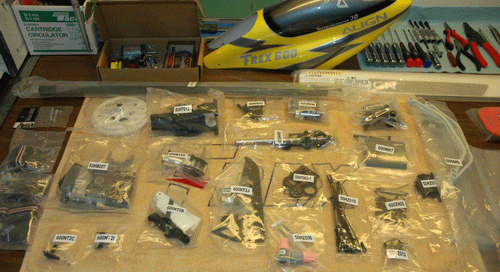 As you can see, every part grouping is nicely and compactly packaged and identified making for easy and fast assembly. The instructions are logical and well laid out showing the corresponding parts bag identification, exploded parts view, assembly instructions, and listing each part down to the last set screw.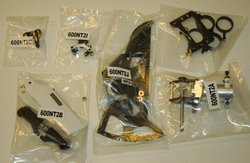 The first time builder will be impressed how nicely an Align helicopter kit goes together, and the more experienced RC heli builder will be amazed how quickly a T-Rex can be built with many of the fiddly parts already being pre-assembled.
I have built and flown my share of RC helicopters over the years and was loyal to Miniature Aircraft USA which up here in Canada become harder and harder to get parts for and sadly closed their doors after over 25 years in business in February 2014.

Align helicopters on the other hand are carried at almost every good hobby shop around the world with an outstanding parts support network including many aftermarket parts. I am a true fan of Align now flying three Trex 600's (two ESP's in scale bodies and the electric Pro), a little 250SE, the 700E with BlackShark3 F3C fuselage, and the 800E DFC.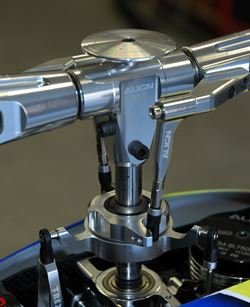 As I mentioned, Align has jumped on the DFC bandwagon in a very big way now offering all of their helicopters with DFC heads ( here's my DFC writeup if you are unsure exactly what DFC is). I'm still not convinced this is a good idea nor am I convinced DFC is a better way to do things over the conventional washout for all but the hard core 3D flyer. It will be interesting to see how DFC plays out over the next couple years.
That said, it's hard to ignore how clean, simple, and good looking a DFC head is. I would have to say my 800E DFC is the best flying heli I have ever owned (size plays a big part in that obviously), but I am really enjoying DFC on that machine.
DFC debate aside; top Align helicopters off with their line of electronic components such as Align's full range of helicopter specific digital, digital coreless, and HV digital brushless servos (most being re-badged Savox servos). Their GP750, GP780, & GP900 gyros. Their entry level 3GX-MR, higher performance 3GX, and their new GPro Flybarless stabilization units, plus a full line-up of very powerful high quality brushless motors, and ESC's (Align and Castle) that are all included in most of their "Super Combo" kits; and you have in my opinion some of the best quality and performance helicopter kits for the price. Best bang for the buck is how I look at most Align super combo kits.
---
Align Helicopter Recommendations
With all the various Align Helicopter Kits currently offered, it's impossible to recommend what is best since it depends on your specific needs & budget. As I just mentioned however, all their combo kits offer the best no hassle value since most include everything other than the receiver, radio, LiPo battery for the electric versions & nitro engine/muffler for the nitro versions.
I have also included a few links to eBay for some Align Helicopter deal hunting possibilities.

---
Align T-Rex 150 Class

The Trex 150 DFC, is Align's smallest collective pitch helicopter. It is also the only collective pitch RC helicopter in Align's line up that uses a fixed pitch motor driven tail.
The tail hold on this little micro CP heli is surprisingly good however due to both the small heli size/mass and the fact it uses a pretty strong and high quality brushless motor on the tail. The Trex 150 DFC Combo like all of Align's birds these days is sporting a DFC rotor head but it comes fully assembled with all electronics in place and is ready to bind and fly (or as Align calls it "bind to fly").
Now this is the very unique feature this little micro CP heli is sporting and that is the ability to bind to both Spektrum/JR DSM2 or DSMX radios as well as Futaba S-FHSS radios. This is a pretty cool feature and in my opinion what makes this little micro CP stand taller than much of it's competition. To bind to Spektrum or JR, you still have to use a separate Spektrum or JR satellite receiver, so that adds to the costs slightly over a Futaba S-FHSS pairing; but still, the "multi receiver" feature in the this size segment not to mention the overall high quality of the helicopter gives it very good value.
Click Here For T-Rex 150 Deals on eBay
---
The next smallest collective pitch bird in Align's fleet is their T-Rex 250. For most people this small heli doesn't make the best first collective pitch helicopter due to the small size and twitchy nature. This is not to say you can't learn to fly on one, but the bigger the bird, the more stable as I say so many times. The 250 is also more difficult to build, not because the process is hard, it's just the darn parts are so small - no coffee plus access to tweezers are the rules when assembling the 250.
Unlike so many other less expensive 200-300 size helicopters, Align's T-Rex 250 stays true to the only way to accurately control the tail rotor using variable pitch over a problematic and slow responding electric tail rotor motor. The 250 is a great indoor gymnasium helicopter and that's generally the type of environment most people fly the Rex 250 in. I use mine for practicing out in yard on calm days however.

The T-Rex 250 Pro DFC Super Combo kit includes servos, 3GX flybarless system, brushless motor, ESC, carbon & standard blades, and tools. All you will need is your computerized radio, receiver, 3S 800-850 mAh LiPo battery/s & charger.
Click Here For T-Rex 250 Deals on eBay
---
As I say many times, I feel the 400/450 size electrics are one of the best ways, and size to get into single rotor collective pitch for many people.
They are not as twitchy as a smaller micro CP or even a 250 and much easier to see and work on. They cost considerably less than the larger birds (both up front and for replacement parts & LiPo battery costs) making for a less stressful learning experience. They are also not much more than the 250 size, meaning 450's as a general rule of thumb give you the most rotor size to dollar ratio out of all sizes of collective pitch helicopters from micro to monster.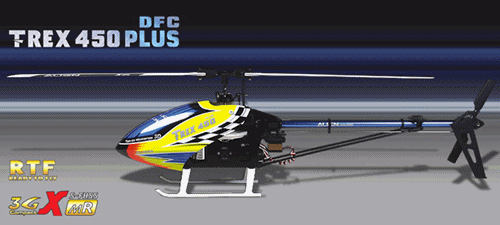 Align Trex 450 Plus DFC Helicopter
The Align Trex 450 Plus DFC was Align's first ready to fly helicopter that comes paired with a decent computerized radio. This heli competed directly with the Blade 450X and was my number one pick for beginners who were looking to get their first collective pitch heli (assuming they want a pre-built flybarless heli to start with). Unfortunately, they stopped making this great little starter heli package but you can still find them at some hobby shops.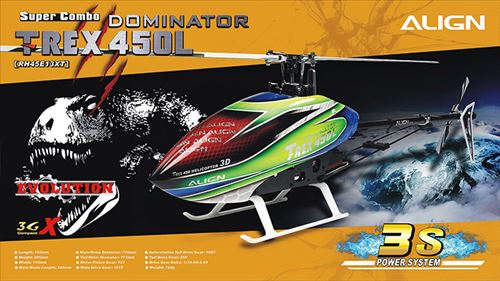 Align Trex 450L Dominator
The Align Trex 450L Dominator 3S & insanely powerful 6S powered Super Combos are their high end 450 size helicopters. They boast many higher end components than the 450 Plus DFC and are meant for the serious 450 flyer and pro pilots.
Full metal DFC flybarless head components and torque tube tail drives are the main component differences along with a high end servo package and of course the higher performance 3GX flybarless system over the basic 3GX MR that comes with the Plus DFC version. 
Both are sporting the new 460MX motors and use many of the design features such as sliding battery trail rails once only seen on Align's larger birds.
Click Here For T-Rex 450 Deals on eBay
---
Align Trex 500L Dominator
The Align T-Rex 500L Dominator is a very nice size for the increase in stability & size over the 450, but the price goes up substantially. If your budget is stronger, a 500 is a good size to start on, but it really is not that much less expensive than the 550. Not as many folks fly the 500's it seems since it is kind of an "in-between size" but for some, it makes the best size option for their flying environment and budget.
Click Here For T-Rex 500 Deals on eBay
---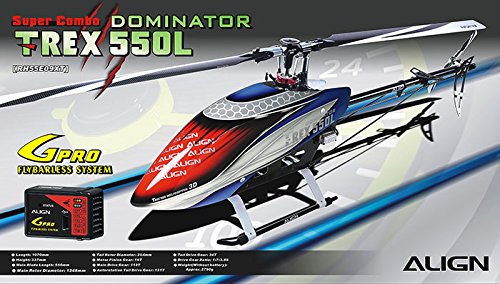 Align Trex 550L Dominator
For those of you with 30 sized nitro helicopters and are looking at getting into electric flight with a bird roughly the same size as what you are familiar with, the T-Rex 550's are for you. This is the size most people consider "regular" since it is what most of us "old guys" learned on when nitro was the only power option.
Now that the Trex 600ESP is no longer available, in my opinion, the 550 is a very nice collective pitch machine to start on in this size segment. It's the one I would most like to instruct on and what I recommend to people who I know they want a larger bird to start with but don't want the large step up into double the LiPo costs with the 600 nor want to deal with the (almost scary) power increase.
Click Here For T-Rex 550 Deals on eBay
---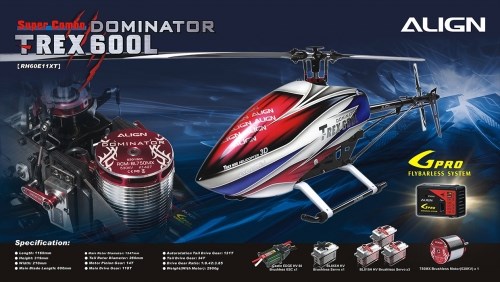 Align Trex 600L Dominator
Ah yes, the good old 600's – my personal favorite. The Trex 600's both in electric and nitro versions are next to the 450's and 550's Align's top sellers at most hobby shops. This has so much to do with the size and the price. The 600's (same size as a 50 size nitro) are such a nice size and simply a joy to pilot.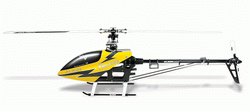 Align Trex 600 ESP
The Align helicopter T-Rex 600ESP Superior Combo offered tremendous bang for the buck and remains to be one of my favorite RC helicopters of all time.
True, an electric 6S (22.2 volt) powered 50 size heli may be somewhat under-powered for the high performance hard core 3D crowd, but for the average flier up to enthusiastic sport/light 3D pilot, there is more than enough power. Keeping the costs lower by not requiring a much more expensive 10S or even 12S LiPo power system makes economical sense for most folks who put budget before insane performance. These 6S 600ESP versions also make for great scale mechanics offering easy battery access.
Unfortunately as I mentioned, they are no longer available but if you are lucky, used ones do show up from time to time; however people tend to hold onto them like treasured tools. I've also started selling Phoenixtech 600 ESP clones. Here is my full review on them.
This is one of my Trex 600ESP's inside a Bell 222 Fuselage
If you do want insane hard 3D power however, Align has the new high voltage 600L Dominator running two 6S packs in series (12S power) just like the 700E and 800E.
I've been flying the previous 12S version (the 600E Pro) now for 4 years and it's a pretty sweet and addicting machine once I got used to all the power. The helical main gear has next to no gear whine that the ESP version had.
This rascal just sits up in the sky humming away until you start throwing it around and then that magical sound of the blades smacking and cracking the air becomes the only noise you hear and what a great noise it is! This thing begs to be flown hard and if you're not shaking or sweating a little after flying it - you're likely not having fun ;-)
Click Here For T-Rex 600 Deals on eBay
---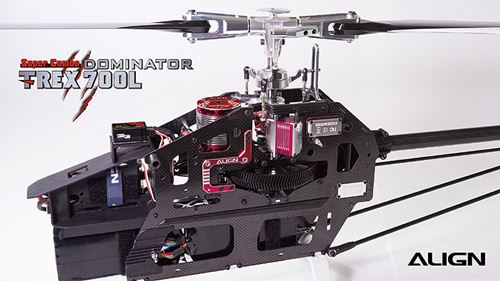 Align Trex 700L Dominator Mechanics
What can I say, the 700L Dominator is a big bird (same size as most 90 size nitros). It's powered by 2 6S 5000 mAh LiPo's wired in series (12S = 44.4 volts). The 700L is a power hungry machine yet when flown conservatively can produce some impressive flight times (over 12 minutes).I'm currently flying the first generation 700E FBL Super Combo and it has been a fantastic heli from the very first flight. The latest version is the 750L Dominator.
The Super Combo 750L kit comes with top of the line brushless HV servos and is the first Align combo kit to include the highly anticipated Gpro flybarless unit.

Without a doubt, the 700 is the size I usually gravitate to when I just want to have insane fun out at the field as it usually puts on the best show and eats up my less than perfect stick inputs. It's pretty much my favorite heli right now for acro flight - period! Skinning it out with the Align/BlackShark3 F3C fuselage (designed specifically for the Trex 700E) has only helped improve the overall enjoyment and visual impact of this wonderful helicopter.
Click Here For T-Rex 700 Deals on eBay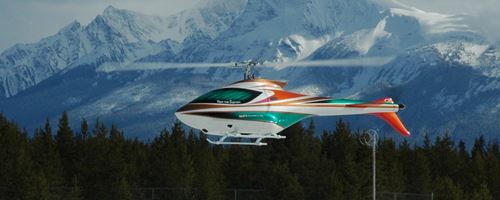 Align Helicopter 700E BlackShark F3C Fuselage
I would have to say for my flying style, where I fly, and my overall average skill level, this is the favorite heli in my current fleet. To me, this is what flying an RC helicopter is all about! Ear to ear grin every time I fly it :-)

Align also has newer style "Speed" fuselage for the electric powered 450L, 500L, 550L & 700L. This is a fairly easy and inexpensive way to give your Align helicopter a larger "visual foot print" if you are having trouble seeing it not to mention a cleaner airframe for faster top end speeds and all round better looks most people find.

Click Here For Way Better Align Speed Fuselage Prices on eBay
---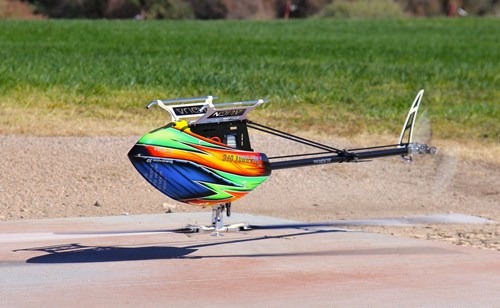 Align Trex 800E Monster
The Trex 800E is a big brute with full aerobatic 3D ability. It's pretty much the same size as my Intrepid turbine and yes I had been saving up the hobby funds as it was going to be my one and only big heli purchase the first year it came out (then called the 800E DFC Trekker).
I was also seriously considering the SAB Goblin 770; but again the overall value and bang for the buck on the 800E DFC Super Combo was just too good to pass up and as a result, I added another Align helicopter to the fleet.
I just love seeing this big beast up in the sky having lots of fun flying it fast and hearing those 800mm rotors smacking the air - heli heaven & worth every cent and second!

Click Here For T-Rex 800 Deals on eBay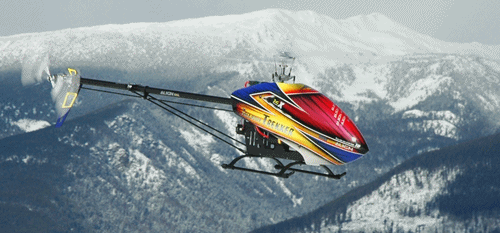 ---
Final Thoughts
I encourage you to look through Align's web site just to see what other kits are available because they are always changing and bringing out new product. Even being an Align flyer, I have a hard time keeping up with all the new models & product. You will also find the latest firmware updates for the 3G, 3GX, APS GPS, and the GPro systems on their site. In short, if you plan on flying or already fly Align Helicopters, that link is must to book mark or add to your smart phone or tablet.
Lastly, what would an Align Helicopter write-up be without a video of what one can do in the hands of a much better pilot than I am. May as well have a look at the 800E DFC being "worked" & showing off some of its potential - Turn up the volume and enjoy!
---