Align Helicopters
Best Quality For The Price!
by John Salt - Last Updated September 2023

Why do Align Helicopters remain to be popular? Simple, they do everything right – from design to parts support; Align RC knows the RC helicopter business and what it takes to make some of the nicest birds and kits out there for the price.
Align T-Rex 800E - Smooth As Glass
In the 30+ years I have been involved in this hobby, I have never seen the dominance one brand holds world wide like Align RC does. Add to this a huge Trex aftermarket parts & Trex clone market and it's hard to ignore how Align shaped our hobby.
No question Mikado, GooSky, Oxy, OMP, SAB, soXos, Tron and XL/Protos have certainly eaten into Align's domination over the past several years with outstanding high end RC helicopters and innovations of their own; but you pay for it! Whereas for an average Joe flier like myself, Align offers reliable no hassle performance, build quality and super combo kit convenience bang for the buck.
Align Helicopters are still winning their fair share of competition titles world wide after all, so performance & precision is not lacking in the least. In the hands of a top pilot such as Alan Szabo Jr., Align helicopters are a thrill to watch (and hear).
Align is a company based in Taiwan and got into the RC heli manufacturing biz around 17 years ago now. 
Align's main products before getting into the RC market were milling machines and attachments, high end vacuum cleaners, and small household appliances. All areas of manufacture that lend themselves nicely to radio controlled helicopter manufacturing and design as well.
Align RC sweats the details and it shows in their helicopter kits.
Align Helicopters High Quality Parts And Design
Align helicopters have some of the nicest CNC machined parts going with nice little details such as heat sinking, colored anodizing, laser engraving, and offer a wide selection of kits to suit almost everyone's needs & budget.
With collective pitch helicopter sizes ranging from the tiny T-Rex T15 up to the large T-Rex 800, there is an Align Helicopter for most people and most budgets. The T-Rex T15 up to the 800 are all available in electric powered versions. 
The T-Rex 600 & 700 are also available in nitro powered versions. Some people are even converting their T-Rex 600's & 700's to gassers, and even some turbine conversions exist. 

Align Helicopter kits are a pure joy to build. Whether this is your first RC helicopter build or your fiftieth, I think everyone will appreciate how well the parts are identified, how easy the kits go together, and how good the instructions are.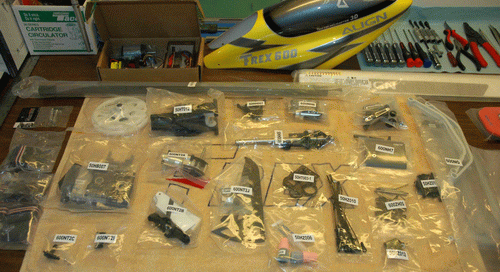 As you can see, every part grouping is nicely and compactly packaged and identified making for easy and fast assembly. Fit and finish is superb! 
The instructions are logical and well laid out showing the corresponding parts bag identification, exploded parts view, assembly instructions, and listing each part down to the last set screw.
The first time builder will be impressed how nicely an Align helicopter kit goes together, and the more experienced RC heli builder will be amazed how quickly an Align helicopter kit can be built with many of the fiddly parts already being pre-assembled.
I have built and flown my share of RC helicopters over the years and was loyal to Miniature Aircraft USA which up here in Canada became harder and harder to get parts for. 

Align helicopters on the other hand are carried at almost every good hobby shop around the world with an outstanding parts support network including many aftermarket parts. 

Align Trex DFC Head
Align jumped on the DFC bandwagon in a very big way back in 2014 and starting incorporating DFC heads on every single model. 
Here's my DFC writeup if you are unsure exactly what DFC is.
I'm still not convinced this was a good idea nor am I convinced DFC is a better way to phase the swashplate to the head over the conventional tried & true washout links, at least on larger RC helicopters. 
Align however listens to their customers and pro-pilots, and the latest "X" and "TB" versions of all their (larger) helicopters are once again using standard FBL heads with traditional washout's - nice.
Align's Super & Top Combo Kits - The Real Value With Align Helicopter Packages!
Most of Align's helicopter kits come in "Super and Top Combo" versions. 
These "combos" include a full range of helicopter specific digital coreless, and HV digital brushless servos, plus a full line-up of very powerful high quality Align MX brushless motors, ESC's (Align, Castle Creations & HobbyWing), and many with the Beast X Plus flybarless system.
These super & top combo kits, hands down, give you some of the best quality, all inclusive, high performance helicopter kits for the price. As I said before, best bang for the buck is how I look at all these Align super combo kits.
After all, electronic components for larger helicopter kits generally cost as much if not more than the kits themselves. These included combo packages can save you hundreds of dollars over purchasing the same/similar electronic components separately.
Moreover, if you are the type of person who doesn't want to search for compatible electronics for your helicopter kits, these all inclusive combo kits save you not only a lot money, but also a lot of time. No hassles, all included parts and no mismatched or wrong selections.
It's why I'm basically an Align customer for life and I hope they continue with this winning combo package recipe that I have come to love.  
---
Align Helicopter Recommendations
With all the various Align Helicopter Kits currently offered, it's impossible to recommend what is best since it depends on your specific needs, flying area, & budget.
As I've already mentioned, all their super combo kits offer the best no hassle value since most include everything other than the receiver, radio and LiPo battery for the electric versions.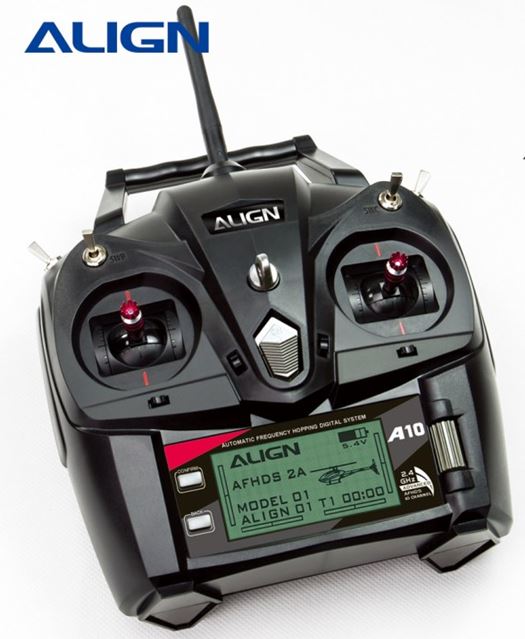 Align's A10 Computerized Radio Is Included With All Their RTF Helicopter Packages.
Align also offers up three smaller ready to fly (RTF) helicopters (the 150X, 300X, and 450LP ARTF).
All come pre-built, setup, and include Align's A10 ten channel computerized radio for those just getting into collective pitch flying and need computerized radio as well.
As I say many times, if you are flying collective pitch, you need a computerized radio - period. 
---
Align T-Rex 150 Class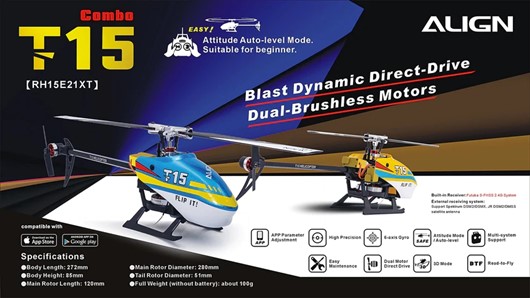 The Trex 150X (links to my full review), and the updated T15 are Align's smallest collective pitch helicopters. They are also the only collective pitch RC helicopters in Align's line up that use a fixed pitch motor driven tail. 
The tail hold on these little micro CP helis is surprisingly good! The new T15 also uses a direct drive brushless main motor to compete against the OMP M1 which is another great heli in this size and type class.
You can still get the RTF (ready to fly) version of the 150X which includes the A10 computerized radio, but the new T15 is only offered in BNF version. 

---
Align T-Rex 300 Class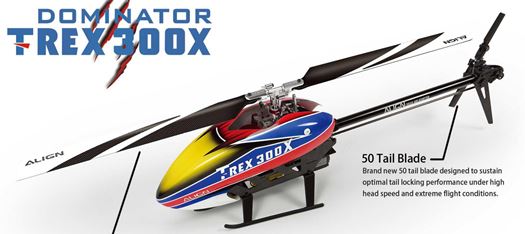 The next smallest collective pitch bird in Align's fleet is their pre-built T-Rex 300X. The 300X replaces their popular small size 250. Two versions are offered, a RTF (ready to fly) version that comes with the Align A10 radio, and a BTF (bind to fly) kit build version.
The MiniGRS FBL unit that was used in the previous Trex 250 and 450LP RTF is still utilized, with a whole new servo package, ESC, & motor. It's 3S powered which has plenty of power for most folks, but can be converted to 6S for the real hard core 3D smackers.
This is a nice size heli for park flying (where legal). Its flying weight is just over 500g so it won't fall under the 250g weight exemptions many countries are now imposing for RC aircraft registration.
Like most of Align helicopters X series, the 300X's landing struts are angled downward to provide improved tail rotor ground clearance. 
---
Align T-Rex 450 Class

As I say many times, I feel 450 size electrics (300 to 360mm long rotor blades) are one of the best ways, and sizes to get into single rotor collective pitch for many people.
They are not as twitchy as a smaller micro CP and much easier to see and work on. They cost considerably less than the larger birds (both up front and for replacement parts & LiPo battery costs) making for a less stressful learning experience. 450's as a general rule of thumb give you the most rotor size to dollar ratio out of all sizes of collective pitch helicopters from micro to monster.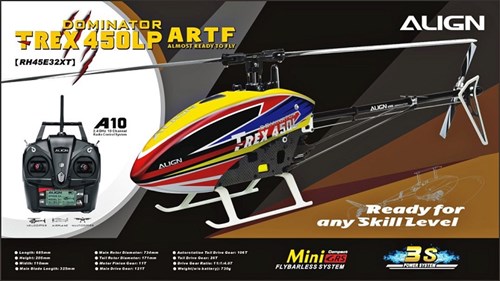 Pre-Built T-Rex 450LP - A great machine to learn & grow with!
The T-Rex 450LP ready to fly heli package is Align's replacement to their very popular 450 Plus. Like the plus version it comes with everything to get you flying including a decent programmable radio. 
The other thing I really like about this 450 size heli like the plus version, is it uses a 3S power system. For beginners learning on on 450, 3S LiPo power on this size helicopter is more than enough. Anyone who tells you 6S is needed on a 450 size machine has obviously never tried to instruct a student on one! Way too much power and 6S drives battery costs up substantially. Here's my full write-up on this wonderful bird.
The Align T-Rex 450L Super Combo is their high end 6S powered 450 size helicopter kit. It boasts higher end components than the 450LP and is meant for the serious 450 flyer and pro pilots.
Full metal DFC flybarless head components and torque tube tail drives are the main component differences along with a high end digital servo package and BeastX Plus flybarless system.

The 450L Dominator is sporting the new 460MX motor and use many of the design features such as sliding battery trail rails once only seen on Align's larger birds.
---
Align T-Rex 470 Class

Align's most anticipated helicopter release in 2016 was their 470LT. They also decided to drop DFC and go back to washouts on the head. Yea! 

This new 470 rotor head still offers a lower center of mass, even though it uses traditional washouts. To improve the strength and durability of the main and feathering shaft the 470 main shaft diameter was increased from Ø5mm to Ø6mm. The feathering shaft diameter was increased from Ø4mm to Ø5mm (compared to the 450).
The 470LT has adopted a high standard 1.2mm 3K carbon fiber main frame and a wider body design which increases the size of the battery compartment allowing the use of larger capacity LiPo packs.

There are several versions of the 470L Super Combos available depending on your needs.
---
Align T-Rex 500 Class

Refreshed and refined, the T-Rex 500 XT Top Combo utilizes a new washout head design that lowers the center of mass which reduces resistance during 3D maneuvers while increasing flight responsiveness and precision.
CNC parts sport silver & red anodizing, extending Align's quality development based on their 700 & 800 class helicopters. The T-Rex 500XT main frame utilizes composite material integration technology on carbon side frame plates, including the addition of battery mounting side rails, and a top motor mount design.
The 500XT incorporates a new torque tube drive assembly, highly reducing gear abrasion and increasing power output, giving a more direct and precise tail performance.
The 500X uses a belt driven tail for you belt drive fans. 
The landing skids on both versions are tilted 5 degrees forward to improve tail rotor ground clearance. 

---
Align T-Rex 550 Class

For those of you with 30 sized nitro helicopters and are looking at getting into electric flight with a bird roughly the same size as what you are familiar with, the T-Rex 550's are for you. This is the size most people consider "regular" since it is what most of us "old guys" learned on when nitro was the only power option.
In my opinion, the 550 is a very nice collective pitch machine to start on in this size segment. It's the one I would most like to instruct on and what I recommend to people who I know want a larger bird to start with, but don't want the large step up into double the LiPo costs with the 650, nor the (almost scary) power & price increase.
Like the 470X and 500X, the T-Rex 550X has gone back to a conventional FBL head with washouts and the landing skids are angled 5 degrees forward for improved tail strike immunity.
---
Align T-Rex 600 Class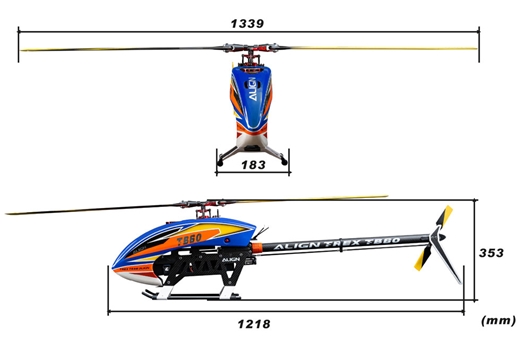 Align TB60 600 Size Heli
Ah yes, the good old 600's – my personal favorite all round size RC helicopter! This has so much to do with the predictable fluid flight characteristics and visually easy to see platform. 600's (same size as a 50 size nitros) are simply a joy to pilot and they make make a great sound.

My Align Helicopters Journey Started Way Back in 2009 With The T-Rex 600ESP
I was first introduced to Align Helicopters back in 2009 when I got to try out a T-Rex 600ESP. I was sold within the first 30 seconds of flying it! What a machine! It's what really got me fired up about the hobby again and larger electric powered helicopters. 
To this day, the T-Rex 600ESP remains to be one of my favorite RC helicopters of all time. It was my first large electric powered RC heli, and as such, holds several special spots on the heli shelf. I still fly all of them in scale bodies, and they are all working as well today as when brand new.
True, an electric 6S (22.2 volt) powered 50 size heli may be somewhat under-powered for the high performance hard core 3D stuff that is now being performed; but for the average flier up to enthusiastic sport/light 3D pilot and scale, there is more than enough power.
Keeping the costs lower by not requiring a much more expensive 10S or 12S LiPo power system made economical sense for many folks who put budget before insane performance. These 6S 600ESP versions also make for great scale mechanics, offering easy battery access and correct swashplate layout along with integrated anti-rotation bracket.
The Align 600ESP is no longer available, but if you're lucky, used ones do show up from time to time. 
This is one of my 4 600ESP's inside a Bell 222 Fuselage
The Align TB60 Offers Simple Belt Driven Efficiency In Both 6S & 12S Power Versions
Align's newest 600 size helicopter is their TB60 which is a brand new belt driven main rotor & tail drive platform. This is the first Align Heli over the past few years I'm seriously considering getting since they have finally gone back to a 6S power option on a 600 size bird. Perfect for me and my scale / sport flying style.
Utilizing a two part frame structure for both ease of maintenance access and lower frame cost repairs along with an oversized diameter carbon tail boom eliminating the need for boom braces gives the TB60 a clean modern look. The carbon boom (tail pipe as Align calls it) houses a belt drive for those of you who like belt driven tail rotors better than Torque Tube tails.   
The TB60 comes in a Super Combo 6S version for the average sport flyer. A Super Combo 12S version for the hard 3D flyer. And a bare bones kit version for those who want to pair their own electronics giving all of us, lots options based on our specific needs.  
---
Nitro lovers aren't left out!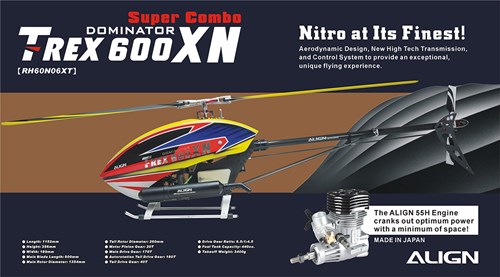 Nitro powered thrills are waiting for you with the T-Rex 600XN
The T-REX 600XN Super Combo (50 size nitro) adopts the direct to swashplate servo design, compared to the previous generation T-REX 600N's push-pull mode control. Utilizing the 550 flybarless washout head which gives this nitro version an extremely low center of mass, to effectively reduces resistance during 3D maneuvers, and increase flight responsiveness and precision.
The new narrow body efficiently decreases gear abrasion and frame deformation during flight. The T-Rex 600XN maintains proper CG, by moving the engine forward to allow the fuel tank to be positioned in the center of the main shaft. CG remains consistent as the fuel level changes during flight.
The new steel alloy clutch liner is durable with temperature control designed to avoid the exploding clutch liner or a breaking clutch housing. The steel alloy clutch liner extends the life to over a 1000 flights. 
The new high voltage output: 6A 7.4V BEC with down / regulation system for constant power to the CCPM server channel for receivers and servos. It includes a built-in one-button push glow plug igniter eliminating the hassle of using traditional electric clip plug on igniters. 
The brand new DS820M/DS825M high voltage brushless servos use brushless motors for fast speed, high torque, superior, and efficient reaction time allows the Align 600XN precise, fast performance. The new CNC machined aluminum case design is aesthetically appealing while acting as a highly efficient heat sink.
---
Align T-Rex 700 Class
What can I say, the Align T-Rex 700X Super Combo is a big bird (same size as most 90 size nitros). It's powered by 2 6S 5000 mAh LiPo's wired in series (12S = 44.4 volts). The 700X is a power hungry machine yet when flown conservatively can produce some impressive flight times (over 10 minutes). I'm currently flying the first generation 700E FBL Super Combo and it has been a fantastic heli from the very first flight.

The unique Split-Type Main Frame design on the 700X incorporates carbon side plates which strengthen the entire structure and provides better accessibility for servicing.  
Again like other Align "X" models, the landing skids are angled forward to improve tail rotor ground clearance and they have gone back to a conventional washout type FBL rotor head.

Without a doubt, the 700 is the size I usually gravitate to when I just want to have insane fun out at the field as it usually puts on the best show and eats up my less than perfect stick inputs. It's pretty much my favorite heli right now for acro flight.
Skinning it out with the Align/BlackShark3 F3C fuselage (designed specifically for the Trex 700E) has only helped improve the overall enjoyment and visual impact of this wonderful helicopter.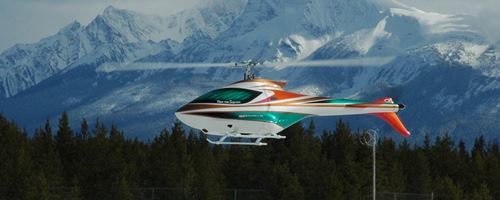 Align Helicopter 700E BlackShark F3C Fuselage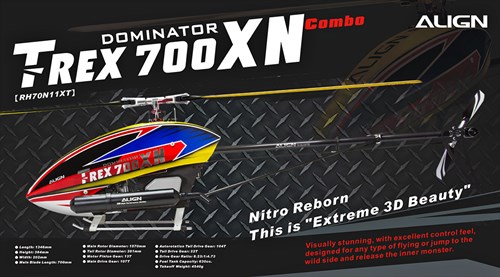 Like the 600, the 700 also is offered in a nitro version, the T-Rex 700XN Super Combo to be exact. Do you miss the wonderful sound & smell of nitro? No longer!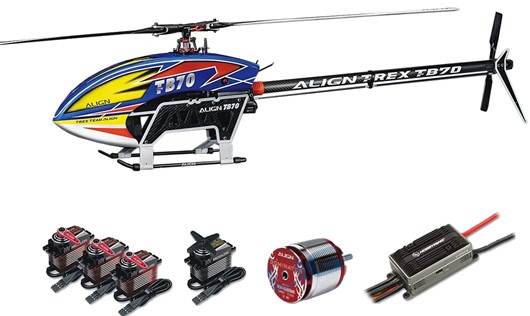 Just as with the 600 size class, Align has released their newest  belt driven 700 size platform - the TB70 (electric) & TN70 Torque Tube (nitro).
As with the TB60, the 70 series utilizes all the same modern design features with the "KISS" moto (keep it simple stupid). 
The TB70 comes in several versions to cater to the individual including three different combos (two different colors and ESC electronics packages) along with a bare bones kit with motor for those that want to pair their own electronics. 
Align TN70 Top Combo Nitro Engine & Electronics Package
The Nitro Powered TN70 comes in a few kit versions from bare bones up to their Top Combo version that includes an OS Max 105HZ nitro heli engine, muffler, Align 5 servo package (3 cyclic, 1 tail, 1 throttle), BrainX Plus FBL system and RX voltage regulator with glow plug driver. 
Unlike the electric TB (belt) version, the TN has no belts using a robust torque tube tail drive. Rubber belts and nitro oil don't play well together after all. 
---
Align T-Rex 760 Class

The Align T-Rex 760X Top Combo features a longer length over the 700 and new 760 main blades for F3C/3D flight precision and slightly different flying feeling. A "stretched" 700 in other words.

Like Align's other "X" models, the 760X goes back to a conventional flybarless rotor head with washout linkages. The really neat feature however is it comes with two different styles of blade grip arms. 
There is an F3C arm set and a 3D arm set. The F3C arm effectively doubles the flight stability with excellent and precise control accuracy. The 3D arm is more suited to extreme 3D flight and provides more direct and faster control response. A tri-blade tail rotor is used for maximum tail hold and authority. I predict, a tri-blade main rotor head option will be introduced as it seems tri-blades are the new marketing must have. I see them as nothing more than added cost, drag, and complexity, but we are all different thank goodness.
Rounding out the "X" features is the 5 degree tilted landing strut forward design; again to increase tail rotor ground clearance and because SAB and others are doing it, guess Align figure they should as well.

Align's 760X F3C Fuselage Combo Kit In Blue (red is also available)
For those of us that love the sweeping and sexy lines of a full bodied F3C fuselage, the Trex 760X was also available in a kit that included an F3C fuselage. It's easy to see it was inspired by the Blackshark 3 F3C fuselage I currently have on my 700.
Unfortunately, this package no longer is available; likely due to 3FC not being popular anymore, but there is still some stock floating around so use your Google Fu if you like F3C fuselages - this very well could be one of the last opportunities to get one. 
---
Align T-Rex 800 Class

T-Rex 800E Pro, Align's Monster Size Flagship
The T-Rex 800E Pro Super Combo is a big 12S powered brute with full aerobatic 3D ability. It's pretty much the same size as my Intrepid turbine and barks out an impressive amount of blade noise that no other heli I own can produce. 
I just love seeing this big beast up in the sky having lots of fun flying it fast and hearing those 800mm rotors "barking" and then hearing the echo off the mountain ridge where I fly. Heli heaven!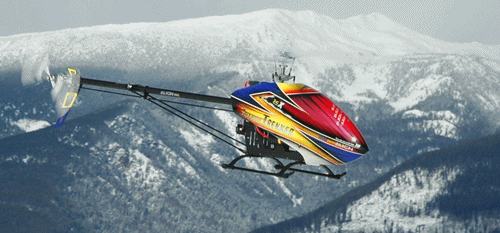 My T-Rex 800E During A Nice Winter Flight
---
Align Demeter E1 900 Industrial Heavy Lift Machine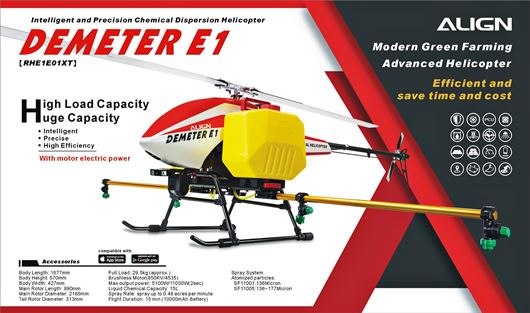 It's encouraging to see Align broadening its scope to the "commercial" side of UAV applications with their heavy lift E1 900 helicopter. 
With an 11Kg payload lift ability, the E1 900 is not only an industrial workhorse; it comes with a very sophisticated, fully autonomous flight control system with a multitude of sensory input which includes: sonar altimeter, GPS, Glonass and BDS system providing precise, stable and real-time positioning.

This AP2 intelligent flight controller has built-in ARM Cortex-M4 32 bits 180MHz processor supports multiple flight modes (such as Attitude/GPS/Intelligent), Auto Return Home and Rescue Return Home, Obstacle Avoidance, Low Voltage Protection, OSD output and Gimbal Control.
Moreover, with Align's highly integrated ground station, the automated mapping function will compute the best flying route for you or allow you to map preferred pattern; also can effectively monitor flying status, do mission management, record flying trace, that achieve advanced capacity for safe, efficient and convenient working quality.

I'm including the E1 900 on this page for two reasons:
To show just how Align RC continues to push the boundaries of what is possible with today's modern radio controlled helicopters.
For all the emails I receive asking if there is an RC helicopter that can lift around 20 pounds for some kind of commercial application. 
This much lifting performance and automation is not exactly cheap with the E1 tipping the scales at $7K USD. However, considering the few and much more costly commercial RC helicopter options, Align's heavy lift solution represents good overall value.  
---
Are You Looking For RC Helicopter Help?  


My Helpful RC Helicopter eBooks
---
As an Amazon Associate I earn from qualifying purchases.