600ESP Component Suggestions
by John Salt - Updated April 2023

600ESP On-Board Electronics
Looking for some 600ESP component suggestions for your 600 ESP or other 550/600 size helicopters?
Here are some of my recommendations, some from my 600 ESP customer's, along with other workable options; going over motors, ESC's, Servos, and Flight Batteries/RX powering options. 
Please understand, this is not an exhaustive list and there are certainly many other good options out there. Hopefully however, this list gives you an array of ideas based on budget and recommendations if you need some help deciding on components.
---
So Many 600ESP Component Suggestions - How To Choose?
Please understand, component selection in this hobby is not a black and white decision; there are endless shades of gray.
Your choices will be based on your budget, your flying style, what voltages & other components you are running, and very likely personal experiences and preferences toward certain brands/models over others.  
There is no "best component brand" out there; if there was, we would all be using it and all the others would have gone out of business long ago. 
What electronic components you pair with your 600ESP (or any RC helicopter for that matter), will have the biggest overall impact on the finished flying cost of the helicopter. The cost of the heli kit can be nothing more than a drop in the pail if you pair it with top of the line components for instance.
Just one example of this is servos. Standard size cyclic and tail servos for a 600 size heli can range in price from as low as $20 up to over $200 per servo! Most of the other on board electronics components can have similar price ranges.
So will a servo or component that costs an order of magnitude more, perform ten times better, or last ten times longer? Highly unlikely... There is generally a diminishing return on performance the higher the cost (of pretty much anything, not just RC heli electronics).
Most people who are interested in the 600ESP are not going to be putting ultra high end $200 dollar, MKS, Torq, or Xpert HV brushless servos in it. That in my opinion is overkill for the type of performance a 6S powered 600 size helicopter is capable of.
In addition to less flying stress; there is less crash stress transmitted back to the cyclic servos because the 600 ESP uses linkages and bell cranks which absorb a fair amount of blade impact energy from getting back to the 3 cyclic servos. The tail uses a flexible metal push-rod over a stiff carbon rod and that too helps absorb tail impact energy from reaching the tail servo. 
Of course, if money is no object, high voltage brushless Futaba, MKS, or Torq servos are great pairings in my opinion if you can afford them.
The great thing these days is, electronics for the most part, are all pretty good so you don't have to spend a fortune for very workable components that most average people will be more than happy with.
Moreover, lots of online help and reviews out there to help you decide on the lower cost stuff if you want to find out if prices are too good to be true or what's the catch. 
The following are just some of the component choices for the 600 ESP heli (Motor, ESC, Servos, LiPo Packs). I don't go over FBL systems because most people have their favorites already, but if you want some ideas, see my best FBL page.

You may see a J, C, or $ beside some components. These are just additional indications I thought might help a few people out. The red J means it's a component I've used or have experience with and recommend for this heli. *The green C is for customer's recommendations. The blue $ for pricey high end choices. I have links to many components if you want to read up on them or purchase.
*Please note, this is based on customer feedback I have received direct from my 600ESP Customers. I have not used many of these components myself, and therefore have no first hand experience with them; but I have checked them out and they meet the specification requirements, and most get good reviews. My customers are generally a pretty informed bunch ;-)
Lastly... If a link is not working to any of these components I have listed (they are always changing), just copy the product model description / number and paste it into your web browser to search for it.

---
600ESP (6S) Motors & Approximate Costs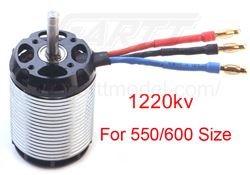 Gartt 600 1220KV Motor (clone of the Align 600MX) - A Top Customer Pick
Motors for the 600 ESP as I stated on the sales page must be no wider than about 52mm to fit between the 54mm frame spacing. They must have two of the mounting holes spaced at 25mm on center. Bolt holes can accept either M3 or M4 metric hex bolts.

The shaft must be 6mm in diameter with the pinion set screw flat on the bottom half of the shaft. The shaft should be about 24mm long, so longer shaft motors will have to have the shaft cut shorter. Don't get a motor with a longer shaft if you don't know how to shorten it.
Running 6S, the KV range should be between 1050 & 1250. The Setup & Tips ebook that comes with my 600 ESP's goes over calculating head speeds if you are not sure how to yet.
---
600ESP (6S) ESC's & Approximate Cost: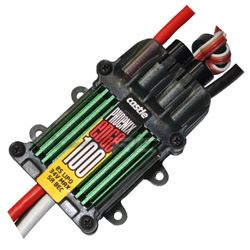 Castle Phoenix Edge 100A ESC - My Top Recommend Choice For The 600ESP
The ESC (electronic speed control) for the 600ESP (assuming 6S) should be rated at no less than 100 Amps, 6S voltage, and have heli software (soft start, no break, etc.) I'm a huge fan of data logging ESC's for helis of this size, but it's not essential to have.
To access most heli programming fields in ESC's, you need the programming card or USB doo-dad. Make sure you read up if the ESC comes with those items or if you have get them separate; most don't include them!
Most ESC's don't have an adequate internal BEC to power the onboard electronics. I recommend at minimum 7 Amps for the 600ESP, but going higher won't hurt. There are a few ESC's that have internal BEC's that are rated that high, but most don't, so read the specifications carefully when choosing. 
If the ESC's BEC is rated too low, it's no big deal and you can still use the ESC, but you will need a separate powering method for the electronics. I like powering my electronics on all my larger helicopters with a dedicated RX battery pack, but a good external BEC works very well too. I go over all that in the setup & tips ebook you get with the heli. 
---
600ESP Servo's & Approximate Cost:
A Top 600 to 800 size heli servo package that offers great value & performance - KST BLS815 & BLS805X
Servos, where to begin! There are likely hundreds of standard size servos I could find that would work in the 600ESP and the suggestions below represent only the smallest smattering of what's out there. The two most important words to get out of that sentence is Standard Size. This heli takes standard size servos only. 
The 600ESP heli, like most electric powered RC helicopters with eCCPM requires 3 identical servos for the swashplate. These are usually called cyclic servos, and they should be digital, preferably with coreless or brushless motors.
The tail servo must be a fast tail specific digital servo, again coreless or brushless. 
Some of the tail servos listed below are 760us narrow pulse width, so your FBL unit must support 760us tail servo programming to use them. If not, stick with the standard 1520us pulse width tail servos.
I talk about coreless & brushless servos on my servo page in greater detail, but the short of it is brushless costs more but should last longer, coreless usually gives you best bang for the buck. 
I tried to ensure all cyclic servo's listed below have 25T Futaba servo spline sizing since my 600ESP kits come with Futaba/25T cyclic servo wheels, but it wouldn't hurt to double check. No big deal if servos have a different size spline of course, you'll just need to use different servo horns/arms/wheels with them. 
Personally, I'm a huge KST servo fan-boy. As I update servos in my heli fleet, they all get KST servos. I feel KST offer the best servo value on the market right now and their 800 Brushless HV series are a great/top pick for the 600ESP (BLS815 for cyclic & BLS805 for tail). 
Cyclic Servos (3 required)
Tail Servos (1 required) 

---
600ESP 6S LiPo Battery Packs
The Glacier 35C 5300 mAh 6S LiPo Battery Pack Is One Of The Best Value Quality Packs On The Market For The 600ESP IMO.
The 600 ESP Helicopter needs a 6S LiPo flight battery. It should be in the 5000 to 6000 mAh capacity range for correct center of gravity weight distribution. 
As I say on the 600ESP sales page, the minimum discharge C rating I would recommend is 30C. Size wise, nothing larger than about 150mm long, 55mm wide x 60mm deep give or take a few mm's.
You may also want to see my RC LiPo Battery Connector page for more information on connector types for the 600 ESP, but XT90's or EC5's would both be okay choices. Much depends again on how you fly and how much maximum current you'll be pulling.
On Board Electronics Powering Methods If Not Using ESC's BEC:
---
600ESP Canopies

Yes, I know, canopies are not "components", however I get enough 600 ESP canopy option questions, I thought I better talk about them a bit. 
As you likely know, Phoenixtech lost their canopy supplier and has no intention to source another. Fiberglass, airbrushed canopies unless ordering in huge quantities cost a good deal of money after all. 
To be perfectly frank, even though I sell these kits, I was never a fan of the original canopy that came with them. They were not nearly as good as what Align offered. The paint quality was pretty decent, but limited to only the one paint scheme and the fiberglass was soft and thin.  
My main focus with these kits of course is for scale projects which makes a canopy unnecessary. If however you intend to fly in pod & boom format for a while before (or ever) putting a scale body over your 600ESP mechanics, and want some canopy options, here are a couple ideas. 
First off, any canopy that states it will fit the T-Rex 600ESP, should certainly fit these Phoenixtech 600ESP kits as well. I say "should" because I have been involved in this hobby long enough to know just because an aftermarket part says it fits, that is not always the case. Canopies however are rather flexible and very forgiving to a less than perfect fit. It's usually possible to stuff anything over the front provided it's big enough.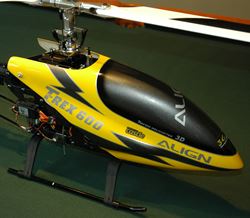 Align 600ESP Canopy Fits PT 600ESP Very Well
The first obvious option is the original Align 600ESP yellow canopy. I still have one from my very first T-Rex 600ESP and it fits like a glove and looks just as good on the PT version.
These Align canopies are no longer made, but they do surface from time to time on eBay (either used or in new condition).
Price wise, generally in the $40 to $60 USD range (used). The few new ones I have seen pop up from time to time are fetching over $100 due to rarity.
Next best option is an Align 600E Pro or 600E Pro DFC canopy which are still available, ranging in price from $40 to $60 USD.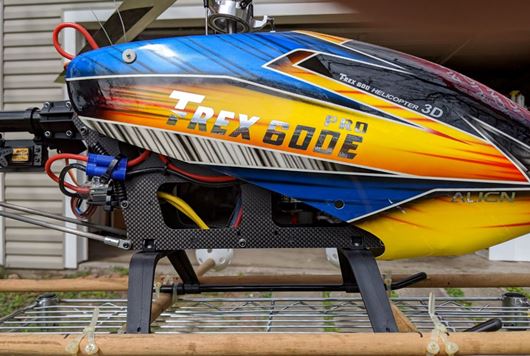 Phoenixtech 600ESP with Align 600E Pro Canopy
I want to thank a customer of mine for this picture of his Phoenixtech 600 ESP sporting an Align 600E Pro canopy. He said fitment was very good with ample room.
I'm sure many other brand/model 600 or 700 size canopies would also fit the 600ESP (with a little modification). I have a couple customer who fit the Align 600N (nitro) canopy on their 600ESP. I have an older T-Rex 700 canopy that I know will also fit it fine. 
Again, basically anything will work provided it's large enough to fit over the front.
---
If you've purchased a 600ESP kit from me and need some component selection help, don't hesitate to ask! If you know of another/s 600ESP canopy or sources that work well, I would also love to hear what you found. 

---
Are You Looking For RC Helicopter Help?  


My Helpful RC Helicopter eBooks
---