WHO THE HELI IS THIS GUY?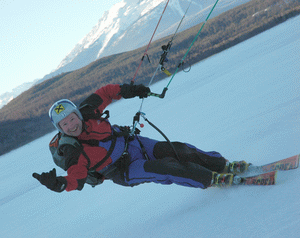 Yup – Here's the funny face behind this web site taking advantage of a windy winter day flying not a RC heli, but a kite. One of the main reasons I took up kite skiing and boarding was to still be able to fly something on those days when it's too damn windy to fly RC helicopters, which by the way is most of time here in the Rocky Mountain Trench :-)
I didn't think I needed a page "about me"; however, I realize that some people like to put a face with the name to see if "is this guy for real or what?!" I personally know when I am on a web site, it is nice knowing there is a real person behind the scenes.

So why do I claim to be an RC helicopter expert? Hey, I never once claimed that. There are radio controlled helicopter pilots who could fly circles around me; and there are others who simply know more about specific aspects of this hobby, because they have more experience with particular brands & components than the brands and components I use.

I am simply an ordinary person and average flier who loves (okay is hopelessly addicted) to the RC helicopter hobby and wants to help others experience that same passion while avoiding many of the common mistakes and pitfalls. My views might be a bit different too.
For instance, I believe in getting good quality equipment (name brand hobby grade) to start with and then grow with it. I also believe people can start into the hobby out of the gate with collective pitch if they do their home work and know exactly what they are getting themselves into. Right or wrong (and it won't be right for everyone), that is exactly how I approached the hobby myself all those years back and I got bit by the "heli bug" pretty much the first day out!
Luckily, I had decent equipment there after to fuel my growing obsession. I talk about my first RC helicopter on my RC Helicopter History page.

A lot of advertisements I see today are focused around cheap low quality RC helicopters that you will out grow quickly or end up spending a small fortune on in upgrades - if they even fly at all. I want to put an end to that; or at least show you what other possible options are out there that you may not even be aware of yet. Hopefully saving you a little time and money along the way; while avoiding marketing hype and snake oil. Critical thinking goes a long way in this hobby just as it does with most of life's endeavors.
---
I have been an RC junkie since I was ten or so. I started with RC cars and then got into RC planes when I was fourteen – bless my dad for driving me to local RC flying field almost every weekend. Secretly, I know he loved it too.
My father was in the Canadian Air Force and later became an aircraft instrumentation technician. Obviously his passion for aviation, aircraft, mechanics, and electronics wore off on me.
I can't thank him enough for the support in those early years when I thought I knew everything, but now realize I knew next to nothing – sound familiar...
I saw a RC helicopter flying once at the flying field and I was hooked from then on. After several more years of flying RC planes I got my first helicopter and 26 years later - guess what, I still love this hobby!

I still dabble in RC planes but they just don't come close to the passion I have for RC helicopters. The challenge of building and flying a heli, learning about how & why they can even fly at all, simply makes this hobby the most rewarding and fun I find. Crazy maybe, engaging - no question.
I suppose the other thing I really like with RC helicopters is I can fly them outside year round. Living in Canada where we have 6 months of winter and 6 months of poor skiing; this is something I can't do with planes because the take off field is covered in several feet of snow during the darker cold days of winter. With a RC helicopter, all you need is a small packed or snow cleared area to take off/land, and the sky is your oyster. In short, I don't let my helicopters collect dust after a little snow falls on the ground like their wing bearing brethren do. As long as it's -5C or warmer, sunny, and the wind is not blowing like hell; you can often find this obsessive RC helicopter nut outside flying 12 months of the year.

I am by no means a 3D hotshot RC heli pilot. I am more of a sport flier, with my #1 main interest & passion being scale. I have also recently gotten into FPV (first person video) flight, and turbine power. Finally getting into turbine has been so rewarding and a long time dream come true. That said, I still enjoy a relaxing flight or two indoors every now & then with a micro RC heli - yup I'm hooked for life!
---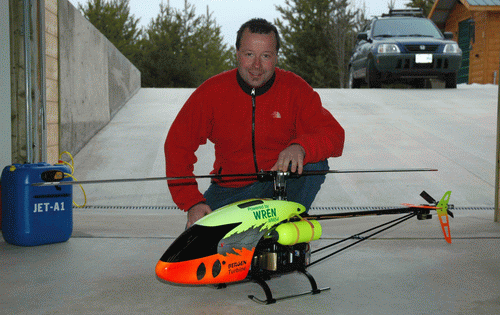 I can never see getting tired of this hobby – there is simply too much I still want to learn and do. Building a web site about RC helicopters has certainly forced me to go back through the years of my own learning curves and experiences as well as learn about new aspects of this wonderful & always advancing hobby. Writing several eBooks has also really helped me understand the hobby better as well. As the old saying goes, "the best way to learn about something is to explain or teach it."

What a great experience it is, and I hope you get as much enjoyment out of this site as I have.
Wishing you a life time of fun and success with RC helicopters,
John Salt :-)

---