Blade 450 3D & 450X RC Helicopter Review


Blade 450X RTF
The Blade 450 3D RC helicopter replaced the original 400 and the Blade 450X (flybarless version) has now replaced the 450 3D. Blade continues to strive to become the number one entry level brand manufacturer to help get folks introduced to this hobby both in an economical, and more importantly, functional way. All of these 450 size machines have excelled at this!

Flybarless 450X information after 450 3D 1/2 way down page.
 For those of you who have spent time on my site or watched any of my RC heli flight school videos, you know I was (still am) a pretty big fan of the original Blade 400 and now the 450 3D, and 450X. The Blade 450 is right up there on my "recommended list". Even in this day of flybarless; self learning on a flybared machine makes economical & practical sense for many people. Flybars work - period! No Muss, No Fuss...
I'm not going to go over all the great benefits both these helis have for the collective pitch newbie, if you want to know what makes the Blade 400 one of my top pics, you can read my review on it . What I want to go over here are the main differences (if any) between the Blade 450 3D and the original Blade 400 3D since I'm already getting many questions about it.
If you're thinking the Blade 450 is essentially the same RC helicopter as the original Blade 400, you're right. Many of the parts on the Blade 450 are the same ones used on the Blade 400. Blade basically took a few of the weaker points with the original 400 and improved on them while keeping all the good points and benefits the same.

First off, the Blade 450 3D comes as a ready to fly (RTF) version just like the Blade 400 pairing it with the Spektrum DX6i (the new DX6i's have been programed with Spectrum's new DSMX technology). The BNF version was also available, but has now been dropped (likely because of BNF 450X). This was a big empty hole that Blade had in their line-up, and I know so many people who learned on the smaller Blade micro helis such as the mSR, 120SR, or even the mCX and CX coaxial offerings and then eventually purchased a computerized radio such as the DX6i, DX7s, DX8, DX9, JR DSM2/X etc. to fly these simple little helis and do some basic programming while learning in a less intimidating way what all this neat RC heli setup stuff is about.
Then there were also the advanced fixed wing people out there that were being temped to the "dark side" looking to use their computerized Spektrum or JR radios and really wanted to get a Blade 400 to learn on but certainly didn't need another DX6i.
What most of these folks ended up doing was to go out and purchase an Align Trex 450, Compass Warp 360, Mikado Logo 400, Thunder Tiger E325, Miniature Aircraft Furion 450, CY 450 Rave, or other higher end brand... Those are all great 400 size RC helicopters of course, but they are higher end birds and cost considerably more.
Those higher end brands may simply not have been realistic options for those on a tighter budget and then of course they start getting lured in by the lower cost eye candy brands that are plain and simple junk. Get this, the RTF version of the Blade 450 is only $350.00 bucks! That makes it easily half to one third the price of many other name brand 400's once the price of the radio and LiPo flight battery is factored in.
The Trex 450 Plus DFC however is a different story. This is certainly a strong contender to the Blade 450. That link takes you to a review I did on the Trex 450 Plus DFC and it's definitely also one to consider if you are in the market for a ready to fly flybarless 450 size heli that comes with a decent radio. That said, the flybared RTF Blade 450, just like the Blade 400 offers tremendous value for your first steps into collective pitch if you have a set budget not to mention very low repair costs – one of the Blade 400's and now 450's greatest attributes.
Blade 450/X Improvements Over the Original 400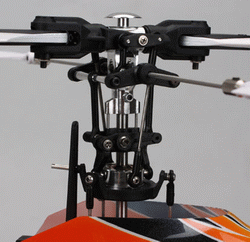 Aluminum head, but it still uses plastic blade grips for weight reduction plus they offer some flex for tamer cyclic response. There is however a metal blade grip upgrade if you want to put them on later down the road. In fact, the new 450 has a good many aluminum upgrade parts if you want to upgrade.
Keep in mind however, if you do upgrade all the parts, chances are you will be getting pretty close to the price of the Trex 450 so the good value the stock Blade offers starts fading substantially. If your sole purpose is to purchase every aluminum upgrade Blade 450 part you can get your hands on, it makes much better economical sense to get one of the higher end brands that come with all that shiny CNC aluminum & carbon fiber off the bat.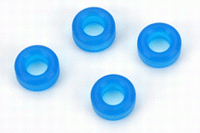 Better quality head dampeners over simple o-rings with shims that wore out quickly (if not properly cared for). Full size dampeners like these last longer since the entire dampening area of the head block is utilized - you don't need to use shims to over-compress the older style o-rings (one of the causes of per-mature dampener failure).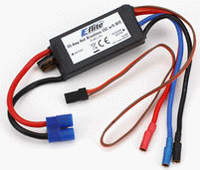 Higher Amp ESC - 35A over 25A. This was an issue with the original Blade 400 if you flew in very hot weather and really pushed it to it's full 3D potential using high discharge rated packs (30C and over). If the conditions were just right, the stock E-flite ESC could go into over-temp protection mode. Many people who experienced this problem, eventually upgraded to a 30 or 35A ESC or did what I do - use a dedicated BEC.
Larger LiPo 3S Battery - 2200 mAh over 1800. Most people purchased additional 2200 mAh 3S LiPo packs anyways for their BL-400's so this makes perfect sense. The new pack is rated at 30C as well so there is no doubt it's a better pack than the 1800mAh 20C that comes with the original 400. The BNF version doesn't come with a battery or charger so you will need to purchase packs but there are lots of good LiPo options out there for 400 size birds.
Decent low cost options include the Turnigy 2200 3S 30C and the Turnigy NanoTech 2200 3S 45C . That said, for general to light sport flight, a less expensive 25C rated pack will do just fine.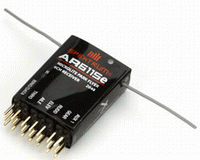 The Blade 450 is using the new Spektrum 6115e receiver giving 2048 resolution, flight log data capabilities, and Spektrum's new DSMX technology over the 400's older 6100e.
Slightly Faster DS76 servos over the DS75. Not much faster @ 0.09 sec/60 over the 0.10/60 DS75's. The DS76's claim to have better centering hold, but who knows if the average flier would even pick up on that? There is also a tail specific servo used on the 450 (the DS76T).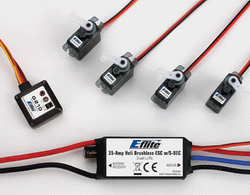 The new DS76T is a big step up in performance over the slow DS75 servo that was also used on the tail in the original 400. It boasts a speed of 0.03 sec/60 @4.8 volts. That's the fastest tail servo eflite has ever produced up to this point; in fact, it's one of the fastest micro tail servos period! This is great news since the tail servo is one of the first servos that people replace on their 400's after they learn to fly it and start progressing into simple sport flight.
The DS75 at 0.10 sec/60 was just too slow for robotic tail hold once progressing past basic flying getting into aggressive pirouetting maneuvers. Gears will still strip out on the 76's just as they did on the 75's during a crash so it's not like they are going to be any stronger in my opinion (all micro servos with small nylon gears strip - but metal gears would have pushed the costs and weight up as you know). The simple reality is don't crash, and you won't strip nylon servo gears :-)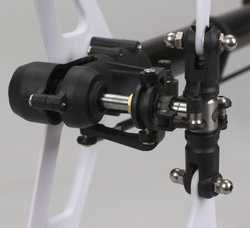 Open ended and simplified tail drive gear box allowing one to see if the tail gear is slipping on the tail shaft and eliminating the idler pulley for a simplified tail drive.

Three additional canopy options and all have the "Blade" name plastered all over the simulated window with a faded air brush effect.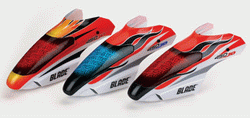 This is a direct copy of what Align has been doing on many of their canopies lately.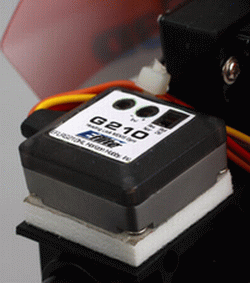 The best overall improvement in my opinion (other than having a BNF version of course) is the new G210 gyro paired with a faster tail servo.
The G210 uses MEMS (micro electro-mechanical sensor) technology giving it better yaw rate detection and correction capabilities and most importantly, drift free operation over the older G110 used in the Blade 400. The other nice benefit it has over the older G110 is an adjustable travel rate (gyro end limit setting) pot so the gyro will never send a signal to the tail servo that could over-travel and stall it out (a common issue with the older G110).
It's not a dual direction end limit that is used on higher end gyros, but as long as you have your tail servo arm very close to center and at 90 degrees to the pushrod and the pitch slider centered on the tail rotor shaft, the simple single end limit adjustment will work fine to prevent the tail pitch slider from bottoming out in both directions of travel causing the tail servo to stall (it's basically the same setup as on the Futaba GY401 if you're familiar setting the end limit on it).
---
Blade 450 3D Specifications

Type: Single Rotor Collective Pitch Electric RC Heli
Main Rotor Diameter: 28.4 in (720mm)
Tail Rotor Diameter: 5.6 in (142mm)
Gross Weight (flying weight): 26.9 oz (760g)
Length: 25.8 in (655mm)
Auto Rotation Bearing: Yes
Swashplate Type: 120 Degree, Electronic CCPM
Tail Rotor Drive Type: Belt
Motor: 420H brushless outrunner, 3800Kv
ESC: E-flite Brushless Heli Specific 35Amp with built in BEC
Gryo: E-flite MEMS G210 Heading Lock with Remote Gain
Cyclic Servos: E-flite Digital DS76 (0.11 sec/60° @ 4.8V or 0.09 sec/60° @ 6.0V)
Tail Servo: E-flite Digital DS76T (0.03 sec/60° @ 4.8V)
Kit Variations: Ready to fly (RTF) & Bind n Fly (BNF)
---
IMPORTANT... Click Here for DX7, DX7se, & DX8 transmitter value setting corrections for both the RTF and BNF Blade 450's that Horizon Hobby had originally listed in their first manual. Please replace pages 39 and 40 of the original Blade 450 3D helicopter manual with the updated pages dated 06/2011 shown in the above link.
---
Blade 450X


The Blade 450X is the flybarless version of the 450 and apart from having no flybar, is essentially the same heli sharing most of the same basic parts. There is a slightly more powerful motor, a simplified Bell rotor head, and there is no separate tail gyro required because the tail gyro is built into the flybarless electronic stabilization system.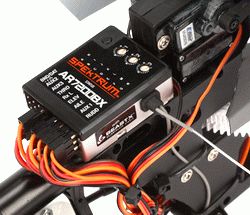 On that note, the hidden gem in this flybarless version has to be the Spektrum AR7200BX DSMX receiver . This is a combination 7 channel receiver and 3 axis flybarless stabilization unit that's using the BeastX flybarless technology.
The Microbeast is one of the most talked about flybarless systems on the market right now that basically appeared out of nowhere to take on the big players in the flybarless stabilization game such as Align's 3GX, Mikado's VBar, Skookum's SK-540, Futaba's CGY750, MSH Brain, and my favorite FBL system to date, the Bavarian Demon 3X & 3SX. I'm not getting into a heated debate here as to what if any of these systems are better - in my opinion they are all very good and there are pros and cons to each one. The Beast however is very simple to setup and for the first time beginner new to flybarless, it's a good match.
The AR 7200BX is is a wonderful collaboration between Spektrum and BeastX that is sure to offer many Spektrum and JR fliers a very good plug, program, and play flybarless system for any flybarless collective pitch RC helicopter, not just the 450X.
The AR7200BX is also one of (if not the) easiest FBL units to setup & tune if this is going to be your first full size serious FBL system (not a built in micro heli FBL unit such as the AS3S in all of blade micro CP helis).
ARF & BNF Blade 450X Versions

The Blade 450X comes in two versions;  a ready to fly version and a bind & fly version. The BNF version is currently on a clearance sale at most shops and will soon be discontinued but I suspect the RTF version will be around for quite some time still as it makes a perfect first 450 size heli for people getting into collective pitch.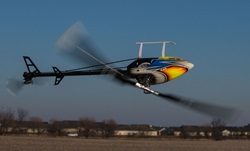 BNF Blade 360 CFX
Blade now has the much higher performance BNF 6S powered 450 size heli (called the Blade 360 CFX) shown right.
It therefore makes perfect sense Horizon will keep the lower powered 3S RTF 450X as it will be the best choice for people just getting into collective pitch. The 360 will be for the hard core 3D'er or a great option for those who got the RTF 450X and then upgrade to the 360 as their skill level dictates (using of course the DX6i radio that came with their Blade 450X RTF).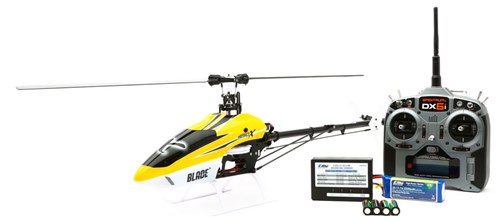 Blade 450X Ready To Fly (RTF) Package
The RTF version (shown above) comes with the same items that the 450 3D RTF package comes with (DX6i Radio, 3S Charger, and 3S 30C 2200 mAh LiPo. The RTF version of the 450X also comes with a much nicer bright yellow/white/black colored canopy. The BNF version comes with a blue/white/black canopy and that makes it harder to see while flying at distance over its yellow twin.

There is no question the 450X is a much more stable flying heli than the flybared 3D version. It is one of the best entry level, pre-built 450 size helicopters on the market right now in my opinion. Parts are easy to find as most hobby shops carry Blade product; and it of course comes with Horizon Hobbies usual very good customer support and warranty. That after-sales support is what sets Blade above the no-name stuff direct out of China and you pay for that service & backing. Of course, resale value is much better because of this as well.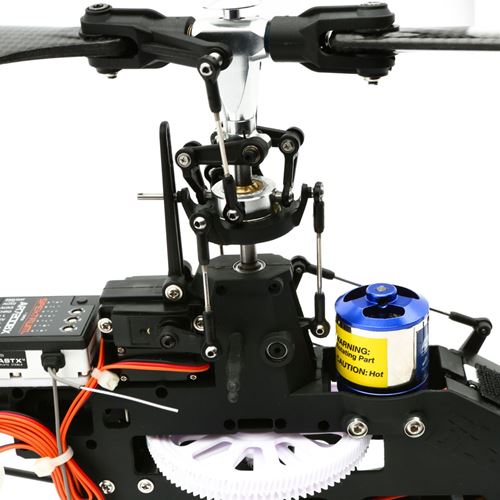 Blade 450X Mechanics - Same as the 3D Except the Cleaner FBL Head
The direct (quality) competition to the RTF Blade 450X has to be the RTF Align Trex 450 Plus DFC. Both helicopters are very similar, but there is no question the Trex does have some better features.

I encourage you to also read my review on the Trex 450 Plus DFC as well so you have a better idea of how these two 450's compare to each other to get a better idea of which would be the best choice for you. I would summarize the comparison between the two this way...
The Blade has better parts support & after sales support along with a better flybarless system & included radio.
The Trex has better servos, motor, ESC, and slightly better mechanical components as well as a carbon fiber frame and better canopy.
At the end of the day, they are both very good 450 size ready to fly RC helicopters for people who are just getting into collective pitch. It may ultimately come down to something as simple as which one you like the looks of the best.

The Blade 450X in action...
Blade 450X Specifications

 Approx Flying Duration: 4 - 8 minutes
 Battery: 11.1V 3S 2200mAh
 Completion Level: Ready-to-Fly Is Assembly Required: No
 Main Blade Material: Carbon
 Main Motor Size: 4200Kv
 Main Rotor Blade Length: 12.80 in (325mm)
 Main Rotor Diameter: 28.4 in (721mm)
 Number of Channels: 6
 Recommended Environment: Outdoor
 Rotor Type: Collective Pitch Single Rotor
 Size/Scale: 450
 Swashplate Type: 120°
 Tail Blade Material: Plastic
 Tail Drive: Belt Drive
 Tail Rotor Blade Length: 2.17 in (55mm)
 Tail Rotor Diameter: 6.10 in (155mm)
 FBL Unit Spektrum AR7200BX (Beast X)

---
Final Thoughts

In short, the Blade 450 RC helicopter is an improved Blade 400 keeping what worked and changing out what could be improved while making it more visually appealing (to some). Flight/performance wise, it is very similar with an overall increase in performance potential thanks in part to better anti drift gyro technology, proper tail servo end travel adjustment, faster tail rotor servo, more precise cyclic control with the better head dampening, and slightly longer flight times with the extra 400mAh battery capacity.
The 450X has much better stability and flight tracking due of course to the very good flybarless stabilization unit. It's also noticeably more powerful and agile than both the old 400 and 450 3D.

Parts support on the Blade 450's is excellent, especially since many of the same Blade 400 parts are utilized on the new 450's. There is after all a very real reason I recommend most Blade RC helis and Align Trex Helicopters - Easy to find parts at the local hobby shops or on line pretty much all over the world. Again, why I choose to purchase & fly both these brands myself.

---
Blade 450X Ordering Information

FREE eBook OFFER
If you purchase the RTF or BNF Blade 450X from Red Rocket Hobbies using the links above, I will send you free copies of the Setup & Tips For Electric Collective Pitch RC Helicopters, 120 Degree Swashplate Levelling & FBL configuration, and How To Build RC Helicopter Training Gear eBooks. This is a $37.85 USD value if purchased separately. 
Phone orders, Amazon Orders, or E-bay orders do not qualify. Only orders placed at Red Rocket from the links on my site will work.
Simply contact me after you place your order and include your Red Rocket Order Number so I can verify the transaction. I will then send your free copies of the eBooks  :-) 
---
Click Here For More Blade 450 Deals On eBay
---