A Cheap Turbine RC Helicopter?

Bergen RC Intrepid 44 Magnum - A Cheap Turbine RC Helicopter
I know, "Cheap Turbine RC helicopter" is a phrase that not many of us RC heli people conjure up in our collective minds; but Bergen RC Helicopters have a nice little surprise that will allow us mere mortals to perhaps, with a little begging to our better halves, own and fly a very nice turbine RC heli called the Intrepid 44 Magnum.
"Cheap Turbine" is of course a relative term. At just over $5k for the 44 Magnum and Wren MW45i two stage turbine helicopter power plant, this is still a big ticket purchase; but it is one of the least expensive turbine RC helicopter kits on the market right now that uses an efficient two stage turbine engine .
The fact that it is without question, one of the best performance turbine RC helicopters, capable of full aerobatic maneuvers (if you have the coconuts to try), is truly amazing.
Here's the 44 Magnum Helicopter in action:
So What Powers This Cheap Turbine RC Helicopter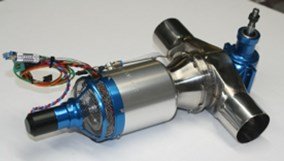 Wren MW45i Heli
The gem sandwiched in the frame of the 44 Magnum is Wren's MW45i two stage helicopter turbine engine .
This little turbine only weighs in at 46 oz (1320g) and produces almost 7 hp (6.8 to be exact) at the output shaft.
That is only around 1 hp shy of the 8.0 hp that the larger and heavier (73 oz) MW54 Heli engine produces. The MW54 2-stage engine was actually slightly less expensive then the new MW45i 2-stage due to the tighter tolerances required in the smaller turbine which make it harder to build.
We are talking microns of clearance between the compressor blades and chamber here to attain compression efficiency after all. That is also why the MW-45i is not available in kit form - special tools and procedures required for that kind of assembly precision.
Cost savings come into play with the MW45i however since it can be paired with smaller birds such as 90 size nitros or 700 size electrics saving money not only up front on the mechanics, but on operating costs and parts costs. The MW45i's gearbox is actually configured to fit onto a standard OS 91 heli engine mount. This is the main reason the MW45i two stage is one of the most talked about and in demand heli turbines on the market right now.
Two stage efficiency, high power, legendary Wren quality and technical support, all rolled into a nice little 12" long package perfectly suited to currently available larger nitros, gassers, and electrics.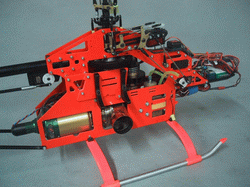 Combine this little beast with the proven high quality Bergen RC's Intrepid 44 Magnum mechanics that offer a bolt in turbine engine solution. No need for time consuming modifications & expensive engine mounting conversion hardware. Chris Bergen & his team have done all the tedious fitting and testing for us.
The result is a proven high performance cheap turbine RC helicopter platform that has me seriously thinking of hitting the "Buy Now" button, at least until that little voice of reason (my wife's) gets in the way.
For the past several years now, I keep saying to myself "this is going to be the year I take the plunge into the world of turbine power" - the 44 Magnum heli kit just made that much more attainable for many of us "turbine RC helicopter dreamers".

If you are lucky enough to get a 44 Magnum helicopter kit, drop me a line . I would love to hear how you like it and how the build went.
---
Intrepid 44 Magnum RC Helicopter Specifications
Length: 54"
Height: 18"
Weight: 13.5 lb
Main Blade Size: 710-720 mm
Tail Blade Size: 102 mm
Gear Ratio: 9:1:4:67
Engine: Wren MW 44 Two Stage Heli - Included In Kit
Price: $5150.00 USD
Wren MW44 Engine Specs
Power: 5KW (6.8hp)
Diameter: 86mm (core engine)
Length: 305mm (12in)
Engine Weight: 1320g (46oz)
Ancillaries Weight: 250g (8.5oz)
Gearbox RPM range: 4000-15000 RPM
Full Auto Start System Included
---
Are You Looking For RC Helicopter Help?  


My Helpful RC Helicopter eBooks
---