BLADE mCX S300 SCALE SCHWEIZER RC HELICOPTER REVIEW

Blade mCX S300 Micro Coaxial Scale RC Helicopter
The Blade mCX S300 is E-flite's latest scale RC helicopter using proven Blade mCX mechanics - is it going to be another winner?
Blade mCX S300 First Impressions

I know I am starting to sound like a broken record here, but once again E-flite introduced another scale coaxial helicopter that has made me take serious notice. The mCX S300 is scaled after the Schweizer 300C Helicopter.
The 300C is considered by many to be the most successful and adaptable piston powered helicopter ever built. E-flite's coaxial version looks great and features a very nice looking scale paint scheme right down to the tail fins and tail rotor that spins from the air flow off the main coaxial rotors.
The first thing you will notice that E-flite has done with this Blade mCX S300 - they are including a complete spare set of white rotor blades over and above the black ones that come with the kit.
Why white?
The idea is the white blades when used on the lower rotor will show off a bright white rotor disc in flight and will be very noticeable. In comparison, if the upper rotors are kept black, the upper disc will not be as noticeable and gives the illusion of single lower rotor.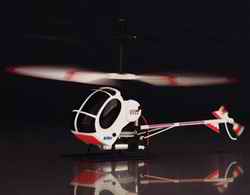 White Lower Rotor Gives The Illusion Of A Single Rotor
This is a neat idea and does give the illusion of a singe rotor to an extent based on the background you fly the heli against. Personally I feel the best value here is simply getting a spare set of blades with the new Blade mCX S300 kit.
---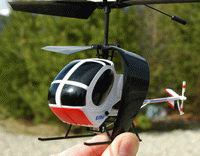 The mCX S300 Has Very Strong & Flexible Blades
Speaking of blades, just like the mCX, the S300's blades (both white and black) are almost indestructible. This is just one more reason why the mCX is so popular.
The light weight and very flexible parts makes it a tough little rascal. Perfect for the first time pilot, or those of us who like tempting fate.
---
Blade mCX S300 Features & Specs.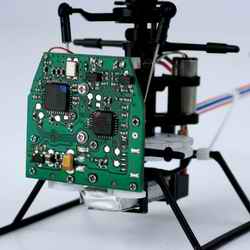 mCX S300 5 in 1 Circuit Board
Obviously the very best feature this new micro coaxial helicopter has going for it is it uses the Blade mCX mechanics. The same frame, motors, rotor hardware, and most importantly the 5 in 1 unit.
---
The mCX, if you haven't heard me and almost everyone else talk about is without doubt the best micro indoor coaxial ever made for smaller rooms.
Small size, good performance, strong, and outstanding parts support network world wide has placed the mCX at the top.
Getting replacement parts for the mCX 300 will be just as easy.

The new Blade mCX S300 has a main rotor diameter of 7.5 inches (190mm) and only weighs 1 oz (28g) - incredible! The over all length from nose to tail is a mere 6 inches (150mm).
That is almost 2 inches shorter than the mCX making the 300C version the smallest coaxial RC helicopter that uses true swash plate cyclic control and incorporates a built in
yaw rate gyro to deal with the reactive torque loads from the main rotors.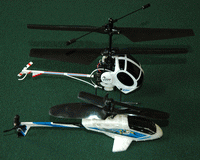 mCX S300 & Havoc Size Comparison
In fact, as you can see - the body is smaller than a Toy Havoc Helicopter. This is pretty impressive when you consider we are talking about a hobby grade full function coaxial heli that will run circles around a simple little Havoc.
As with all the new E-flite aircraft that use Spektrum DSM2 technology, the Blade mCX S300 can be flown with any Spektrum or JR radio that has DSM2 modulation. The value once again is you will be able to purchase the 300C in two versions.

The ready to fly (RTF) kit comes with a simple four channel 2.4 GHz DSM2 radio (transmitter). The RTF kit is 100% built, test flown and trimmed out, all ready for action. Li-Po battery and charger are included as well.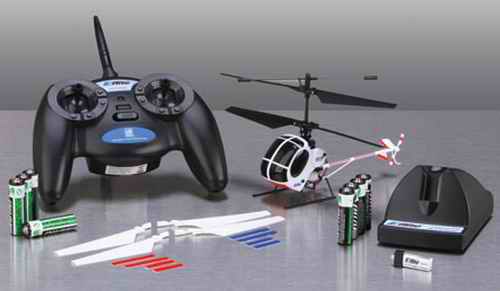 Blade mCX S300 RTF Kit Contents
The bind and fly (BnF) kit comes with everything needed to fly except the radio to save you money by allowing you to bind it to your existing Spektrum or JR DSM2 radio. You know I think this feature was one of the best ideas to have come out of this hobby in years. Multiple radios are a thing of the past and it's about time.
Blade mCX S300 BNF Kit Unboxing
I of course purchased the BNF kit and as you can see, everything other than the radio is included. Binding the Blade mCX S300 to my Spektrum DX7 was very simple and programming was a breeze, nothing like the Blade CX3's setup procedure !
I selected the Heli software setup, programed in the name of the model, ensured the swash mixing was set to 90 degrees in the "Swash Type" menu, and didn't touch one other menu item. The mCX S300 jumped into the air at half stick and held perfectly still with no trim and no other menu programing, not even servo reversing - I was amazed.
The video's don't lie! This thing, just like the mCX will hang in a solid hover with no radio input what so ever. With the right amount of throttle, I have been able to set my radio down for over 2 minutes without touching it and the heli stayed flying over the kitchen table the entire time.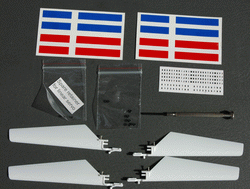 mCX S300 Included Hardware/Spares
The Blade mCX S300 comes with a nice little hardware package that includes a set of upper and lower white rotor blades, rotor blade trim tape, number and letter sticker set for additional scale call signage, a small Phillips hobby screwdriver, and most importantly - six spare canopy mounting o-rings, and two spare servo shaft retainers. These parts are tiny and are easy to loose when doing any maintenance - nice they included spares.
---
FLIGHT PERFORMANCE
As I just stated, stability and ease of control is the first thing you will notice with the mCX or the S300 version. Hovering stability is simply the best going and toilet bowl effect was nonexistent.
Forward, sideways, and backwards flight is predictable and just like any good coaxial, movement stops as soon as you return the sticks to neutral. Perhaps a little too easy for anyone with RC helicopter experience, but the small size, good looks, and easy flying nature keep you coming back for more - I can't put this thing down.
Pirouettes are amazingly fast! Faster than the base mCX. I can't count how many a second since it is a blur, but I am guessing 5 to 6 piros per second. Gyro performance is outstanding - the tail stops with robotic precision and holds very well. No twitch was noticed, and only a small amount of drift noticed throughout the flight as the gryo piezo crystal warmed up on the 5 in 1 unit.
There is considerable blade flex with the flexible blades and just like the base mCX, if you do an aggressive maneuver like a death spiral (full forward and left cyclic coupled with fast left rudder) you will get blade strike (lower blade contacts the flybar).
Yup, the death spiral lives up to its name in this case. Thankfully the blades and flybar can take the abuse as can the little Blade S300 as it tumbles to the ground most of the time. It is so light, it is hard to do any damage, but avoid crashing if possible. The tail boom mounting is probably the weakest part on the S300 and I have snapped the boom off twice during blade strikes.
Flight time on the stock 110 mAh E-flite LiPo battery gives on average a 7-8 minute flight - longer if you take things easy.
---
Final Blade mCX S300 Thoughts

As you know I like scale RC helicopters and that is one reason why I like my CX3 more than my base mCX. But like I state on my CX3 review page , the CX3 needs a good size room to fly in to fully apreciate the performance and it is more complicated. If you have limited space, like scale RC helicopters, and want the easiest to fly micro coaxial going, the Blade mCX S300 is a real little gem and worth every penny.
If you don't really care for scale or the 300C - you won't go wrong with the base mCX. I honestly don't know one person who I talk to or e-mail that has nothing but good things to say about their mCX.
Check out a preview of the Blade mCX S300 in action!

This next video shows some basic repairs procedures on the mCX mechanics.
---
Are You Looking For RC Helicopter Help?  


My Helpful RC Helicopter eBooks
---
As an Amazon Associate I earn from qualifying purchases.