Children RC Helicopter Safety Guide

submitted by Helen Bell
RC helicopter flying is an entertaining and fascinating hobby that both adults and children can enjoy immensely. While the same rules apply whether an adult or child wishes to immerse themselves in helicopter flying fun, there are some extra safety precautions worth bearing in mind when it comes to children.
Fun & Safety Go Hand In Hand
If you have a child who's really interested in helicopter flying, but you're not sure which RC helicopter would be safest for them – or even how to ensure they can enjoy the hobby safely at all – it's worth spending five minutes reading through the children's RC helicopter safety guide below:

Making a kid-friendly purchase
To ensure flying safety from the get-go, make sure to purchase a kid-friendly helicopter for your child to use, especially if they're taking up the hobby for the first time. It's a good idea to start children off with toy helicopters, rather than hobby grade helicopters, especially if they are younger than 8 in age.
However, hobby grade helicopters are designed to last longer and generally perform better, so if you want the best value for your money with no limitations, an entry level hobby helicopter might be better in the long term.
It's worth considering a smaller hobby helicopter for your child, as they are easily repaired with available parts (something that toy helicopters don't offer). Many hobby grade entry level RC helicopters are more robust than the toy variety and less likely to break when they do crash – resulting in a lower risk of danger to your child while they're flying.
Certain models of hobby helicopters are also more suitable for children than others. Take a look at the ones that are designed to withstand bumps and crashes, and have a simple controller with easy maneuverability.
There are plenty that are known for being beginner-friendly, so it's worth shopping around if you're not sure. You can find more information on choosing the best hobby grade RC helicopter for kids and beginners here.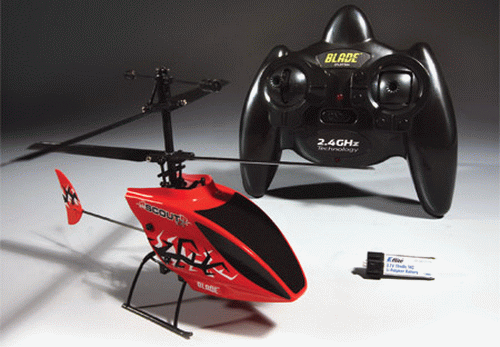 The Blade Scout Is A Popular Hobby Grade RC Helicopter For Children
Age recommendations for helicopter flying
Generally, you can expect an RC hobby helicopter to be recommended for ages 12 and up, but that is just a guideline, and not something you necessarily have to stick to. Providing you can offer a significant level of help, there is no reason why a younger child can't give helicopter flying a go themselves. Just be sure to make the experience as safe as possible by purchasing a child-friendly model.  
Supervising a first flying experience
It goes without saying that you should accompany your child on their RC first helicopter flying experience, so that you can be on hand to help, offer any tips and pointers, and step in to save the day should you need to. 'Helicopter flying may be daunting the first time around, so be sure to offer your support and guidance where needed' says Sky High Hobby.

The best location for a first fly would be an open space, preferably outdoors, where there are no obstacles around for potential crashes. Choose a day with low winds, making it the easiest for your child to get to grips with controlling their helicopter without the natural elements hindering their practice.
Children RC Helicopter Safety Flying Rules
It might be a good idea to put a few rules into place before you allow your child to take their RC helicopter out for a test-fly with their friends. Kids don't want constant supervision by their parents, and there's no reason why you should need to stay with your child once they know what they're doing – but a few rules won't hurt.

Obviously, you don't want to take the fun out of RC helicopter flying for your child, but it's important to make them aware of what might happen if basic safety rules aren't followed. You'll want to teach them the importance of carrying out the essential pre-flight checks, flying only in legal locations, being mindful of radio gear battery levels, and flying within their own skill limitations. Being aware of the rules will allow your child to have a much more fun and rewarding RC flying experience with far less risk involved.
---
Make sure that your child understands that while helicopter flying is an incredibly fun and addictive hobby, it's something to be taken seriously. The slightest loss of concentration or flying too far away can end in a crash that might just mark the end of their heli's flying days, so it's important that your child is ready to responsibly enjoy the hobby. 

---
Are You Looking For RC Helicopter Help?  


---