Advertise On RC Helicopter Fun

Want to advertise your business and/or specific product/s on this site? The following information should help you decide if this site will be a good fit...

RC Helicopter Fun.com is a popular and established RC information website. The site has been up and running since 2008 and has gained a loyal visitor following worldwide over the past eight years. It's my labor of love, and I work on it pretty much every day of the year.

My site's mission statement is simple:
"From toy to turbine, micro to multi-rotor; information, advice, tips, recommendations, and guidance to help people understand and succeed in the fun & rewarding hobby of flying RC helicopters." 
On any given month, this site draws over 50,000 visitors, generating over 100,000 page views of highly topic focused targeted traffic. As with most web sites, the holiday shopping season (November - January) experiences a typical increase.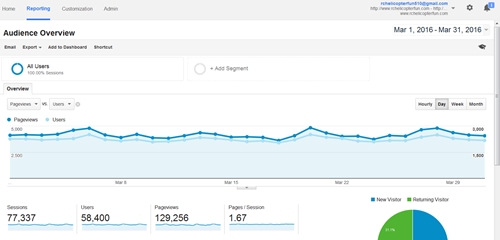 RCHelicopterFun.com's Google Analytics Report For The Month Of March 2016
---
Advertise Options, Placement, & Costs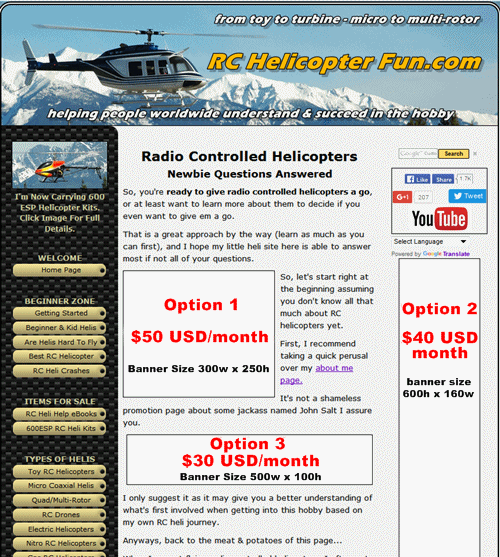 Ad Banner Options & Pricing
---
Advertising Key Points


Ad options 1 & 3 (300w x 250h & 500w x 100h) can be placed anywhere on the center column you choose, except at the very top of the page. The examples shown above would be a typical placement near the top of the page under the headline & first few lines of text (ad placement will always be below the fold).

Ad option 2 banner (600h x 160w) is shown in the above example on the right column just below my social feeds and translate button. I can also place it at the bottom of the right column, or the bottom of the left column. This tall banner can also be placed in the center column (left or right justified), but it will be located below the fold. The center column however gets more exposure on mobile as the right and left columns are not shown unless the user wishes to view the site in classic form.
Prices shown do not apply to the home page which of course gets more visits. A 100% up-charge will be applied to any ad banner located on the home page. For example, the 300x250 banner would cost $100USD per month on the home page.
Prices are listed in USD (United States Dollars) and are per page, per calendar month.
Discounts available for multi-page advertising or for locking advertising in for longer than one month terms - up to 30% off! *Full site exposure banner ads are also available - use the contact form below and we can discuss placement options & pricing. *A handful of pages on my site are not available for advertising.

I'm trying to eliminate AdSense on my site and any page that has a purchased ad banner, I will remove all AdSense advertising from that page. More focused exposure for your ad, less clutter on my site, a better visitor experience... A win-win-win for all :-)
Since the ad banners are displayed as JPG, or GIF image files, they will still be seen even when ad-blocking software is used.

All banner positions are given on a first come, first serve basis.
Banner's can be created by myself if you don't have any suitable graphic for your business/specific product you are advertising. I charge a nominal $70 USD fee for each banner created. You get to keep the banner JPG or GIF file if you wish.
Safe & Secure Payment Through PayPal.

Please contact me using the contact form below if you wish to advertise on RC Helicopter Fun.

I'm here to help and work with you. I will gladly answer your questions to make this an enjoyable advertising experience for both of us :-)
---
RC Helicopter Fun.com's Advertising Terms & Conditions, Disclaimer, & Other Information
I reserve to right to not allow ads if they are in my judgment poor in taste or offensive to my audience.

I encourage topic focused ads placed on topic focused pages. ie. RC LiPo Battery ads on my Best RC LiPo battery page.

Ad blocks are priced at a flat rate sum; there are no cost per click options available.
I am not responsible for ad performance statistics. Ad performance is the responsibility of the business advertising if you wish to monitor it.
As I stated, ad blocks are served as standard image files, therefore they will not be blocked by the vast majority of current ad-blocking software. I can't however, guarantee it for all ad-blocking software.
Ad fees are non-refundable. That said, I'm here to work with you.

A minimum one month charge is applicable to all ads. Longer than one month terms require full payment up front.


By advertising on RC Helicopter Fun, you agree to these terms & conditions.