Spektrum DX6i Review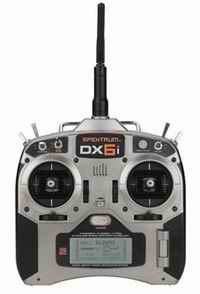 After extensively using a Spektrum DX6i RC radio now for over 9 months, I thought it was time to write a review on it; especially since I consider it to be the best entry level computerized RC radio on the market right now.
WHY?
As I have stated more than once (almost to the point of banging my head into the ground) - if you are getting into single rotor RC helicopters with collective pitch, especially if they have eCCPM swash mixing , a computerized radio is more necessity than need. Computerized radios allow you to properly setup and level your CCPM swash - a very necessary task.
Being able to tame down your throttle and pitch curves, dual rates, exponential rates, and of course ATV (adjustable travel volume) values of all channels is so important to single rotor, collective pitch heli success; not to mention programming gyro output ATV values for remote gyro gain – pretty much the only gyro option these days even with basic inexpensive RC helicopter gyros .
Simple micro coaxial RC helicopters can also benefit from the increased versatility of a computerized radio, this holds especially true for programming throttle curves to give ultra smooth throttle response and lift control.
Small park flier fixed wing aircraft benefit as well with functions such as aileron/flap mixing or any configuration of tail mixing for all tail/wing types.
The Spektrum DX6i allows all these important functions and more.
Add to these necessary programming features a large enough LCD display to actually be able to see what you are programming and is capable of showing graphical representations of pitch and throttle curves in a RC radio that is around 200 beans, and you have all the ingredients that make up a Spektrum DX6i.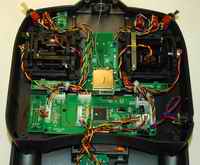 This review of mine is not going to talk about specs – you can get those anywhere ( here is a link to the DX6i spec page on Spektrum's web site if you are spec hungry).
What I want to share is the hands on experiences I have had with this radio and give you both thumbs up and thumbs down on DX6i usage and ownership.

This is a RC helicopter specific web site of course and the experiences I have had with the Spektrum DX6i are primarily with RC helicopters; from simple micro electric coaxial up to 40 size single rotor nitro. That said - fixed wing pilots will also get some "touchy feely" tidbits of Spektrum DX6i operation out of this write up as well. The Spektrum DX6i is just as capable and has as many fixed wing specific program menus in acro mode as it does in heli mode.
---
THUMBS UP
Computerized customization and model memory:
Obviously the main reason I even have a Spektrum DX6i radio is because it is computerized. This means "ADAPTABILITY". Planes and helis of all configuration types can be flown with the ability to program and fine tune many functions to give you precise control customized to your RC model, your skill, ability, and comfort levels.
With 10 different model memory locations, you will have a powerful tool that will grow with you as you expand and diversify with different RC helicopters, airplanes, or both. In short, one radio is all you'll need.
Easy Programming:
There are many computerized radios on the market and I have used a number of them but none are as intuitive to program and understand the menu layout as the Spektrum DX6i. The one touch scroll/enter button is the main reason for this.
No more multiple buttons to press or awkward button combinations to remember in order to access certain menus or screens. Just click on the dial and scroll to the field you wish to program. One thumb operation, logical menu layout, and no BS – pretty much the best system going in my books.
DSMX Spread Spectrum Modulation:
DSMX is Spektrum's latest patented spread spectrum modulation systems that all but eliminate frequency conflicts and interference issues found with the older 72 & 75 mega hertz bandwidth and even in very crowded RC event environments with perhaps up to a hundred transmitters all turned on. DSMX builds on Spektrum's DSM2 technology making it even more immune to interference conflicts and the best part is it's completely backward and forward compatible with older DSM2 receivers.
DSM2 & DSMX gives a peace of mind radio link with your model, but also provides something called "Model Match". This simply means it is impossible to fly your plane or heli unless you have the correct model selected from one of the 10 memory locations.
What this means for you and me is no more crashing due to forgetting to change to the correct model in the memory (yes this is a very common problem). If you only have one RC model, that is not going to be an issue, but once you have several – model match is such an important benefit.
BNF (Bind-N-Fly)
Those are the main technical benefits of DSM2 & DSMX; but in my opinion after being involved with this hobby for years, BNF is one of the best ideas to add even more value to DSM2/X modulation (that link above takes you to the current BNF helicopter offerings). Here is a link to the current ParkZone BNF airplane offerings.
Bind n' Fly is a marketing stroke of genius that is not only good for Horizon Hobby, but also good for the RC consumer. Dare I say it, a win-win solution for everyone?
You see, in the past any time you wanted to get a new airplane or helicopter, you had to get the model, get the on-board electronics (servos, receiver, etc). You may have even needed to get a new radio. This was not only expensive, but a hassle and it seemed wasteful – at least to me.
Now with BNF any model that comes all ready to go with Spektrum or JR DSM2 or DSMX modulation can be bound to any good DSM2/X radio like the Spektrum DX6i. This feature more than any other is why I'm slowly converting all my aircraft over from Futaba to Spektrum/JR. I have been a die hard Futaba guy for over 20 years so this is a big step for this old dog; but the brilliant logic with a true "one system for all" can't be ignored any longer – at least if I really want to save some money and experience more fun in this hobby.
The additional benefit of using one radio for everything and feeling 100% comfortable with it, the switch layout, and programming fields is easy to appreciate.
I know Futaba's FASST system is capable of this as well (not model match however); the problem is Spektrum/JR beat them to the punch with this great idea and I have since purchased some great little Bind n' Fly helicopters and airplanes that all came ready to go with a DSM2 receiver saving me the cost of purchasing a receiver, servos, or even another radio, not to mention the timed saved.
I now have a DX8 & JR X9503 as well knowing I have all these DSM2/X equipped models plus others with JR and Spektrum DSM2/X receivers – now you can appreciate the marketing genius in this.
Electrically Efficient:
Unlike most RC radios (even cheap non computerized toy like ones that run on a nominal voltage of 9.6 volts and use eight AA batteries) the Spektrum DX6i only requires 4 AA batteries to operate.
This will save you money in battery replacement over the years or if you get rechargeable AA batteries for it (which I highly recommend) you will only need to purchase 4 instead of 8. The radio will run for a good 4 hours on a set of batteries or between recharges proving very efficient electronics.
Smooth Throttle/Collective Stick Movement:
The DX6i's throttle/collective stick movement is butter smooth – better than most other entry level RC radios in this price segment (at least without modification). On a heli specific radio you don't want throttle stick indexing of course and no RC heli specific radio will have harsh indexing, but will usually have a bit.
The DX6i has none, just a perfect amount of smooth resistance. This is very beneficial to a fixed wing pilot as well for the precise throttle control needed for "hangin' on the prop". To tell you the truth, in this day and age, I don't see any value to indexing the throttle stick for any type of flying; just my opinion of course.
Low Weight:
Some say the DX6i feels cheap because it doesn't weigh much (due mostly to 4 less batteries). I like the lower weight and can hang onto the DX6i with no fatigue for many flights without using a neck strap. The low weight also means if butter fingers (nitro oil residue on the paws) strike and you end up dropping the DX6i, chances are it will survive the fall.
Low Cost:
This is the most amazing feature! $180 beans(USD) for a full function, 6 channel computerized radio & receiver, sporting spread spectrum modulation with all the important bells and whistles. Under $150 for the radio only version.
Not much more to say on this topic other than it makes me ill when I think back to spending well over $400.00 back in 1982 (easily equal to $800.00 in 2011 dollars) for my very first basic 4 channel AM RC airplane radio that was so primitive compared to the DX6i both in function and performance.
---
THUMBS DOWN
There is not much to find fault with the Spektrum DX6i, these are all more annoyances than real problems, I feel to give an honest review however, they should be included...
The DX6i Recall:
The Recall – more specifically the lack of information regarding the problem that lead up to the recall. I have no problem with a product being recalled, it shows the manufacture cares about their customers. Horizon Hobby dealt with the recall quickly and made the process of sending the DX6i in so easy with an online shipping form etc.
The Spektrum DX6i recall is old news of course and if you are getting a new DX6i, you have nothing to worry about; in fact only a small percentage were even effected by the recall. I unfortunately am a magnet for this kind of thing and ended up with one of the small number of DX6i's that fell into the recall.
The problem was I learned of the recall just when I was doing extensive flight testing for a review of the Blade CX3 . I really couldn't send the radio in at the time for the required fixes if I wanted to get my review and tips pages completed.
I called Horizon to get some assistance and was even willing to pay for new parts (the potentiometers) so I could make the repairs myself and loose a minimal amount of time. That was not an option and I guess from their standpoint (looking at liability) I agree with that. I just wish I could have gotten a clear answer as to what the issue was other than a "possible problem with the potentiometers" (either when I called in or by visiting Spektrum's web site).
As it turned out I kept flying until the problem started showing up on my DX6i so I could finally diagnose it myself. It first showed up on the throttle pot and then on the elevator as erratic control. It really is a small and simple issue - weak press fittings from the solder pins to the potentiometer board causing increased & changing resistance in the potentiometer.
Easy to band-aid fix with some electrically conductive paint (defrost grid repair paint); but by then I was finished testing and was able to send the DX6i in for the recall and was very happy with the turnaround time. My DX6i gets used almost daily and is purring along without issue.
Perhaps this doesn't really deserve a Thumbs down, but I wouldn't be honest if I said it didn't bug me or I wasn't affected by the DX6i recall.
Sharp Gimbals: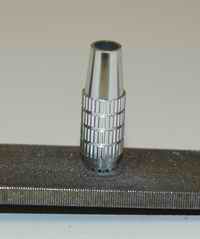 The end grips on the Gimbals are very sharp. After several flights, I found my thumbs getting uncomfortably sore. The fix is easy... Unscrew the end grips and pass them over a smooth file a couple times just to take down the sharp high points. No more sore thumbs now.
Long Download Times:
I know 3-4 seconds is not that long for downloading a model from memory and really not a big issue, one you won't even recognize unless you have had higher end computerized radios to compare it to – but again, I had to mention it if I am giving a true subjective review here.
Negative Center Pin:
This again is just a minor annoyance, but worth mentioning. All of Spektrum's & JR's radio's recharging ports are configured with a negative center pin and the outside sleeve is positive. This is backwards from most other manufacturers. It is not an issue if you only use the charger that comes with the radio, but like most of us with computerized chargers, I want to use my computerized charger when charging my radio so I can monitor battery charge & condition.
This is not a big deal as long as you remember to reverse the polarity of the banana plugs and most good computerized chargers will warn if the polarity is hooked up backwards. I only mention this as something to watch out for.
---
Bottom line...
If you are looking for great value and performance in a computerized radio with features usually seen on computerized radios that cost more, the Spektrum DX6i is hard to beat. In the entry level computerized RC radio world, the DX6i offers great bang for the buck in my opinion, yet gets you into a good name brand system!
The full range version (product # SPM6600) includes:
Spektrum DX6i Transmitter
4 rechargeable 1500 mAh Ni-MH batteries
Plug in wall charger
Bind Plug
DSMX AR6200 6-channel receiver

Click here Spektrum DX6i full range version for details and ordering information.

The "radio only" version is the perfect choice if you already have several BNF Blade or Eflite aircraft that came with simple non computerized radios and you now want to upgrade to the DX6i.
---
Here's a video showing many of the great features found on the Spektrum DX6i.


Click here if you want to read and download a copy of the Spektrum DX6i user manual. A word of caution on computerized radio manuals.
You really need the radio in front of you to be able to play around with it while going through the manual for it to make any sense. Not only with a DX6i, but any good computerized radio.
I only put that instruction manual link there if you really want an in-depth look at all the different features the DX6i has to offer.
---
---
Return to top of Spektrum DX6i Review



Return To Home Page