RC HELICOPTER SIMULATOR TIPS AND RECOMMENDATIONS

No beating around the bush here... A RC helicopter simulator is a powerful tool to help you learn to fly your RC helicopter.
"The purpose of a RC helicopter Simulator is to replicate in as much detail as possible, real aerodynamic physics and real RC helicopter control to help us fly the real thing."
I personally don't care if the graphics are to die for and the models look 100% real – if they don't behave almost 100% real and are controlled real, they won't teach you the necessary skills (stick movements in relation to aircraft response). If you don't get real physics and real control, you have nothing more than a video game. Sure it will still be entertaining, but it won't teach you how to fly.
So if you want to be entertained, any RC helicopter simulator will do, if you want to learn to fly – keep reading.
---
Let's look at control first because it is cut and dry. If you are trying to learn to fly a RC helicopter or airplane with a joy stick or on your keyboard – you are wasting your time.
The only way to learn to fly with a RC helicopter simulator is by using a real (or at least gutted out) RC transmitter. Some of the good simulator programs come gutted out USB adapted RC transmitters that plug into a USB port on your computer or come with a USB/DIN converter cable to plug directly into your own quality RC transmitter via the DIN trainer input port.
---
Recommendations:
Flight physics are a little more subjective. I was primarily looking at helicopter flight. After reading many reviews, and trying several simulators, the same two (if you want the most realistic RC helicopter flight simulation going) are always head and shoulders above the rest.
---
Great Planes RealFlight R/C Simulator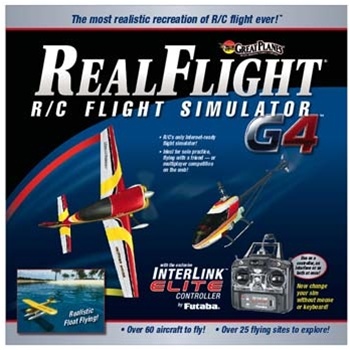 RealFlight is certainly highly regarded as one of best simulators on the market.
The current G5.5 and newest G6.0 version provide some of the best flight simulation for both helicopters and airplanes. Everything is so good and it lets you customize literally hundreds of parameters.
Have a look...


Change the weather conditions, simulate radio or engine troubles, and fly with other on-line pilots just like at the real field but this time with the added entertainment of combat flying.
Don't have an instructor to help you fly? No problem, yes there are virtual flight instructors to walk you through the basics up to intermediate level aerobatics. Unfortunately these "virtual instructors" don't come anywhere near to what a real instructor can teach you. They only show what to do, not how or why the aircraft behaves as it does and what to watch out for and what mistakes or situations can manifest resulting in a crash and that's a big missing element. Still, it's better than having no instructor at all.
This just scratches the surface. There is just so much this RC helicopter simulator will do. With so many flying environments and different aircraft from electric park fliers to turbine models, this is one simulator you will never out grow.
---
PHOENIX RC FLIGHT SIMULATOR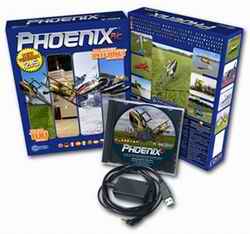 The other RC Helicopter Simulator that certainly deserves a big thumbs up is the
I recently purchased the Phoenix RC flight simulator, and have been very impressed so much so I feel it's every bit as good as RealFlight for RC heli simulation. The Phoenix simulator focuses on what's important to many of us - FLYING. Unlike RealFlight that is pushing the "entertainment" value with it's new generation of simulators; Phoenix's focus is on good simulation that will hone your flying skills without all the bells and whistles - this tends to make Phoenix much less taxing on your computer if you have a slower processor, less ram, or not the best performing graphics card.
Many RC heli pilots worldwide passionately say it is the best RC helicopter flight simulator on the market and I must say I agree with them.
Watch Phoenix In Action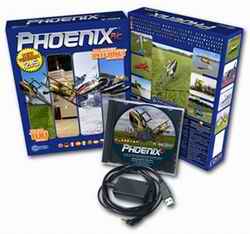 The Phoenix RC flight simulator comes in two configurations. You can get it with, our without a radio/tranmitter. The "Software Only" version does not come with a "gutted" RC transmitter to control your virtual model aircraft.
It supports real RC transmitters by way of a USB/DIN converter cable that plugs directly into the DIN trainer port of the most popular computerized radios on the market. Out of the box, the Phoenix sim supports Spektrum/JR radios but additional USB/DIN cables can be purchased for Futaba, Hitec, Multiplex, etc.
At only $129.95 USD from Red Rocket Hobbies , this is the best value going for a capable, high quality RC helicopter simulator in my opinion and the best part is you never have to purchase expansion packs. When you're ready for new Horizon Hobby or other aircraft and other scenery, simply visit phoenix-sim.com for free downloads. The free downloads also apply to updates to the simulator software as well. When the new version 3.0 came out for example, it was a very simple matter of logging onto Phoenix's site and download the new 3.0 version to replace my 2.5 version and the same can be said for the new 4.0 version. That alone pushes the Phoenix RC simulator to the top of my sim list after having to spend a fair amount of money over the past several years purchasing updates for RealFlight. That said, the newest 6.0 version of RealFlight is now supporting free updates as well - gotta love competition!


The other version of the Phoenix RC Flight Simulator comes with a basic Spektrum DX5e radio for those of you who do not have a higher end computerized radio yet to use with the software only version.
This is not a gutted radio either, it is a fully operational Spektrum DX5e that will work with any spectrum/JR DSM2 receiver. For only $174.99 USD at Red Rocket Hobbies , this is a great value RC helicopter simulator for people wanting to get into RC and are looking for both a simulator and a basic radio to start with - note however, the DX5e is a non computerized radio, so take that into account.
---
REFLEX XTR RC FLIGHT SIMULATOR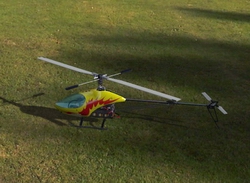 I should make mention of one other RC flight Simulator that is getting good comments and reviews - the REFLEX XTR.
I have never tried it, and information on the Reflex XTR simulator is hard to come by here in North America since it is a German product. It is a pricey sim at about $300.00 USD with no radio; but as you can see, most agree it has the best true to life scenery going (if that is important to you). Here is a review of the Reflex XTR simulator it if you want to learn more about it.
---
Parting with $130 to $300 hard earned dollars for a RC helicopter/plane simulator may seem a bit excessive, but in the long run will pay for itself, usually many times over. This holds especially true once you start practicing more risky aerobatic maneuvers when crashes are more violent and much more costly in the "real world".
Yup, I know there are "Free RC helicopter simulators" out there that can be downloaded (or at least demo some simplified form of them). These can help you get a basic idea of how a sim works or get an idea of basic flight principles, but you won't get all the features and many don't support any form of real transmitter control so there are limitations that may actually hinder your progress. In the end - you do get what you pay for in the RC helicopter simulator world nine times out of ten.
---
TIPS:
I can't possibly go over all the different set up features on Real Flight or Phoenix, but I can give you a few important tips that will make your RC helicopter flight simulation as realistic as possible.
In the options menus, be sure to set the simulation mode to real instead of easy. To learn – "keep it real."
Go into the weather options and turn on a bit of wind with some light gusts. While you are learning select about 1-2 mph winds with 1-2 mph gusts. This will give a very realistic behaving helicopter that floats and bobs around a bit due to changing translational lift , rotor wash, and ground effect .

Even if you only intend to fly your real heli with no wind outside or inside, simulators seem a bit too easy with no wind selected, the helis feel too "locked in". Remember, the harder the simulation the easier the real thing will be.
If you are just learning how to fly a RC heli, make sure you select a helicopter with training gear on the landing skids. This is after all what your real RC helicopter will have on it when you are learning. Training gear makes it easier to detect when your helicopter starts to pitch or roll, allowing you to stay one step ahead of what's going on rather than being behind the eight ball. Lastly, training helis are set up to be be more docile (both on the sim and in the real world).
This next tip is very important!
Don't get too hung up if your specific model of heli is not included on the RC helicopter simulator. You can purchase or download expansion packs of course that may have the specific heli you want, but it won't help you learn to fly any better, especially at the very beginning of the learning stage.
Why?
In general, if you can fly one single rotor collective pitch bird, you can fly them all - like riding a bike. The true to life physics offered in a good sim like Real Flight or Phoenix is much more important than if they have the real heli you own or are thinking of purchasing in their data base.
Also sim helicopters won't behave the same when setup with docile learning settings, in fact they might not even get off the ground. The sim helicopters with training gear on them already have been programed to behave like trainers so that is what you should start on. Trying to tame a non trainer sim heli is met with limited success in other words - perhaps because they were never programed to behave docile? A sim heli can only fly within the parameters it was programmed to fly in after all. Save your time and sanity - use a bigger collective pitch trainer on the sim and it will behave much more like your real bird that is setup as a trainer.
When you are first starting out and learning how to hover on your RC helicopter simulator, it will be very tempting to fly all over the place and start attempting aerobatics right off the bat. This might be fun, but you are not learning much and more than likely developing some pretty bad habits.

Concentrate on staying stationary in one spot. Follow the same steps as I have in my Learning To Fly RC Helicopters section on your simulator... it will make the best use of your time on the simulator and also enforces what steps you will be doing with your real helicopter as you learn.
Lastly have fun with your RC helicopter simulator. Fly planes too, try it all out. You may like flying planes just as much and decide to give them a go down the road.
---
Return To The Top Of RC Helicopter Simulator Tips Page
Retrun To RC Flight Simulators Page
Return To Home Page