Lily Camera

A Quad Rotor With A Mission!
Introducing The Lily Camera
The Lily Camera in my opinion, may do for aerial imaging what the GoPro has done for ultra portable high definition action cameras.
First off, this is not a typical RC quadrotor aircraft with an action camera attached, it's much more integrated. This is truly a "toss and shoot" fully robotic flying camera that will follow the subject with no control input needed. In short, it takes care of all the camera and flying workload, allowing you to focus on your sport or activity. What is even more ground breaking is it's Waterproof!!! The first time I watched the video of it being tossed in the river, my jaw hit the floor. 
If you have by chance seen my RC Drone page and read about what does and doesn't qualify as a drone, the Lily Camera certainly does qualify as an aerial drone when most of what else out there certainly does not.
It's fully autonomous and performs a specific mission. What is so refreshing however, is you can't find the word drone anywhere on Lily's website - Thank You Lily Robotics Team!!! A company that is showing some "drone integrity". How long that will last however is anyone's guess?

Lily - The Evolution of The Camera
They simply call it a "Flying Camera" which is exactly what it is, and proudly promote it as the "Camera, Reinvented".

The Lily Cam got its start back in September 2013 in the basement of a UC Berkeley robotics lab by a young team of bright & forward thinking engineers. Lily Robotics is now a super cool American start-up company showing once again science and technology rule! Their mission statement is simple "release human creativity by inventing tools that allow for effortless expression. We believe that great products are built with a clear purpose."

---
How The Lily Camera Works

The Lily Camera is of course based on quad-rotor helicopter technology. If you don't know much about quad or multi-rotor RC aircraft, that link takes you to my full write-up on them. You will soon realize that Quads & multi's make for perfect aerial imaging platforms as they are "lift efficient" & "mechanically simple", so it's only logical to use that type of vertical lift platform for Lily.
Like most modern day higher end multi-rotor RC aircraft, the Lily Camera uses an array of sensors such as 3 axis gyros & accelerometers, GPS, barometer, magnetometer, and two camera's for spacial position awareness and subject acquisition/tracking.  
Unlike, conventional RC aircraft however that you control with an RC radio/transmitter, the Lily camera is fully autonomous capable of hands off flight control. There still is however a control device that you wear on your wrist just like a watch.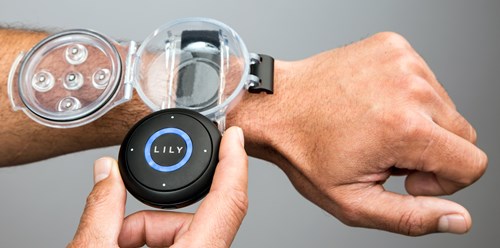 Lily Camera Tracking Device & Waterproof Case
This is called the "tracking device" and sends control messages to the aircraft from a simple 5 button array such as instructing the flying camera to follow you from behind, fly in-front, off to either side, or circle around your position, take off & land. An app can be used to frame your shots, anywhere from 5 feet to 100 feet distance and 5 feet to 50 feet above you at a maximum follow speed of about 25 MPH.
More importantly, this "tracking device" also contains accelerometer, barometer, and GPS position sensors. These sensors then send the Lily Camera real time telemetry of what you are doing as far as movement & position so the aircraft can precisely follow you comparing your GPS coordinates, elevation, and movement to its own.

The final stage of all this "tracking" is a sophisticated imaging & recognition algorithm (robot vision) that not only allows Lily to keep you in frame, but also acts as a "digital gimbal" to digitally stabilize the image. No heavy, expensive, and fragile multi axis motorized gimbal is needed - perfect for a rugged flying action/sports camera. Digital stabilization is certainly not as good as mechanical (at least not yet), as image quality will no doubt suffer slightly; but for a flying action cam, the benefits of going with digital gimballing makes total sense.

Lastly, the tracking device contains a microphone to record sound at the source (you), transmitting it and syncing it with the video recording back onboard the aircraft. A vibration motor will also be mounted in the tracker to alert you of possible aircraft issues such as low battery power. The tracker has its own built in Li-Ion battery that is good for about 4 hours and is charged using a micro USB plug. The tracker turns on automatically when Lily is turned on.

---
Lily Camera Form & Function

Now that we know how this flying camera works, lets' take a closer look at it.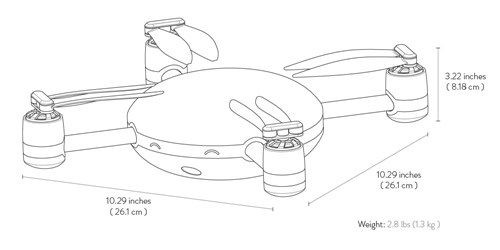 Lily Cam Dimensions
At roughly 10" x 10" x 3", and tipping the scales at 3 lbs (flying weight), this flying camera is nice and compact yet has enough mass to handle moderate wind. Moreover, the propellers fold to keep that 10x10 inch dimensional foot print intact. What is so cool about that is this thing will fit in any standard sized backpack or equipment bad. In other words, no need to purchase an expensive carry case for it if you don't want to.
Flight time is projected to be about 20 minuets give or take depending on how fast it's flying while following you, or if dealing with winds etc. The projected 20 minute time is calculated using a 15 MPH sustained flying speed (zero wind). That is certainly a very good and decent flying time for any quad-rotor as it's pretty much double what most of us are safely getting with similar size multi-rotor aircraft with GoPro's attached.
Power is provided by a built in Li-Ion pack that is not removable from the aircraft. This is certainly the one thing I don't like about Lily; but I do understand the reasoning behind it given the fact the airframe is waterproof. This would be harder and costlier to achieve with changeable flight battery packs. I do predict however that subsequent versions of Lily will certainly have changeable battery packs due to customer demand for back to back filming sessions.
Personally, I can't wait to use this flying camera for kite boarding and windsurfing as I've always wanted to see video to improve my technique. Lily could be a great self teaching aid for such sports, but I'm not sure if 20 minutes during a session out on the water will be enough?

For the average user just wanting to take a few minutes of action footage here and there, 20 minutes should be plenty to get lots of cool video and/or stills. I would also love to be able to put the tracker on-board one of my larger RC helicopters as well so Lily could take aerial videos of them flying (assuming the tracker telemetry is transmitted on a non interfering frequency). For that type of usage, 20 minutes is plenty since most RC helicopter flight times are around 6 to 10 minutes.

The built in flight battery is charged using the supplied 5A charger giving charge times of roughly two hours. I can't find any specs on the size or voltage of the built in Li-Ion flight battery yet, but going by a 2 hour charge time using a 5A charger at a nominal 1C charge rate; one could guess it's a fairly large capacity battery around 10,000 mAh. The 20 minute flight time would also support a capacity close to that.


Lily's Power Button, Micro SD Card, & Charge Port Access
Lily does not have crash avoidance so you must be in wide open areas to use it. If you are planning on going single track mountain biking in the forest, better leave Lily at home and stick with your GoPro. Also, I have to wonder what will happen when many of them are flying in close proximity?
I can see for a fact ski hills could be buzzing with these things in the near future as every one and their dog are already wearing action cams on their helmets or on "selfie sticks". On a congested ski hill, there are bound to be aerial collision & even people conflicts eventually. Let's hope people use common sense (dream on) so these flying action cams are not band from usage at your favorite ski hill (you know they will be). Of course for backcountry & off piste skiing, Lily will shine!

Using the Lily Cam is going to be astonishingly simple and easy. Just turn it on, make sure you have the tracking device with you, and throw Lily in the air. By default, Lily will start following you and recording a video as soon as you toss it skyward. You can set Lily's behavior after takeoff in the companion app.
Lily will also be able to stream low resolution video back to your smart phone or tablet using the app so you can frame your shots etc. The camera is capable of 1080P recording at 60 FPS. Slow motion is 720P @ 120 FPS and stills are shot at a resolution of 12 MP. The imaging device used to achieve this is the Sony IMX117 CMOS chip (same imaging chip used in the GoPro Hero 3). Video and photos are recorded on built in 4GB memory and there is an external Micro SD card slot to expand recording memory. The camera uses a fixed focus lens with a 94 degree field of view; and as previously mentioned uses a digital gimbal and image stabilization system.

---
Lily Cam Specifications

Aircraft Type: Fully Autonomous Quad-Rotor (250 size)
Special Feature: Waterproof Hands Off Flying/Follow Camera

Dimensions: 10.29"(261mm)x10.29"(261mm)x3.22"(82mm)
Flying Weight: 2.8lbs(1.3kg)
Flight Time: Apx 20 Minutes

Control Interface: Auto-On Wearable Tracking Device (comes with waterproof case)

Tracking Device Dimensions: 2.37"(6cm) diameter, 0.75" (2cm) thick, 2.6oz (75g)
Flying Distance Range From Subject: 5' to 100' (1.75m to 30m)
Flying Altitude Range From Subject: 5' to 50' (1.75m to 15m) 

Video Resolution: 1080p 60 fps / 720p 120 fps
Video FOV: 94º
Video Format: H.264 codec, .mp4 file format
Photo Resolution: 12 MP
Video Chip: Sony CMOS IMX117

Gimbal Type: Digital with Image Stabilization

Focus: Fixed
app support: iOS and Android
Lily Cam - Form Meets Function
---
Lily Camera Price & Ordering Information

So how much will all this cool American technology & innovation set you back? Well, I was thinking about $1500 considering the cost of a DJI Phantom Vision 3 is about $1300. Of course, the DJI is not a "follow cam" - you have to fly it. It's also not water proof nor will it automatically track you and keep you framed in the image, but it does have a more costly motorized gimbal. I was pleasantly surprised to find out the price will be under $1K, $999.00 USD to be exact. Proposed fixed price shipping of $20 to US address and $30 for international orders was another nice surprise.

The Lily Camera is only available for pre-order direct from Lily Camera's web site. They had a pretty sweet introductory offer if you pre-ordered before June 15th, 2015, the price was only $499.00 USD.
After that date, the pre-order price has progressively increase up to 899.00 as of February 2016. Product was originally planed to start shipping February 2016, but that date was pushed back to May 2016, and now August 2016 due to several setbacks.
Lily's site also has an ongoing product update page which is pretty cool to read; especially if you have pre-ordered one and want to stay in the loop as to all the neat stuff going on.

---
Final Lily Camera Thoughts

Just Another Quad Rotor Company That Will Sink?
With all the qaud & multi rotor start-up companies that come and go faster than irresponsible people are crashing them, I really do hope Lily Robotics doesn't sink like many others have.

As many of you know, I really don't enjoy flying multi-rotor RC aircraft that much as I find them about as exciting to fly as watching paint dry. However, the Lily Camera has really grabbed my attention for the simple fact I won't have to waste my time flying it. I can concentrate on more important tasks as it flies and images.