RC helicopter training gear is one of the best training and learning aids you can have when you are starting out in this hobby.
I don't think there is one component that you can purchase or better yet build, when you are learning to fly a RC heli that can cost so little, but saves so much. A good set of RC helicopter training gear is cheap insurance.
Many people new to the hobby feel training gear is a waste of money and don't bother getting any only to find out after they crash just how important they are. A set of helicopter training gear for a mid sized helicopter purchased at a hobby shop can range from $25.00 to $40.00, even more. This is still very reasonable considering how many rotor blades and other damage will be saved, but you can build your own for a fraction of that.
This how to e-book of mine takes you through the process of building a customized set of RC helicopter training gear for your heli. Sizing, materials, construction, tips and more - everything you need to make a set of gear as good or better than most commercially available sets.
This book shows how to build training gear for RC helicopter sizes ranging from tiny micro coaxials, fixed & collective pitch up to big 800 electrics & 90 sized nitros.
I have shown the table of contents and some excerpts from the book so you can get an idea of what's inside, plus ordering information. Simple and easy - just like building a set of helicopter training gear.
Chapter 8 - Final Thoughts... Page 38

---
Excerpts from the "How To Build RC Helicopter Training Gear" e-Book...
Chapter 1
Introduction...
So Why Would You Want To Build Your Own Training Gear?
Simple – building training gear for a RC helicopter is actually very easy and cost effective. You can save a good deal of money and have a little building fun at the same time. The materials for building a set of medium sized (30-50 size nitro) training gear can be purchased at any hardware store or even places like Wal-Mart. The cost of materials will be under $10.00 USD in most cases, less if you can find stuff on sale or have some of the materials already on hand. Compare that to a set from a hobby shop that will be in the $25.00 to $40.00 dollar range, I have even seen sets as high as $70.00.
If you build your own set, you can fine tune it to your specific heli and your own needs. You don't have to worry about breaking a set from a hard landing or crash. You can build another set or repair the damage quickly and easily. It only takes about 20 minutes to turn out a nice set of training gear that will give as much protection as any store bought set.
---
Chapter 3
Sizing Your Training Gear...
Before you go shopping for training gear materials, you must know what size of training gear you are going to be building; obviously this plays a fairly important roll in your shopping list.
There are 3 main parts to the RC heli training gear.
The two parts of the training gear that are size dependent on the helicopter are the sticks and center hub. The specific balls we are going to be using will work on any size heli from 400 electrics up to 90 size nitros.
Time to get out that tape measure or ruler...
---
Chapter 4
Material List...
Back so soon? Guess it is time to get the list together and head out.
So, what do you have so far? Let's say we are building a set of training gear for a 400 size heli like E-flite's Blade 400. Here is what should be on the list...
Oops, I almost forgot to talk about the actual balls that go on the end of each stick. What are they, where do you get them from, and are they important. Some people ask me what the balls are for and can you omit them?
---
Chapter 7
Now, I should mention right off the bat, that unlike building training gear for larger RC helicopters which can save you a fair amount of money over store bought sets; building micro gear initially won't save you a dime and will usually end up costing more unless you already have the materials on hand. So why bother? Well, it turns out store bought micro sized gear is very limited in sizing right now and unless we are talking small mCX, mSR, or Nano type micros, it's actually very difficult to find the proper size gear for helis like the 120SR's, CX's, mCPx's, and 130X's; same goes for 200 to 300 size birds - very little in the way of commercially available training gear for those larger size micros & small helis.
---
Chapter 8
Final Thoughts/Tips...
The whole idea behind building your own set of training gear was to save some cash plus have a customized sized set of gear for your heli. The other nice thing with this process is you now know how to build a set for whatever size helicopter you get or modify them to suit your own needs. Finally, if you break a home made set they are easy to repair or rebuild.
What not to do!
When I built my first set of training gear for my first RC helicopter, I made two mistakes.
---
Ordering Information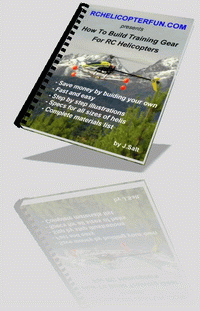 This RC helicopter "How To Build Training Gear" e-Book is offered in PDF format. If you don't have a PDF reader you can download one from Adobe for free. There are also PDF Apps available for tablets and smart phones if that is how to wish to view the ebook.
TO ORDER, simply click on the BUY NOW button below or click on the image of the book to the right and be reading your own How To Build RC Helicopter Training Gear e-Book in minutes. Payment can be made with any major credit card or through PayPal.
---
What about a money back guarantee?
I will back my e-book with a 30 day 100% money back guarantee for the total price of $6.95 USD. If for whatever reason you don't find the information in this e-Book helpful and useful, simply
contact me within 30 days from the purchase date and request a refund along with a simple explanation of what you didn't like about this how to build RC helicopter training gear e-book.
Please remember, this is an e-book and there are NO hard copies available.
Have fun building and flying!

Feel Free To Have A Look At My Other "Heli Help" E-Books


---
Do You Have Further eBook Questions?
I sometimes get asked specific questions about my ebooks - here are the most common ones along with the answers.
Q: "How do I get the eBook once I pay for it"?
A: As soon as the payment goes though, you are sent an automatic confirmation email to the email address you used during the checkout. That confirmation email also contains the download instructions along with the secure download link. You simply click on the link and the PDF file will download to your computer (depending on file size and your internet connection speed, this can take several seconds to several minutes). At this point you MUST SAVE the PDF file after you open it because the secure download link has a time limit (5 days or 5 attempts, which ever occurs first).
Q: "Why do the secure download links have a time limit"?
A: For two main reasons: One, it prevents link sharing. Two, it saves server resources.
Q: "Can I view the eBook on my iPad or other tablet"?
A: Yes, provided you have a PDF viewer application as most iPads, tables, and smart phones come standard with (or can be downloaded to your device).
Q: "Do I need a specific tablet or eBook reader to view your eBooks"?
A: No. You can also view them on any computer (desktop or laptop) provided you have a PDF reader such as Free Adobe Reader.
Q: "Can I save the eBook PDF file/s on my multiple devices (desktop, laptop, tablet, smart phone)"?
A: Yes. Once you download it, you can save/sync it like any file to any device.
Q: "Can I print the ebook out after I get it"?
A: Yes. You can print the entire ebook or just specific pages if you wish.
Q: "I never got the confirmation email, now what"?
A: Double check in your email junk or delete folder to make sure it didn't get filtered there by mistake. Also confirm the email you used during the check out is in fact your correct and/or working email address. Some people use a different email address in their PayPal account from their normal working email address for example. If you still can't find the confirmation email, contact me and include the PayPal transaction number so I can find the transaction and manually activate a new download link.
Q: "The download link is not working for some reason"?
A: There can be several reasons for this but most of the time it's due to a security setting on your specific web browser which blocks the download from coming through. Not to worry however if you happen to be included in that very tiny fraction of customers who run into this problem. Simply contact me with the PayPal transaction number stating the download is not working and I will manually email you the eBook PDF file/s as email attachment/s - that's always the 100% sure-fire work around solution.
Q: "I don't have a PayPal Account, how can I pay"?
A: You don't need a PayPal account. You can also pay with several major credit cards at the PayPal payment screen. PayPal essentially becomes the credit card payment processor.
Q: "I don't want to (or can't) use PayPal, do you accept any other payment options"?
A: My "official" answer to this is NO. However, I have on occasion accepted US Money Orders with these "alternative payment option" requests. It's a hassle for all involved; especially for you as the customer because of the fairly obvious issues.
1. It's not "click & read" fast & easy so that largely defeats the whole instant downloadable eBook process that make eBooks so convenient in the first place.
2. You have to get the money order and mail it to me and only once I receive the money order, will I manually send you the eBook download link/s. That's a lot of leg work and time involved for a low cost eBook purchase. That said, most people who take me up on this payment option purchase several eBooks so that makes it a little more justifiable.
3. Money order payments are NON-REFUNDABLE.

Again, I strongly discourage it; but I get this "alternative payment" question often enough that I wanted to include it in my eBook Q&A. If a US money order is how you want to pay, please contact me with what eBook/s you are interested in and I'll do my very best to accommodate your request.
---
---
Return To Top Of How To Build RC Helicopter Training Gear
Return To RCHELICOPTERFUN Home Page